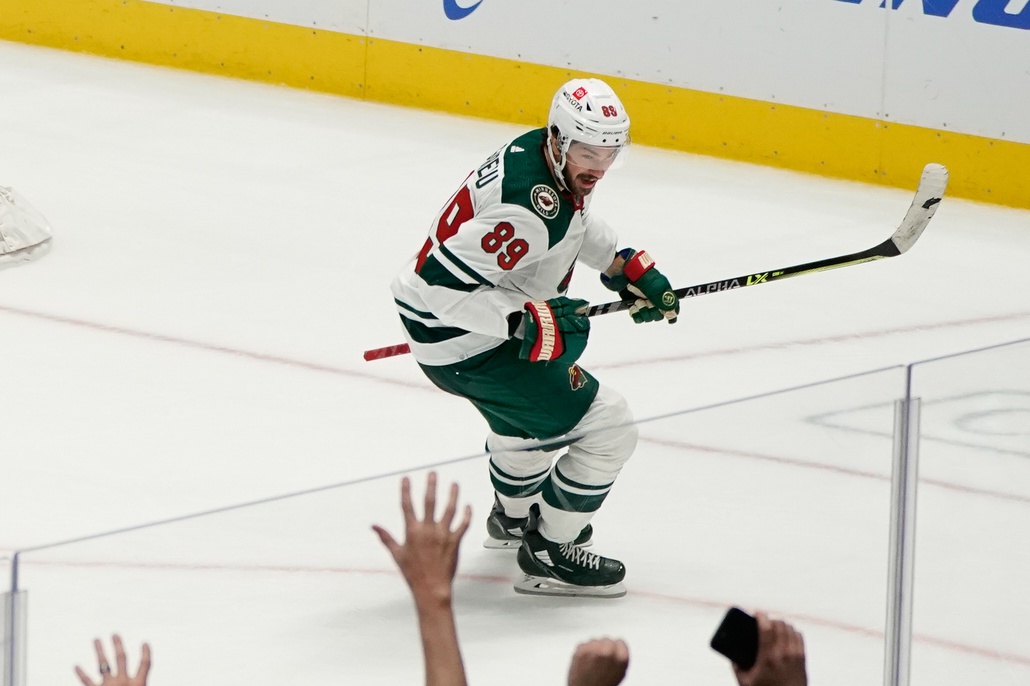 The Minnesota Wild signed Freddy Gaudreau to be a depth player last summer. Most thought he'd play a bottom-six role and maybe add a little bit of a scoring touch. No one expected him to be part of a dynamic scoring line centering rookie Matt Boldy and Kevin Fiala.
Gaudreau has been on fire recently, though, scoring eight points in his last five games. He's also having a career year, with 40 points in 69 games. His previous best was only ten points in 19 games for the Pittsburgh Penguins. But is he just a product of his linemates making him better? Is he just a placeholder for a star prospect in Marco Rossi? Or could he be driving offense now that he's paired with talented forwards?
Unlike, say, Johnny Gaudreau (no relation), Freddy is not a household name. He was never drafted, nor was he really considered a major prospect. He worked his way up from the minor leagues and is now making a name for himself on a dynamic Minnesota team.
Gaudreau has only been in the NHL for five years, but he's already experienced his fair share of highs and lows. The Nashville Predators shuttled him between the AHL and NHL for three years. The same thing happened when he signed as a UFA with the Penguins. He continued to play in both leagues, and Pittsburgh occasionally put him on their taxi squad. They also placed Gaudreau on waivers, where he went unclaimed.
Now he's finally found a full-time NHL gig with the Wild. And with as solid as Gaudreau has been, he shouldn't have to worry about being sent down to the minors anymore.
Gaudreau, Boldy, and Fiala have recently formed one of Minnesota's most consistent scoring lines, outscoring opponents 29-14 at 5-on-5 this year. Fiala has five goals and 11 points in his last five games. Boldy has added seven points in that time. "We read off each other pretty well." Gaudreau says of Fiala. They probably don't have the same level of chemistry Kirill Kaprizov and Mats Zuccarello have, but they still play well off each other.
Gaudreau and Fiala go way back. They both played for Nashville's AHL team in Milwaukee, and they had some time together in Nashville as well. They both know head coach Dean Evason very well because he was Milwaukee's head coach from 2012 to 2018.
"I played for Deano back in the days in Milwaukee, and I love him," says Gaudreau. "I love the way he thinks, the way he sees hockey and life, and was just a great fit in the past." Evason knows Gaudreau well as a player and knows what to expect of him.
Perhaps you could say Gaudreau's scoring numbers (2.26 points per hour at 5-on-5, tied for 71st among forwards with 500-plus minutes) are the result of playing next to great playmakers.
Give Gaudreau credit for being able to play with them, though. Their line has been on fire lately. When the Kaprizov - Ryan Hartman - Zuccarello line had a poor game on Sunday, Gaudreau's line was there to pick up the slack.
Gaudreau's line combined for 13 shots and nine points in last Sunday's game against the San Jose Sharks. Fiala had one goal and three assists, Gaudreau tied a career-high with three assists, and Boldy notched a goal and assist.
Kaprizov and Zuccarello were nowhere to be found, as San Jose played hard against their line. Luckily for Minnesota, Gaudreau's line was there to steal the game for the Wild and clinch a playoff spot.
The Wild were underwhelming in the playoffs last year. Their star players failed to show up and make a difference against the Vegas Golden Knights. So with their ticket to the playoffs punched, it's all about keeping the chemistry going and doing what they can to get home advantage in the first round. Minnesota's got two prominent scoring lines. If their first line fails to perform, there will be more pressure on Gaudreau's line to score goals and win games.
It's a good thing for the Wild's long-term plans that Gaudreau is doing so well because the Wild do not want to burn the first year of Rossi's entry-level contract. Gaudreau's play so far has allowed the Wild to wait one more crucial year to pay Rossi in his entry-level contract. Allowing them to do that gives Gaudreau much more value beyond his performance on a $1.2 million salary.
It's no secret that fans are dying to see Rossi get his chance at more than two games. However, it's never bad to see young players have more time to develop their game, and that's what's happening with Rossi. Getting that extra time in Iowa allows his entry-level contract to end when the dead money from the Parise and Suter buyouts is no longer a problem.
In signing Gaudreau, the Wild have created a favorable situation for themselves. They signed a player to an affordable deal, and he's playing so well that they don't have to rush development for prospects while also navigating a tricky cap situation.
Gaudreau scored his first three professional goals in the Stanley Cup Finals against Pittsburgh in 2017, which is incredibly two more than the rest of the Wild roster combined. In the first round of the playoffs, he could have a breakout against the Wild's probable opponent, the St. Louis Blues. He's been an excellent addition to the lineup and adds an unlikely but potent source of depth up the middle for Minnesota.