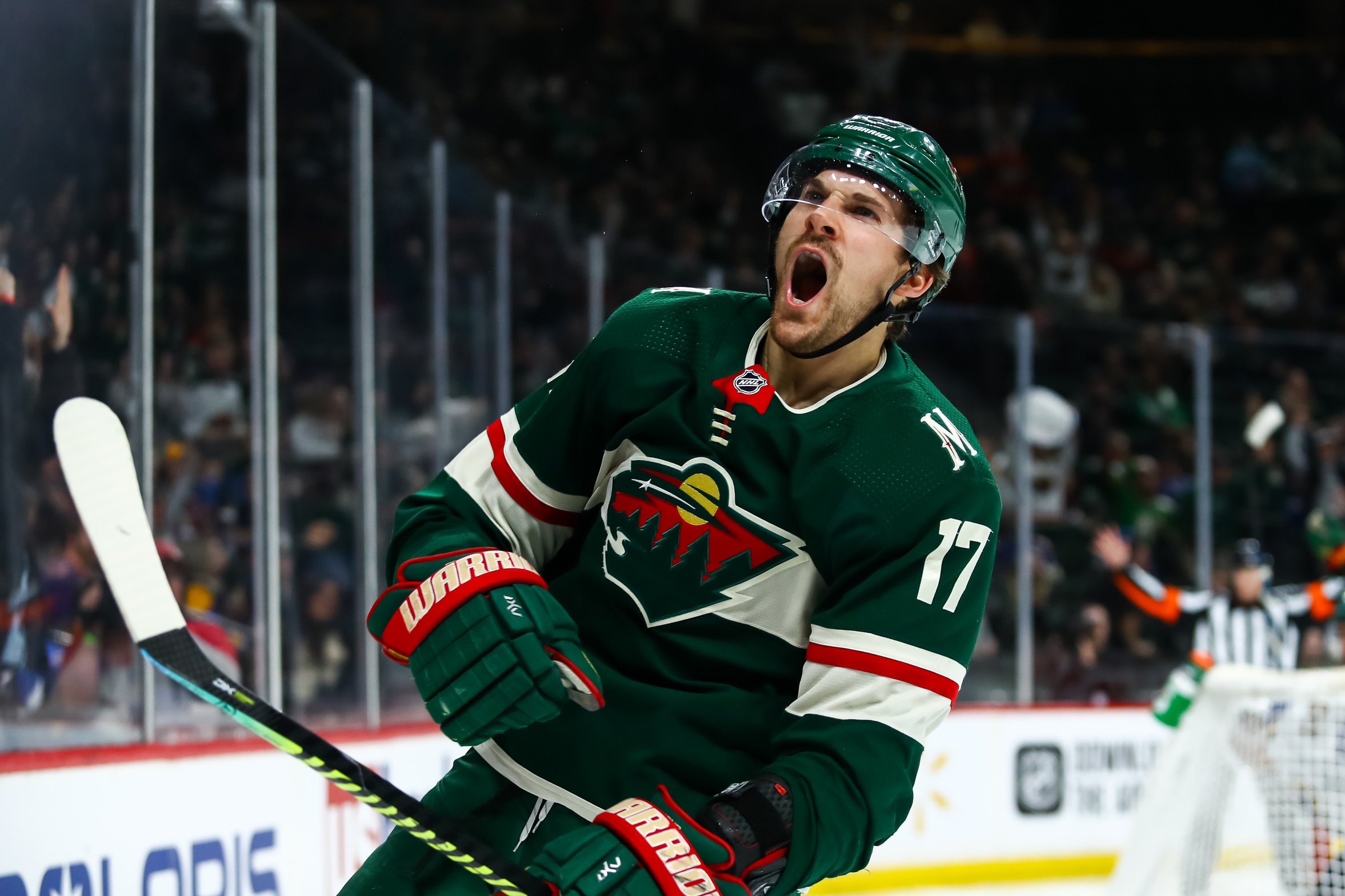 Minnesota Wild general manager Bill Guerin had high praise for forward Marcus Foligno on Tuesday afternoon. "He's a very valuable guy to our team," he said while discussing Foligno's extension. "Want to keep him. I don't know how else to say it. We want to keep him."
The Wild and Foligno came to terms on a 3-year, $9.3 million deal, which kicks in next year. It does not include any no-trade or no-movement clause, which would leave the forward vulnerable to the upcoming Expansion Draft or trade if the team sees it fit.
After listening to Guerin speak on the 29-year-old forward, however, it was clear that the front office thinks very highly of Foligno and sees him as a valuable part of the team moving forward.
Over the offseason, and really since his hiring, we have heard Guerin often speak of building the right culture here in Minnesota, which meant revamping the roster in the offseason.
But Guerin sees Foligno, a veteran holdover, as an ideal player to create it.
Guerin noted the tireless effort Foligno gives on a nightly basis, something that he shares in common with his brother, Nick, and father, Mike. It was also something Marcus tried to bring with him in his first year with the Wild as he tried to establish his footing on a new team.
"You win guys over by the way you play, actions," Foligno said. "Then it trickled into year two, three, and obviously on."
When asked how he lights the fire among his teammates with his work ethic, Foligno added, "[it's] just understanding the room, the energy before or during games. I like to provide the spark that's needed."
Foligno also brings great leadership qualities to the Wild. Both are reasons Guerin likes to file under "intangibles," which the general manager says "aren't going anywhere." It's possible that Foligno was considered for the Wild captaincy, which was just recently awarded to Jared Spurgeon (Zach Parise and Ryan Suter remain the alternates).
While Foligno was left without a captain's letter for the upcoming season, it is not bothering him or Guerin.
"You don't have to wear a letter to be a leader," Guerin said. "He is a leader. He's a big personality. He's one of the guys that keep the room loose. He's also one of the guys that holds others' hands to the fire. That's one of the big reasons why we value him outside of his play."
"He's a guy that looks after everybody on and off the ice."
Foligno is not one to talk about himself much, but he added how he could continue to grow as a leader. "You never get to the top of the leadership role," Foligno declared. "You are always learning."
Besides those intangibles, Foligno has grown into one of the better defensive forwards in hockey and a trusted member of the bottom six and the penalty kill. While the forward joked about never knowing much about analytics before the recent contract negotiations, he ranks highly in defensive metrics, especially in expected goals against while on the ice. His defense has become a point of pride for him, and it is not lost on the Wild brass.
"I wanted to be counted on for this team," Foligno declared. "I love this role."

When Foligno was pressed on why he is so good analytically on defense, he said, "I'm a guy that's counted on to help shutdown top players we play against. That's a great spot to be in. You play a lot of minutes against the best players in the world. You are looked at as a guy that relieves pressure off our top players."
Coming off a career year in which he scored a career-best 25 points, Foligno was entering the final year of his contract in 2021, and his future in Minnesota seemed uncertain. But after today's announcement, it's clear that Guerin values Foligno and what he brings to the ice (both on and off) and wants him to stick around and impart wisdom on the young players coming in to help build a good culture.
But just because Foligno had a career year in 2019-20, that doesn't mean he is done improving his game, something Guerin reminded him of at the end of last season. Guerin hopes Foligno can build on the year in a unique 2021 campaign in a modified West Division.
"I told Marcus to just get better every year," he said. "Just get better on what you aren't great at. That second tier scoring is really important to us. [Just] build off the year he just had."
With a renewed contract and established presence to help build a "winning culture," as Foligno put it, he is undoubtedly a vital part of Guerin's vision for the Wild moving forward.
He's a rare player to find these days in the league, said Guerin, paying him the highest compliment.
"[These are] important guys to have," said Guerin. "When a team has a guy like this, they try to lock him up. There just aren't that many of them out there."