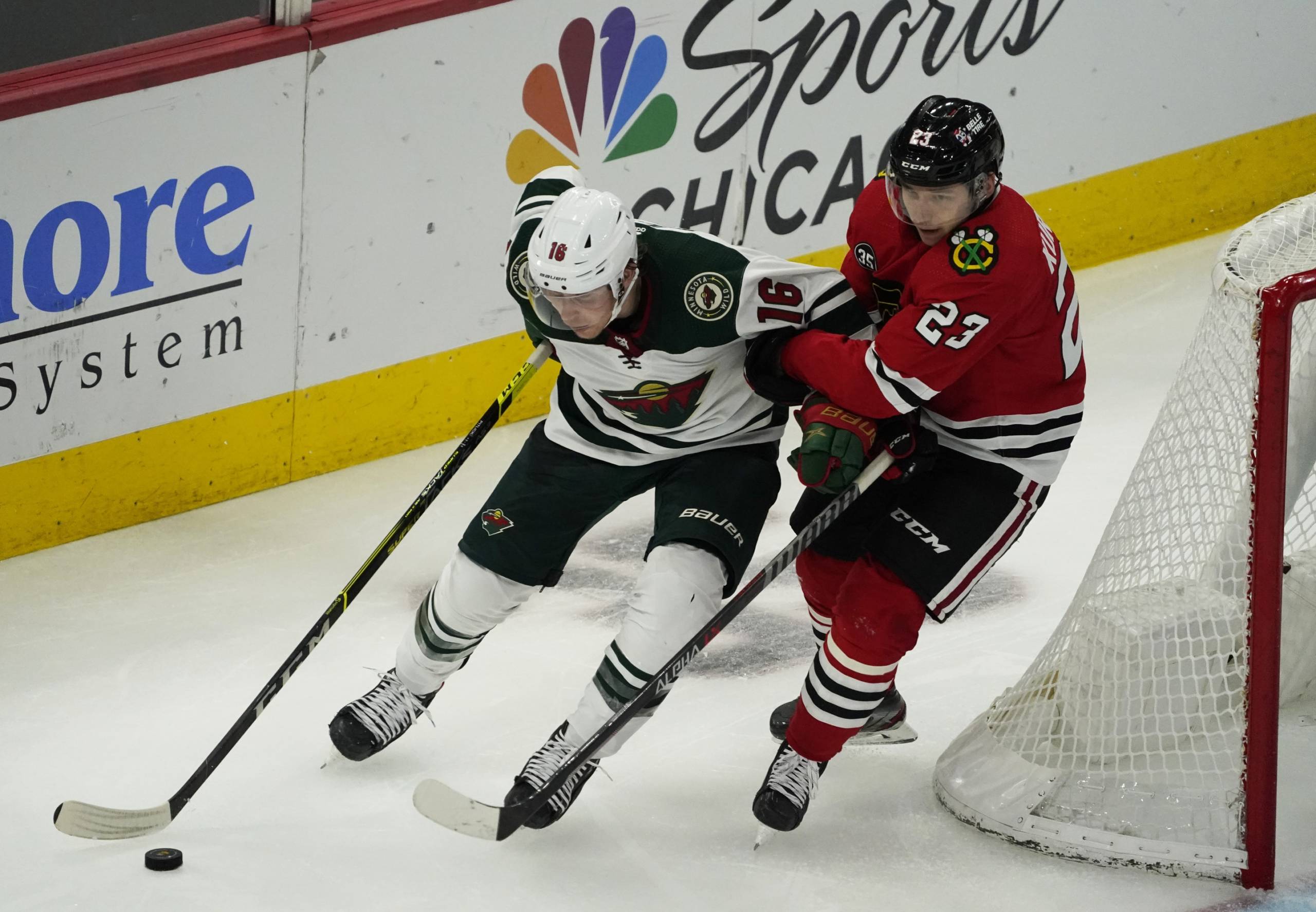 Saturday night's preseason finale against the Chicago Blackhawks was the first chance to see newly-acquired forward Rem Pitlick.
He finished with one shot on goal and was hardly noticeable on the ice. Honestly, if someone noticed, it was more because of how strange it was to see No. 16 back on the ice without Jason Zucker filling the sleeves. While the Wild as a team went equally unnoticed on the ice, it was interesting to see where Dean Evason would slot Pitlick into the lineup after arriving from Nashville.
Pitlick was inserted into the Matt Boldy spot opposite Kevin Fiala next to center Frederick Gaudreau. Even if Gaudreau doesn't make sense to center a line with Fiala, the initial thought of placing Pitlick on Fiala's line remains intriguing. The former Golden Gopher scored 108 points in 112 games at the University of Minnesota, including 21 goals as a junior, earning him recognition as a Hobey Baker finalist. In the AHL, he notched 20 goals and 16 assists in 63 games with the Milwaukee Admirals. As a member of the Chicago Wolves last year, he followed up his strong rookie campaign in the AHL by scoring 10 points in 8 games. The Plymouth, Minn., native added two assists in 10 games with the Nashville Predators as well. 
Additionally, Pitlick's analytics were promising during his short stint in the NHL. He was on the ice for 58% of the expected goals and 56% of the shots for in 10 games of 5-on-5 play. He added 12 shot attempts, 10 of which landed on goal, and eight of them were considered high-danger.
His stats indicate that he's perhaps a point-producing forward on the brink of making an impact in the NHL. And yet, he was waived by the Predators in the preseason after other prospects seemingly jumped him in the depth chart. There's a reason why he was available.
So, okay, maybe Saturday night's debut for Pitlick can be chalked up as simply a new player trying to figure out his new linemates. Either way, Pitlick is going to have to shoot the puck more often. Of the six shots on goal his line had in the game, four of them came off of Fiala's stick. That's part of the problem Fiala had all last season with his linemates. He was the only one on his line that could be counted on for consistent volume shooting. While it's completely fine for Fiala to own the highest shot count on his line, he needs at least another option to pass to, or at least one more trigger man to keep defenses honest.
Fiala's was paired most frequently with Marcus Johansson and Ryan Hartman. Johansson was stapled opposite of Fiala much in the same way that Pitlick may be and shot the puck 124 fewer times than Fiala. Hartman? Only 35 fewer shots. Simply put, Pitlick will need to become something he hasn't been to this point in his career -- a volume shooter. He shot the puck just 11 times in 113 minutes, or 5.8 times per 60 minutes. Compare that with Jordan Greenway, who had only 5.4 shots per hour. Neither player is shooting the paint off the goalposts with that level of output.
In a way, he's going to have become exactly the kind of player his arrival displaced. Adam Beckman, whom the Wild reassigned to Iowa on Saturday, is that volume shooter. If Pitlick can be at least Adam Beckman next to Fiala, his other tools will nicely complement that line and the rest of the Wild.
However, if he can't stick on the second line, then there won't be many reasons for him to stay in the NHL. The Wild chose to send down Beckman, Boldy, and Rossi, top-nine-type players who can play fast and with skill. If they didn't want to keep Beckman up for fear of him playing in a role that wouldn't match his skill set, then the same rings true for Pitlick. 
But that's apparently not a concern for Evason. When the Wild practiced in Duluth prior to their team bonding getaway, Pitlick was seen rotating in at fourth line center with Nico Sturm.
Instead, it was Victor Rask back alongside Gaudreau and Fiala. Rask spent most of last season next to a Calder Trophy winner and still shot 31 fewer shots than Fiala. The same Rask that missed a wide-open net on a beauty of a set up from Fiala in the preseason. 
No, Pitlick is the better option currently on roster, but he'll need to develop into something more to be a viable option on a line with the Wild's best scorer of the last two seasons. It's a nice addition to the 24 and under future core of this team. However, he's going to have to be a whole lot better than his first impression to help Minnesota achieve its ultimate goal.