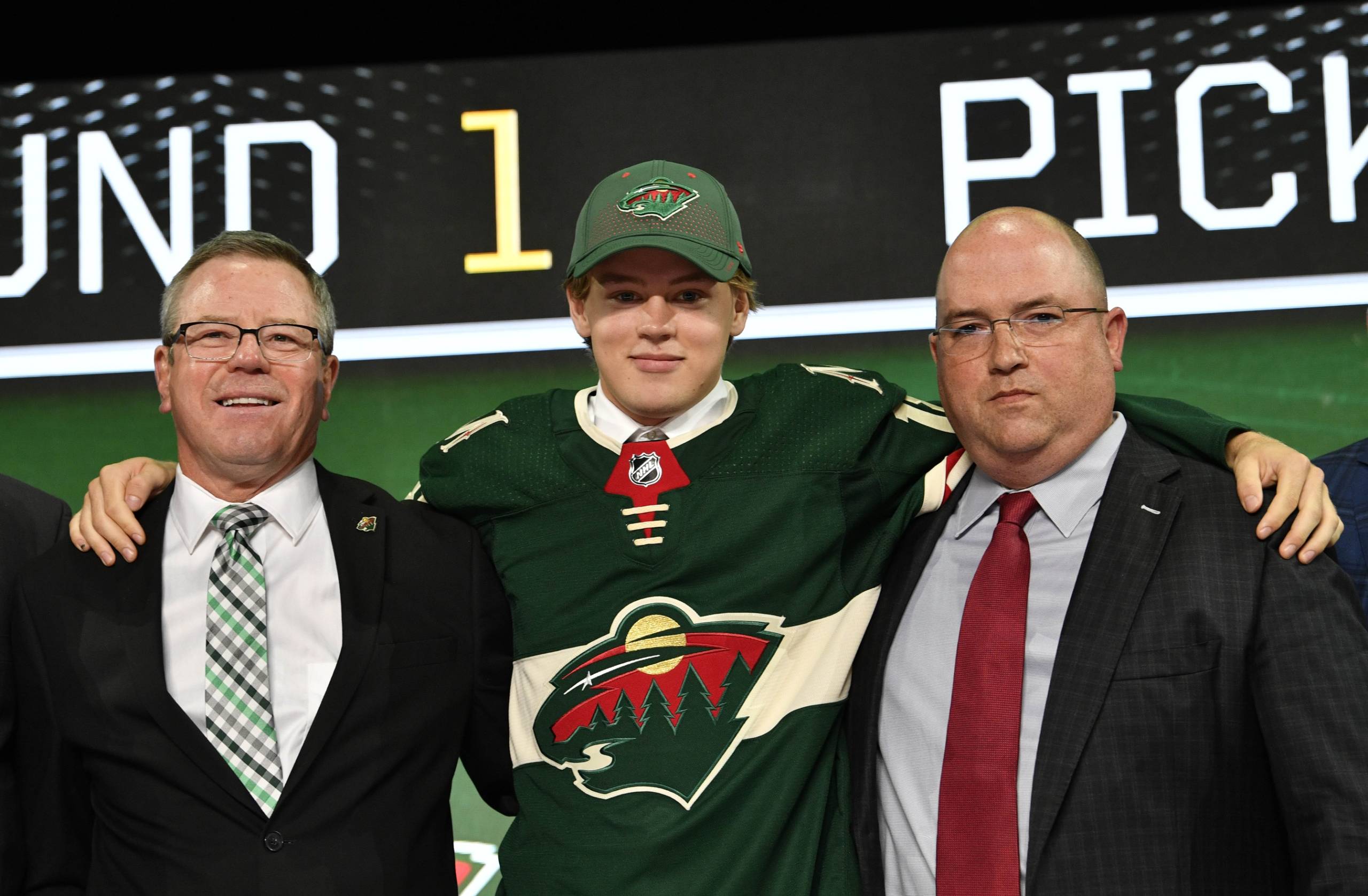 The day you're drafted is one of the biggest in any NHL player's life. Years of hard work and training culminates into this massive, validating moment. And being a first-round pick? To be determined to be one of the 31 best players in your age group by an NHL team? That's a dream come true.
Few people thought that dream would come true for Filip Johansson in 2018. That includes Johansson himself, who told the media he wasn't expecting to be drafted in the first round.
Many hockey players dabble in false humility, but it might have been true for Johansson. Consensus draft rankings had him as a late-second to early-third-round pick. While the Minnesota Wild brass loved his skating and hockey sense, one point in 23 games in Allsvenskan, Sweden's second-highest league, wasn't jaw-dropping.
The pick drew heavy local and national criticism for reasons that had nothing to do with him. He couldn't control where he was drafted, that the Wild were starved for star talent, or that being the first pick of the Paul Fenton Era would draw extra scrutiny. Were those circumstances different, or if he'd even been picked 34th overall instead of 24th, reactions would've been more subdued.
Instead, these factors put a microscope on Johansson's development and created expectations he couldn't deliver on. In his Draft+1 year, he scored just four points in 47 Allsvenskan games. The following season, he was promoted to the SHL, where he scored 4 points in 39 games. Underwhelming totals for both, and he moved from his club in Leksands to Frölunda in the offseason.
Now Johansson is on a tear that's finally flipping the script on his career.
Johansson… So Hot Right Now…
For a while, it looked like the change of scenery resulted in more of the same for Johansson. In his first 19 games for Frölunda, he scored just two points and struggled to get even 15 minutes a night.
His fortunes started turning around on Dec. 17, when he notched two assists in a 6-1 win. He followed that up with a two-goal performance, including the game-winner in his next game.
"Two goals in a match... I do not remember when it last happened. It was probably U16 or J18 or even longer ago," he told Uffe Bodin of Sweden's Hockey Sverige in a Dec. 29 article.
It's already happened for him again this week, when he scored two goals in a win over Färjestad, including this beauty of a wrap-around.
His offense and role have both seen huge increases, with four goals and eight points over his past 11 games. He went from averaging 13:34 minutes a night in his first 19 games to almost 18:00.
This is only the start of a blossoming he — and the Wild scouting staff — felt was coming for Johansson. "I have always felt that I have more in me than I have actually shown," he said. "I just did not get it out on the ice, but lately, it has come out a little more. It's damn nice."
Indeed.
Great Expectations
Part of the reason Johansson was such a surprise first-rounder was that he didn't have much hype going into his draft year. Then he surprised a lot of people very quickly.
"He had a meteoric rise to stardom as an 18-year-old," Bodin told 10K Rinks this week. "Pretty much came out of nowhere playing a key part in his team's success, being chosen to play for Team Sweden at the U18 WJC and then being drafted by the Wild in the first round."
The raised expectations increased pressure on him, but he says the biggest pressure source came from within. "I was not happy with the little things. I always wanted more," Johansson told Bodin for the Dec. 23 article. "Unfortunately, trying too much can be a vicious circle. In the end, you break down yourself."
Now that he's finally tapping into the player he can be, that pressure and doubt are giving way to confidence. It's not only affecting his scoring but raising his all-around game.
"His skating looks really good, and you can tell that he's taken another step physically, as he's better at handling opponents around the net," Bodin observes. "There's never been any doubt about his talent, it's just been a question about him putting it all together, and this past month, it really seems like he been able to do just that."
For the first time since 2018, Johansson's play is demanding Minnesota's attention.
Back on the Map?
Few viewed Johansson as a top prospect in Minnesota's organization after two years of struggles. 10K Rinks did not have him on their top-10 rankings in December.
But with his elevated play, is it time to start re-evaluating Johansson's case?
It's only been 11 games, but there are definite changes to his game that suggest that his success is sustainable. He's had a whopping 35 shots in his past 11 games, as opposed to 21 in his first 19 games. According to Bodin, it's been a focus for Johansson, one that's paid off.
"He tries to find open lanes in the offensive zone and use both the one-timer as well as the fast snapshots," Bodin says. "The confidence he has with the puck right now allows him to shoot more from the point, but also to follow the rush offensively and get chances in deep."
His per-minute numbers have the look of a top prospect, too. With 1.22 points per hour at 5-on-5 in Sweden, he's comparable to Nils Lundkvist (1.34), a fellow 2018 first-round defenseman who is seen as a blue-chipper. Granted, Lundkvist has shown dominance on the power play, where Johansson hasn't. Then again, Johansson already has two points in 19 minutes of power-play action. Can he grow more with more opportunity?
Worrying about the future doesn't suit Johansson, though, and he's found his success by leaving that to the media types.
"I live in the now," he told Bodin. "If or when it will be in Minnesota, you will see. It's not possible to decide now. You can only live for today, do the best you can, and see if it is enough."
If Johansson keeps up his level of play, he won't have to worry about anything. It will be more than enough.
Thanks to Uffe Bodin for his help and insight. All data comes from SHL's official site and Svengelska Hockey.