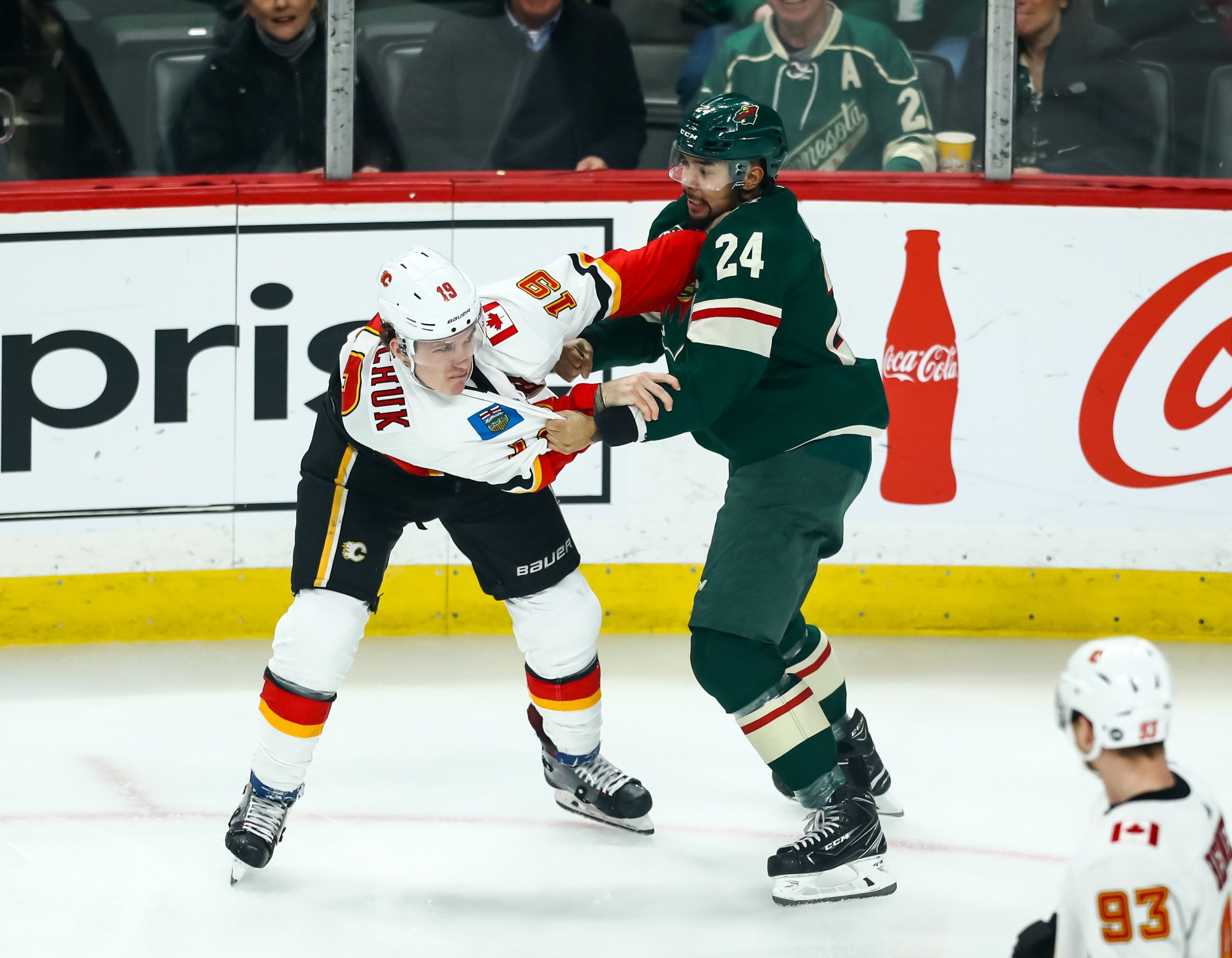 Somewhere out there exists a code among hockey players.
Twelve days ago in Calgary, Matt Dumba apparently violated that code.
In the final minutes of a game in which the Wild are trying to press and get a goal to get back into the game, Dumba stepping up on Mikael Backlund to make a hit and force the puck off his stick was deemed 'disrespectful' by the Flames.
The NHL's Department of Player Safety deemed the hit legal -- they look at everything -- and then handed out a suspension to Ryan Lomberg for his retaliatory fight on Dumba.
That should have been the end of that, right? Wrong.
With the rematch between the two teams this past Saturday in St. Paul, the bad blood boiled over into the first period. Matthew Tkachuk stepped up and forced Dumba to fight in the first 90 seconds of the hockey game, and Dumba obliged to defend himself.
First of all, how was there not an instigator penalty on Tkachuk?
Rule 46.11 from the NHL Rulebook on 'Instigator':
An instigator of an altercation shall be a player who by his
actions or demeanor demonstrates any/some of the following criteria:
distance traveled; gloves off first; first punch thrown; menacing
attitude or posture; verbal instigation or threats; conduct in retaliation
to a prior game (or season) incident; obvious retribution for a previous
incident in the game or season.
Gloves off first and obvious retribution for a previous incident in the game or season are clearly marked here. Both players were just given five for fighting and that was that. We can complain about the officiating a different day.
Dumba returned to the game in the first period, but he was gone in the second and the third after showing no signs of being affected by the fight with Tkachuk. Not a good sign for the Wild and they went on to lose the game 2-1 to Calgary.
After the game Saturday, Tkachuk answered for why he went after Dumba in the first minutes of the game.
The hit by Dumba 12 days ago was a clean hit as he was trying to make a play for his team late in the game. Should it be a hit that maybe the league should try to get away from? Absolutely. Nobody wants Backlund to possibly get a head injury on a legal hit like that.
But for now, it is within the rules of the game. Don't give us this crap about the hit being 'disrespectful'. The Wild were pressing trying to tie, and Calgary had a player get caught doing something he shouldn't have.
So now to open a new game nine days after the hit, Dumba has to answer to Tkachuk even though Lomberg went right after him in that same game? Apparently, this is part of the hockey code. Dumba has to pay the price, twice, for his legal open ice hit.
Now the Wild are going to be without their arguably best defenseman this season for at least a week, as Bruce Boudreau declared on Monday. The team has been very tight-lipped about what is ailing their 24-year-old defenseman, and it could very well go longer than a week.
This is exactly the type of fighting and retaliation that the NHL needs to get away from.
A young, exciting player in this league makes a play within the rules and he gets jumped twice in two different games for doing so. Now, that player is out for what could be a significant period of time after just trying to defend himself. How does this code work for anyone?
Fighting has gone down in the league significantly, but there are still instances -- like this -- where you see how it has become irrelevant and leads to more harm than good for the players, the teams, and the league. Fans don't exactly want to pay top dollar for hockey tickets to hear top players announced as 'out with injury' minutes before the game begins.
If Matt Dumba was answering some sort of code, then it is time to re-write the code. Nobody needs to get hurt over something like this.
Do better, hockey players. Fans pay to see you play, not fight.
---