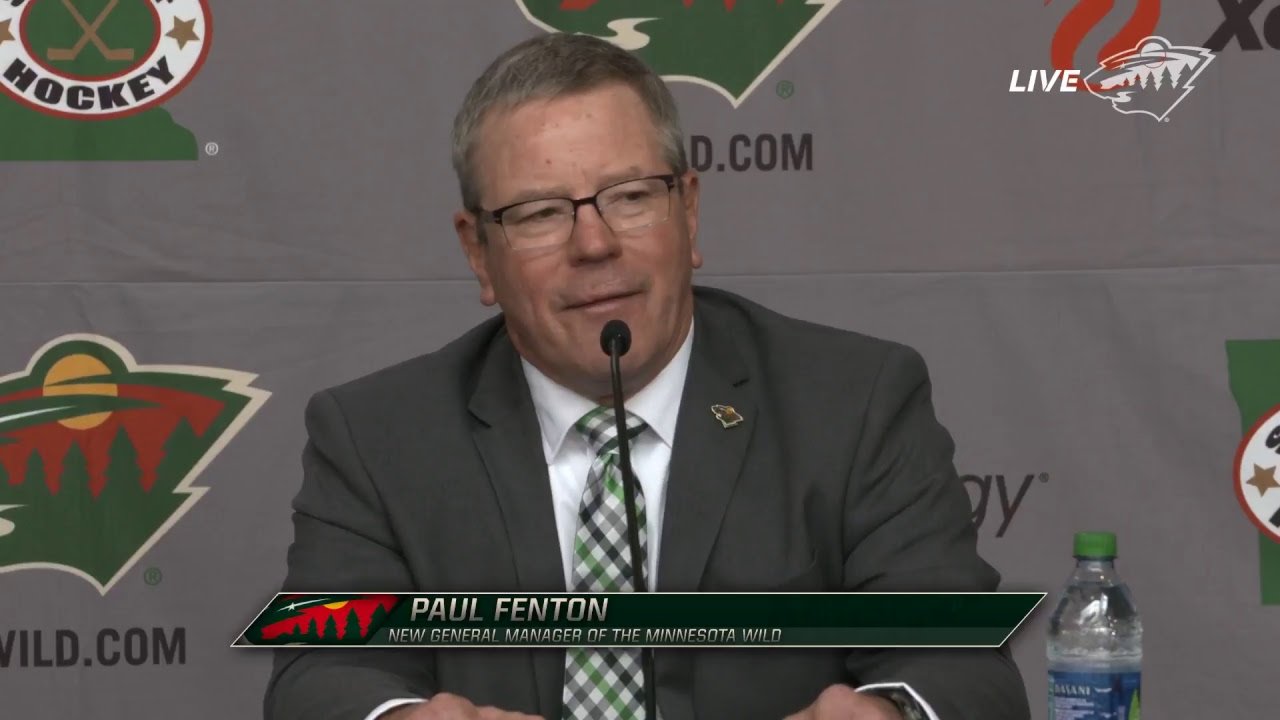 On Tuesday morning, Craig Leipold introduced Paul Fenton as the third general manager in Minnesota Wild history.
Instead of a column that you probably already read about tweaking or needing to overhaul this roster, here are some general thoughts from some of the things said at today's introductory presser.
Where do the jerseys go?
This was not a question or quote, just my own general thought. When general managers are introduced, they get a jersey with the year that they are hired as the jersey number. What happens to these jerseys after their 15 seconds of fame? I've always wondered this.
"Our team is not very far. I've been brought here to try to tweak this process and get us to win the Stanley Cup and that is what our goal is from day one." – Fenton
Whether you like it or not, Fenton has bought into the fact the Minnesota roster just needs a few 'tweaks' to get them over this playoff hump. He did not hint at who could be on the move, but given the team's short window to win one can assume moves -- or tweaks -- are coming.
"I don't know if it's a fixing process, but what I did tell [Leipold] is this team is very good. Certainly, you always have to makes tweaks and changes. To come here to a team that has been to the playoffs six straight years, it doesn't need to be overhauled. They have a lot of really good veteran pieces, young guys that are coming. I'm just trying to put some finishing touches to help us win." – Fenton
We already talked about tweaking the roster, but humor me for a moment. Fenton has been the assistant general manager in Nashville for a long time. He has seen the Wild play Nashville several times a season for the last five years since the division changes. So what if he actually believes, because of all of his viewings of Minnesota, that this team just does need a few tweaks and not an overhaul? What if he wasn't just saying those things to Leipold to get his dream job?
"Unanimously they said we were a team that was just missing a piece." – Leipold on the GMs he interviewed.
As through as this process was, it is a bit surprising to see not one of the candidates talked about more of an overhaul for the Wild. Or maybe a candidate did and Leipold decided not to share that. Or maybe everyone was just saying that to land the gig.
The latter is probably the correct one, here.
"I've told Craig the possibility of different tweaks. But I have to talk to everyone [in the organization]." – Fenton on what tweaks he will make
Fenton has a good idea of what he wants to do, he just wants to talk to his hockey operations people to see if his thoughts match up with theirs. Either way, expect some activity on the trade front next month.
"I like to think outside the box. I like our people to think outside the box. When you look at the trades we made there, they were hockey trades." – Fenton on trades made in Nashville.
This is the quote Wild fans need to hear.
P.K. Subban for Shea Weber. Ryan Johansen for Seth Jones.
These are some of the bold hockey trades Fenton has been a part of in Nashville, with both paying huge dividends for the Predators. These types of move are going to be required for the Wild and you may even see one in the near future. But after watching the previous regime hang on to players when there might have been a deal out there to bring improvements to the Wild roster, hockey trades will be a sight for sore eyes.
"The strength of every organization is the draft. The way we develop, the way we put our minor league system in place. I believe your minor league team has to be your vaulting stone to the next level. When we made the Stanley Cup Final [with Nashville], we had 17 players on the roster who had been to Milwaukee." – Fenton
Another area the Wild have been lacking in over recent years has been the draft and develop part. Many picks were traded away to help boost the club's playoff odds - to no help - and the AHL affiliate in Iowa has suffered from it. The Iowa Wild have not made the playoffs in five seasons in Des Moines. While improvements have been made the past two years, they have relied on signees - not draftees - to help prop up the team's record. Fenton will clearly give the Wild pipeline and Iowa a much needed shot in the arm.
"The thing that is most attractive is that Craig gives the organization the option to be a cap team right from the beginning. There is no floor here" – Fenton on what attracted him to the Minnesota job.
This is no doubt a jab at Carolina and their GM search, which Fenton interviewed for in March. The Hurricanes new owner Tom Dundon has not exactly made himself known as a guy willing to spend in his first offseason at the helm, as he could not find an executive to take the GM job for such a low salary.
"After the second round of interviews, it was just clear that Paul was our guy." – Leipold on the interview process
New Jersey assistant general manager Tom Fitzgerald was the other who got the second interview with Leipold and even picked up some steam in the last week. However, as Leipold points out, the second interview is what did him in and Fenton was able to win over the Wild owner.
"Certainly looking at the information provided by the analytics team is something that I will always look at. I don't believe any decisions are going to be primarily be made by analytics but it will support everything we do with our eyes. That's the most important thing. I will use every resource we have." – Fenton on the analytics staff
If you were worried about the analytics team of Andrew Thomas and Alexandra Mandrycky - the founders of War on Ice, it sounds like they will be staying around in their role. If you are not a fan of hearing 'eye test', well then the end of that statement sure got scary for you, didn't it?
I think we have to get to know each other before I start to stress certain things. Bruce is a very successful coach and has been. What we are going to work on is the two of us is how we are going to get to the next level. – Fenton on head coach Bruce Boudreau
Basically translated: We will see how next year goes between the two of us.
"I know some of these guys, from being out in the field. I just want to get to know these guys." – Fenton on the hockey ops staff
Another non-answer essentially, this time in regards to the front office, scouts, etc. But with the draft a month away, Fenton is not likely to make any changes until it is over. But when you see some of the longevity in the scouting department, changes are still seemingly likely.
"It's really easy to sit here now and throw stones. I'll never throw stones at anybody. Its hard in this position, what Chuck had to go through." - Fenton on past transgressions by former Wild GM Chuck Fletcher
You hear that Wild fans? The new guy won't be throwing stones! His boss sure did with an expansion jab, but Fenton did not. Maybe take a page from his book now that the page has been turned.
---
Never Miss an Episode of Giles & The Goalie!