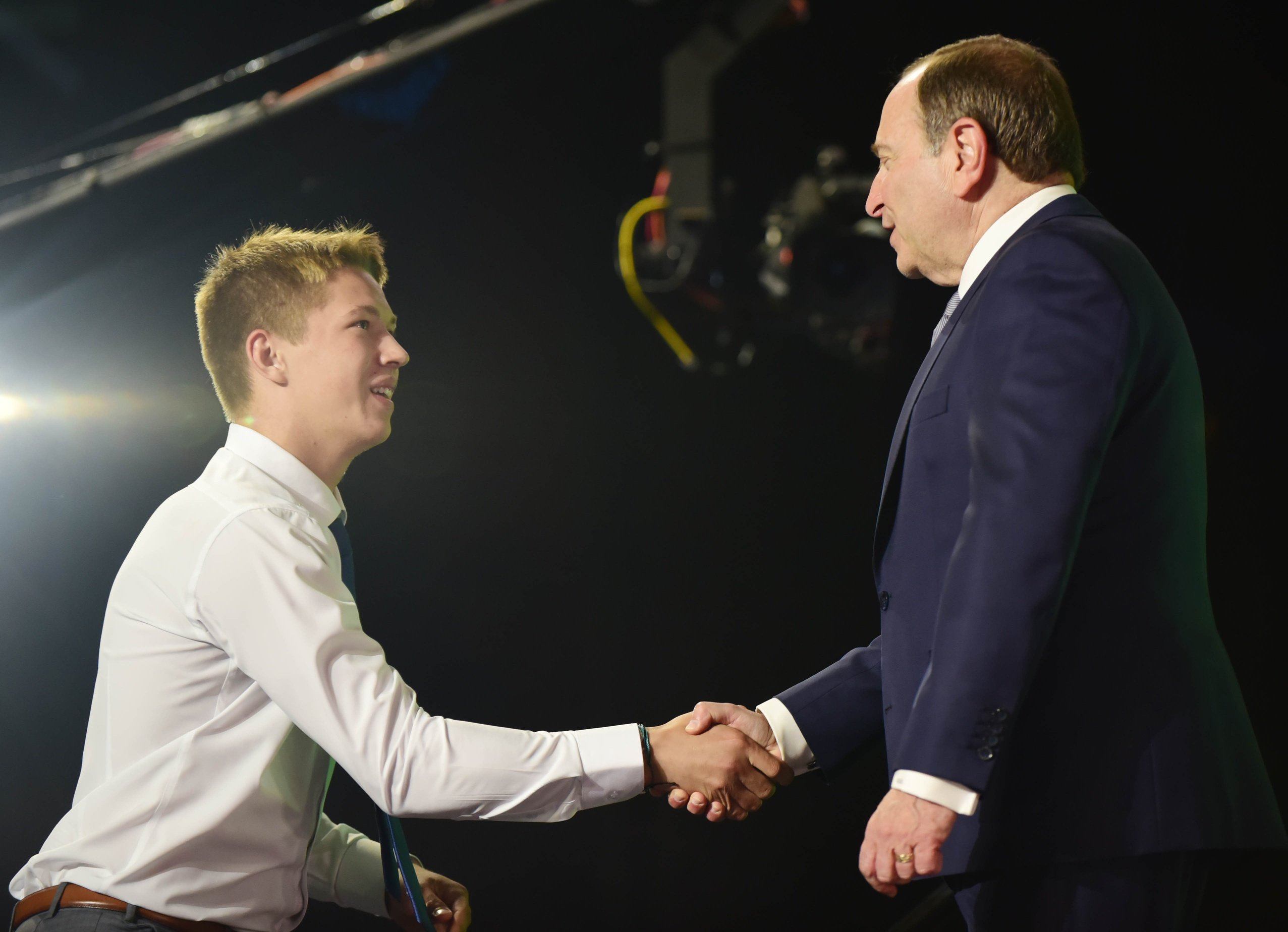 As the Minnesota Wild get set to close out their worst month of October in over a decade Tuesday night, there are seemingly more questions than answers when it comes to their roster and the long term outlook of this franchise.
There's a word the team will absolutely not use when it comes to roster construction long-term, as they won't even entertain the idea of even uttering it. That word is rebuild. Owner Craig Leipold remains adamant that the Wild will not rebuild, despite a decent population of his fanbase clamoring for one.
What it means is that first-year general manager Bill Guerin will have his hands full as he tries to retool this roster and make them a playoff team sooner than later. How will Guerin retool? That remains to be seen, but his path becomes clearer by the day. It's through the draft.
Retooling through the draft sounds more like a rebuild than it does a retool, but that is the only route Guerin can seemingly take at this point.
Finding top talent via trade will be difficult, as the Wild have very few premium assets (Matt Dumba comes to mind) and they might not want to move those as they would seemingly prefer to build around them rather than move them.
The other valuable trade chips Minnesota had last season – Mikael Granlund, Charlie Coyle, and Nino Niederreiter – were moved in trades for pennies on the dollar as the Wild have gotten below-average returns on all those deals. Those players acquired last year by former general manager Paul Fenton – Ryan Donato and Kevin Fiala –  are reportedly out there in trade talks already as they are off to abysmal starts to their season.
Minnesota's other youth that they are vastly relying on this season in addition to Donato and Fiala – Joel Eriksson Ek, Jordan Greenway and Luke Kunin – have a combined 13 points in the team's first 11 games. It's not a surprise that Guerin is entertaining trades for them, but he is not looking to sell them for pennies on the dollar just to unload them. He wants the right deal.
With those young players struggling, the Wild do not have much else to dangle in trades. Their veterans are not exactly prized possessions on the trade market and the Wild are probably just going to run out the clock on their contracts and let them go down the road when that time comes.
Building through free agency has often backfired on the Wild, with the recent Mats Zuccarello contract coming into the light as not great for a 32-year-old player.
With all that in mind, Guerin's path to fixing this roster has to be through the draft, and that takes time. But maybe not that much time?
Kirill Kaprizov is slated to come over next season after his KHL contract expires. 2019 first-round pick Matt Boldy is getting rave reviews and could sign an entry-level contract in one year or two. Some of Fenton's other draft picks in his two drafts – Jack McBain, Alexander Khovanov, Connor Dewar, among others – could also quickly rise up and turn into solid NHLers in the next couple of seasons.
Between those prospects and the expected high draft position that Minnesota is on track for in 2020, a retool through the draft could be a bit more swift than you might think. It also might explain why Guerin is entertaining trading the Donatos, Fialas and Eriksson Eks, so that he can make room for all these prospects and draft picks that could provide higher ceilings than those players he currently has.
Bill Guerin has been given a less than stellar hand in his first year as Wild general manager, but there is a glimpse of hope if he takes this route in terms of retooling. If he goes a different route, then that retool could massively backfire and set the team back for even more years than they already are facing.
---
Never Miss an Episode of Giles & The Goalie!
http://zonecoverage.com/wp-content/uploads/2016/05/itunes.jpghttp://zonecoverage.com/wp-content/uploads/2017/05/Podcast-header-Image-City-1.jpg