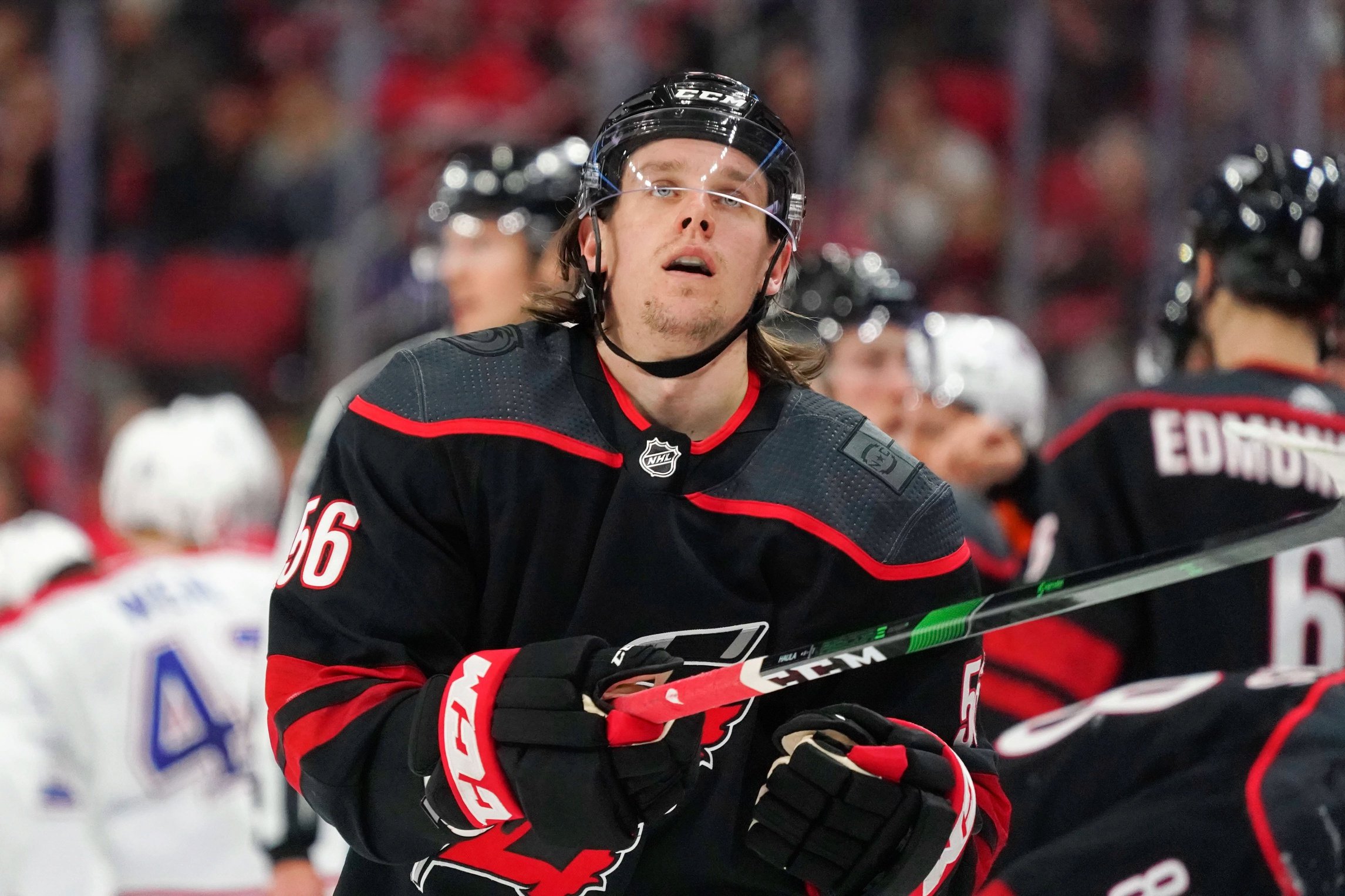 There is a pretty limited pool of free agents this year. The players who are available are either over 30 or depth guys. A few former Minnesota Wild players are on this year's list: Mikko Koivu, who is scheduled to announce his future Friday, Mikael Granlund, who was dealt to the Nashville Predators to acquire Kevin Fiala and Johan Larsson who was sent packing for Jason Pominville in 2013.
None of those players are likely to make a return to St. Paul. But one player could: Erik Haula.
The former Golden Gopher and 2009 seventh round draft pick was part of one of the last great Wild teams in 2016-17. He was in the midst of a career season when Minnesota finished with a franchise-best 106 points. They appeared was primed for a long postseason run, but were stymied by St. Louis Blues goalie Jake Allen in the first round. 
Haula was a restricted free agent following the season, and rather than reach an agreement on a new contract, Fletcher traded Alex Tuch to the Vegas Golden Knights as incentive for taking Haula in the expansion draft -- a move that in hindsight that has disrupted the Wild ever since. The Pori, Finland native blew up for career-high 55 points for the expansion Knights.
That was two general managers and one coach ago, and now the Wild are desperately trying to get younger. The Minnesota's center depth has taken a dramatic hit: There are no longer highly paid or aging veterans shoehorned into those spots. If a trade for a top center doesn't materialize, the competition in-house for the Wild's top center is between Joel Eriksson Ek and newcomers Marcus Johansson and Nick Bjugstad.
Why would Guerin sign Haula?
If the Wild are going to trade Matt Dumba, they must maximize the return. Dumba is the last remaining trade chip other than Fiala or Kirill Kaprizov who can fetch maximum return, so it's better if they wait for offers to pile up. And if the Wild cannot land a center via trade, Haula can serve as a stop-gap.
At 28 years old, he registered over two points per hour in Carolina last season. He scored 12 goals and added 10 assists in a balanced approach for the Hurricanes.
The Wild need a guy they can insert next to Fiala or Kaprizov who can play creatively with them. That means scoring when they're making the play, and finding ways to get them the puck. Additionally, Haula can be trusted defensively. He starred in that role with Minnesota the first time around, and it's dropped a bit since then. However, Minnesota can ice a pure shutdown line with Eriksson Ek or Nico Sturm in the bottom six, so Haula doesn't need to be Koivu -- he can get away with being more Staal-like defensively.
Wild mustn't over-commit on Haula
Bringing Erik Haula in as a stop-gap fills a need for the Wild, and it buys time for Guerin to field more calls on Dumba for a top center. However, to commit to Haula for more than the next two seasons doesn't serve the GM's greater plan.
Evolving Hockey has Haula's next contract projected for 4-years, $4.234 million AAV. The former Gopher is playing at a replacement level, and that's a long time and a lot of money to dedicate to a replacement-level player -- especially when the salary cap isn't going up any time soon. He'd have to take a hometown discount.
Kicking the tires on Erik Haula is not a bad idea when free agency opens. He plays a style that fits with how the Wild want to play. Furthermore, he can play in a top-six role that can help the Wild's young stars. But Guerin needs to view Haula strictly as a stop-gap for something more, something better. If Guerin can't get a deal that intrigues him involving a top line center, a shrewd play on Haula can buy some more time.