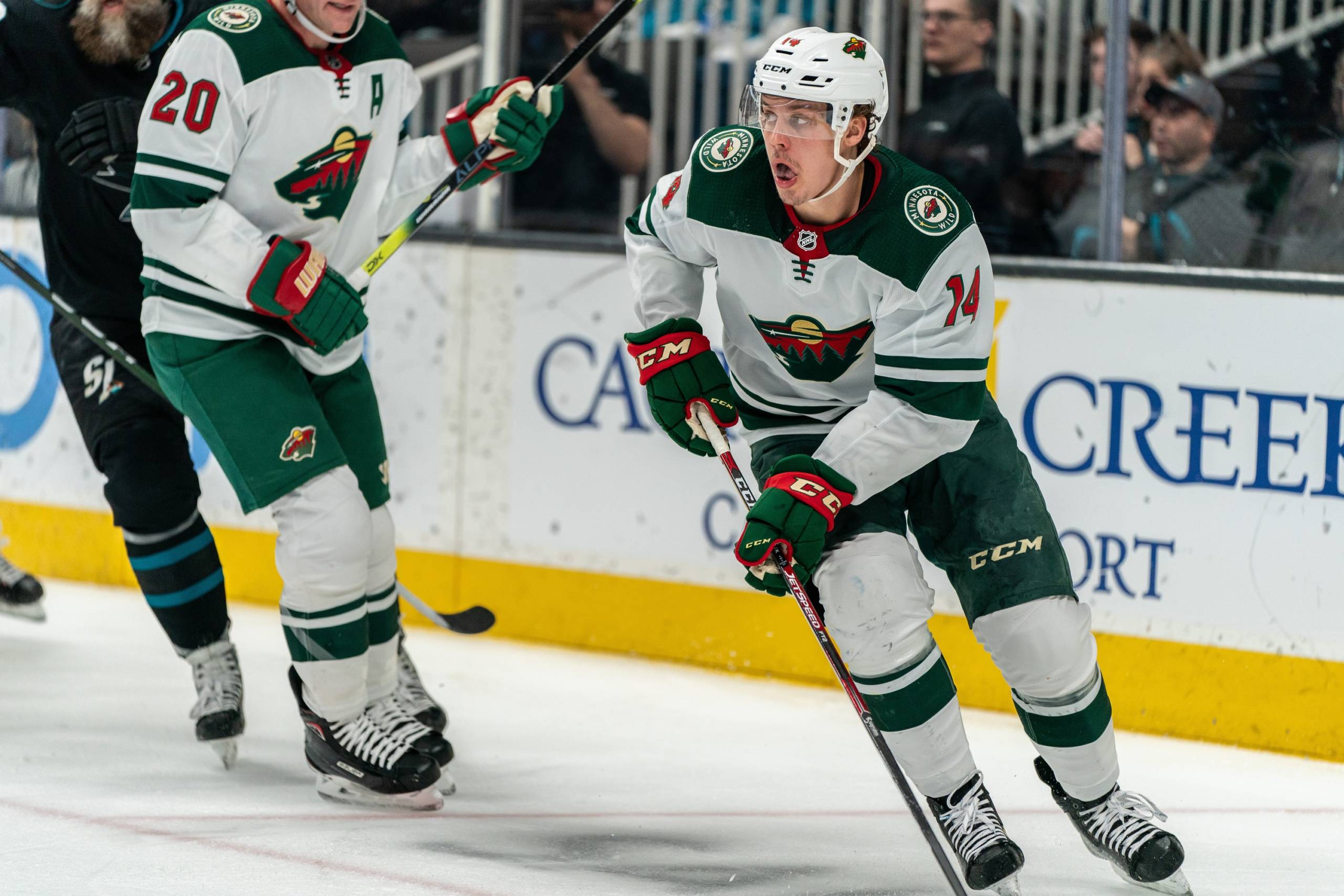 Take any year the Minnesota Wild have existed, try and find a true No. 1 center on the roster.

 

Actually, don't, because they haven't had one.

 

The Wild have begun the second overhaul of the franchise in two years. The first involved Paul Fenton jettisoning the Chuck Fletcher core that never reached its potential. The second involved more of a culture shift around the team with Bill Guerin trading away core players like Jason Zucker, Eric Staal, Devan Dubnyk and Luke Kunin.

 

On top of each of those moves, Guerin also let Mikko Koivu, the franchise's icon and captain for more than 10 years, walk in free agency. As 10KRinks has noted before, the team's identity down the middle of the ice underwent a dramatic change.

 

We don't know if it will good or bad, but it will be new. And with uncertainty, there can be doubt. Each of Minnesota's centers are on expiring deals except for Victor Rask and Nico Sturm, so there is reason to wonder if these players are even worth extending beyond 2021.

 

The Wild's center depth might prove surprising, though.

 

Let's start with one of the team's best candidates to anchor the fourth line position this season: Nico Sturm. The German forward didn't have a fairytale entry into the NHL: An undrafted player out of Clarkson University, the Wild signed him as a college free agent near the end of the 2018-19 season and he played in two games. He scored 45 points, including 14 goals, in 39 games in his final year at Clarkson.

 

Sturm spent most of the 2019-20 season in Iowa scoring 32 points in 55 games. But while the defensively responsible skater has shown offensive proclivity in the AHL, when given the chance in the NHL he's been slotted in on the fourth line. That's not a knock on Sturm, but his game makes sense for that type of role, one that in the past the Wild have signed an expensive, veteran free agent on a one-year deal for.

 

 

After his season in the AHL and six games with the Wild last season, he should look more established than expected in his 4th line role.

 

This spot is also where Rask would slot in if he's not scratched. Sturm should have a better shot with his upside and new contract signed by the current GM.

 

And don't forget about Blaine's Nick Bjugstad, who is back home after spending six and a half years with the Florida Panthers and one and a half with the Pittsburgh Penguins. The Wild traded a conditional 2021 draft pick for the former first-rounder, a tremendous value acquisition. The former Gophers' star is coming off a significant injury and Pittsburgh retained half his salary.

 

 

While it's worth noting that Bjugstad has generated over replacement-level production just once in his eight seasons in the NHL, Minnesota could really use what Bjugstad brings to the table in a lesser role -- particularly in a middle- or bottom-six center role. He is just over 49% in the faceoff dot in his career, and his goal-scoring ability is something this Wild roster could use, too. Pair him with some skilled wingers and Minnesota could offer a surprisingly skilled depth line, which would allow Dean Evason to roll all four lines.

 

That brings us to Nick Bonino, who could turn some heads this season. Bonino isn't some offensive diamond-in-the-rough who fell into the Wild's lap. Bonino has made his living as a defensively reliable center. He has had votes for the Selke Trophy in three of the past four seasons.

 

[embed]

[/embed]

 

His experience as a two-time Stanley Cup winner could prove valuable to a young team that hasn't won before. It doesn't hurt that he won over 53% of his faceoffs in the last three seasons. His presence might not be flashy, but it gives the Wild so much experience on the penalty kill and at the bottom of the lineup overall. With three or four center options near the bottom of the roster, it gives Evason even more flexibility in his everyday lineup and some punch beyond the first few lines.

 

Finally, onto the Wild's only drafted and developed center on the roster: Joel Eriksson Ek. JEE will get a shot to regularly play top-line minutes, an opportunity he hasn't had before.

 

https://twitter.com/HeresYourReplay/status/1184987472788447234

 

The 23-year-old could very well turn heads and surpass his modest offensive numbers in the NHL to this point and become a highly valuable two-way player. Playing with wingers such as Mats Zuccarello, Zach Parise, Kevin Fiala and Kirill Kaprizov could greatly improve his offensive numbers. This opportunity is all on Eriksson Ek, though. He has a chance to show he can grow beyond the role the Wild have had him in for the past few seasons, and on a team with such fluidity at the position, it could be a quick change if something doesn't click.

 

The missing piece here is Marcus Johansson, who may end up becoming a winger because of his struggles in the faceoff circle. On another team, he may be forced into a center role, but the Wild have enough depth to put him in a better position to succeed.