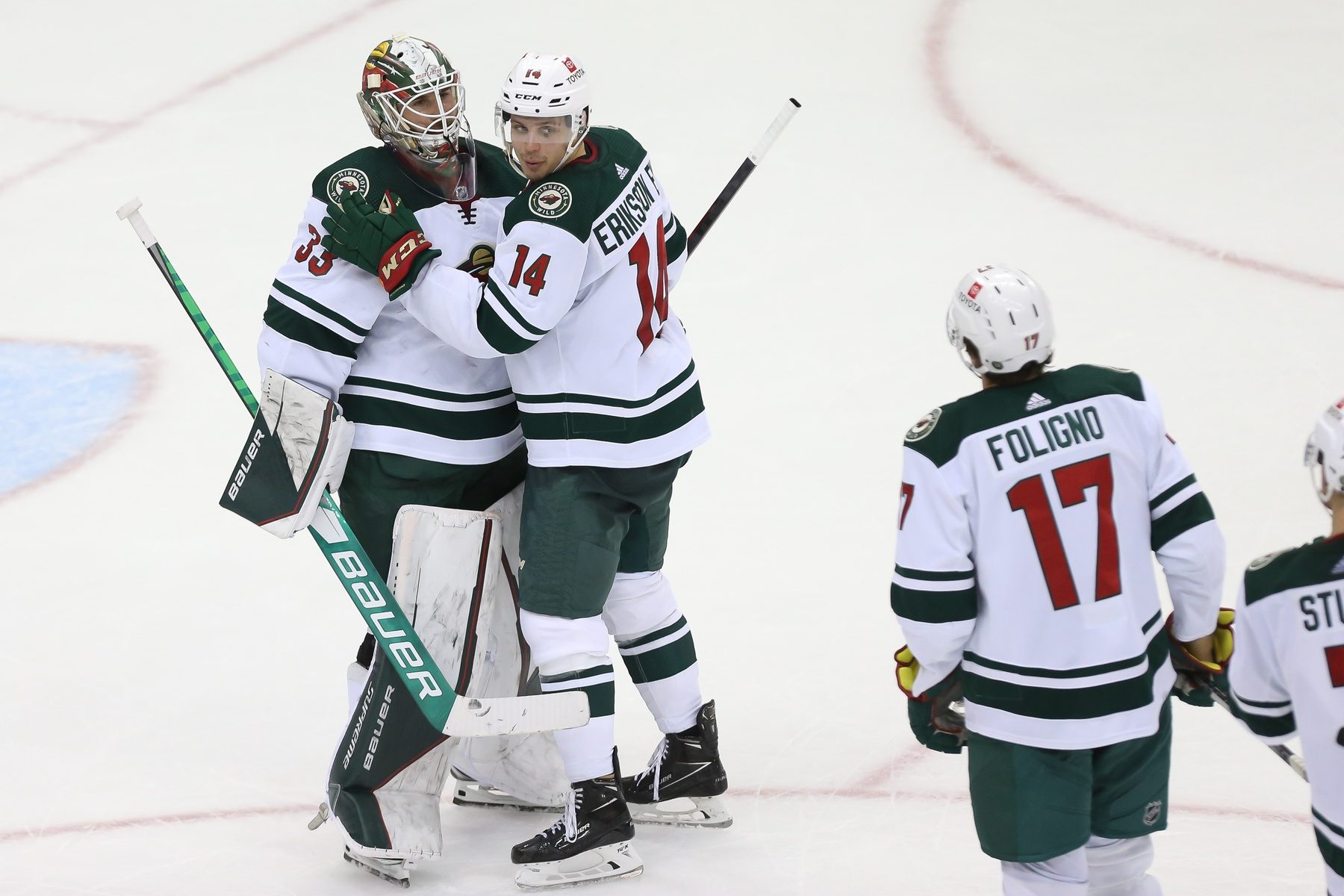 We all knew that Kirill Kaprizov would be representing the Minnesota Wild at the All-Star Game in Vegas. However, fans were dumbfounded when goalie Cam Talbot was also on the Central Division roster. He beat out guys like Connor Hellebuyck and Darcy Kuemper and joined Juuse Saros of the Nashville Predators as the Central Division All-Star netminders.
Talbot is tied for eighth in the league with 15 wins. However, he's been sidelined since the Winter Classic with a strained muscle. Most fans would say he's having an average season, so why was he selected to be an All-Star?
The honest answer? No one knows. Maybe the NHL was feeling generous and wanted Talbot to experience the excitement of an All-Star weekend. He's never made an All-Star team before. Perhaps they wanted the Wild, who have had a great season so far, to have more than one player represented. Maybe they want to market a team on the rise in a hockey-crazy market. Occam's razor is that the NHL thought that the other Central Division goalies outside Saros were not as good as Talbot.
However, Talbot doesn't have a really strong All-Star case.
A .909 save percentage is not good. A 3.00 goals-against average? Even worse. Most recently, he was embarrassed on the national stage, giving up six goals against the St. Blues at Target Field. In the game before that, he also gave up six goals to the Dallas Stars. Sure, Talbot has been dealing with an injury, but his play has slipped lately.
On the other hand, there is a case for him belonging at the game. He is part of why the Wild are as good as they are. He's kept them in games and has earned 15 wins so far. Talbot is flashy at times and can steal goals. You'll often hear Wild play-by-play voice Anthony Lapanta get over-excited at some of the saves Talbot has come up with this year.
However, during his media availability last week, Talbot emphasized that he wouldn't be in this position if it weren't for the team as a whole. With the offense Minnesota has put out, Talbot can afford to let a few goals in because the Wild have so many goal-scorers.
"Humbled, obviously," Talbot said. "It's an honor, but it's a testament to the team as well. Anytime anyone's nominated to an All-Star game, it's a collective effort, I believe, and obviously, I couldn't do it without the guys in front of me. Just very grateful, humbled, and thankful."
While Kaprizov was a shoo-in, Talbot was just a well-deserved pick. But with the NHL's 'Last Men In" competition, fans have the opportunity to vote in one more player. Ryan Hartman is the player Wild fans can vote for if they want to see him as an All-Star. He's the team's leading goal scorer and has been Minnesota's MVP so far this season, netting several clutch goals. He's also part of why Minnesota was first in the Central Division for so long.
The Wild have had guys like Ryan Suter, Devan Dubnyk, and Eric Staal as representatives in the past few All-Star games. Most of the time, they haven't had multiple worthy players because no one had stood out. This year the Wild had plenty of guys to choose from: Marcus Foligno, Mats Zuccarello, and even Jonas Brodin would've been great picks.
Talbot's selection could just be the NHL's way of showcasing one of the league's most underrated teams. It's often the case that teams like the Tampa Bay Lightning, Colorado Avalanche, Toronto Maple Leafs, and the New York Rangers have several players represented. They're the league's best teams right now, and all have been winning a lot recently. As The State of Hockey, this is an excellent chance to spotlight Minnesota's start and get hockey fans across the nation more interested in the Wild.
The new and improved Wild roster is exciting, and it should get the recognition it deserves. The All-Star Game is a chance for hockey fans to see just how skilled Kirill Kaprizov is and how solid Cam Talbot is as a goaltender. And with the opportunity to add in another forward in Ryan Hartman, the Wild could be one of the only teams with three players on the All-Star roster.
It's hard enough to get nominated for an All-Star Game as a goalie. Then in the game, It's difficult for them to shine. They have to fend off the world's best players as they try to score.
Talbot says he's just going to make the best of it. "I try to have some fun," he said. "Obviously, these guys are extremely skilled, and when they have that much time and space, they're going to make some plays around you, so try not to bite too hard and just try to put yourself in the best situation possible."
Makin the All-Star Game is a career highlight for Talbot, one he's worked for years to achieve. "You're always trying to push yourself to be better and finding new ways to improve every season and 34 years old, first All-Star nod. I was working towards just improving my entire career." That statement is a testament for anyone working towards something.
So does Talbot deserve an All-Star spot this year or not? That's not the right question. No matter what happens with Talbot from here on out, he can call himself an All-Star.
Say what you will about his stats, but he's a critical member of a team that has a chance to make noise this year. The NHL had an opportunity to acknowledge this great group in Minnesota, and they did so in taking Talbot. Regardless of Talbot's case, the team was more than deserving of having more than one All-Star.