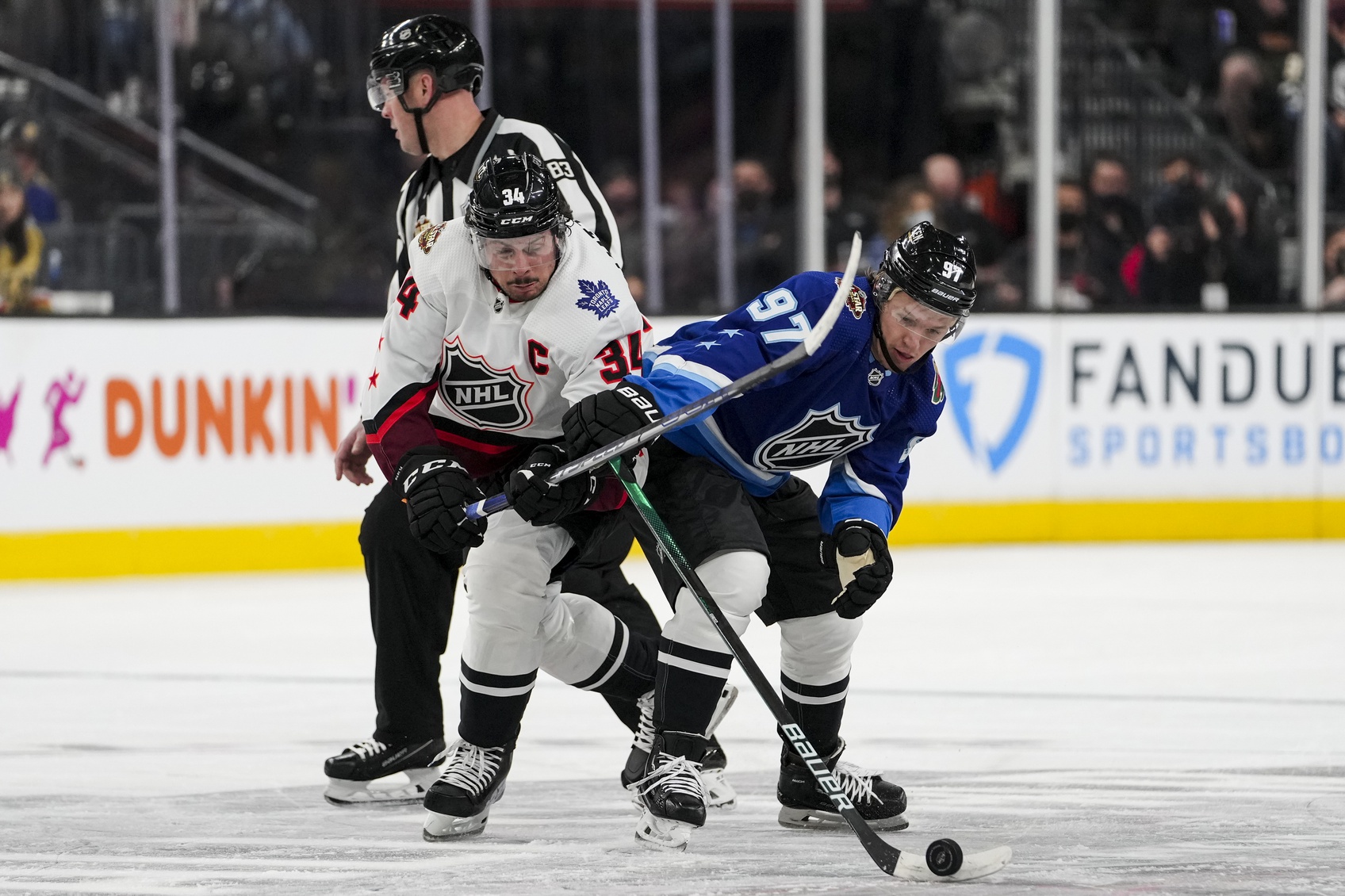 Image courtesy of Stephen R. Sylvanie-USA TODAY Sports
On Wednesday, the NHL saw the first Mega Deal of the Rising Cap Era. Auston Matthews signed a four-year extension with the Toronto Maple Leafs that has him set to be the highest-paid player in the NHL in 2024-25, with a $13.25 million Average Annual Value (AAV). It comes in anticipation of the salary cap finally rising after COVID-related financial issues deflated it for years.
The jump from Nathan MacKinnon's league-leading $12.6 million AAV is notable enough in itself. That it's over four years, when the trend in the NHL is more years = more money, is pretty eye-opening. Evolving-Hockey's contract projections had Matthews at $12.83 million on a four-year deal, using a $90 million salary cap as a baseline (it's currently $83.5 million).
The good news for Toronto is that even at the highest AAV in the NHL, Matthews is still wildly underpaid. In fact, it's arguably impossible for him to be properly paid in the NHL. The CBA bars players from making more than 20% of the salary cap, or a $16.7 million AAV as of this season. Even coming off a season where Matthews "only" scored 40 goals and 85 points, he's still easily worth the league maximum, if not more.
But you're on Hockey Wilderness, your Minnesota Wild site, so you might be wondering why we're talking about this. Matthews' contract has massive implications for the Wild, because we're finally getting a sense of what a superstar player is going to earn over the next few years. And with Minnesota needing to extend true superstar Kirill Kaprizov around two years from now, Matthews might well set the market.
One could correctly point out that Matthews is a superior player to Kaprizov. Not only does Matthews play the premium position (center) as opposed to the wing, but Matthews outshines Kaprizov in basically every stat. Since Kaprizov broke into the league, Matthews has the edge in goals (141 to 116), points (257 to 234), and a huge edge in Evolving-Hockey's Standings Points Above Replacement (24.0 SPAR to 14.5).
So why should we expect Kaprizov to make Matthews-level money?
Don't fool yourselves. The Wild need Kaprizov as much as the Leafs need Matthews. Not only is Kaprizov the only star talent to walk through Minnesota's door since Marian Gaborik, but he transcends the game in a way Gaborik couldn't. The hockey world at large could ignore Gaborik, dismiss Zach Parise, and say That's who he's playing for? about Eric Staal when they'd go on impressive runs for Minnesota.
But the league takes notice when Kaprizov is doing his thing. He's already won the only major player award in team history (apologies to the Jennings and Masterton Trophies) with the Calder Trophy. He has also received Hart Trophy votes in all three seasons. Kaprizov's not just incredible at hockey, he's marketable in a way no one else in team history has been. He's the Face of the Franchise.
That will have to come with Face of the Franchise-level pay. And one thing's for sure: Kaprizov's not going to sign another bargain basement contract to stay in Minnesota.
It sounds kind of absurd to say that the player who got a five-year, $45 million contract immediately after his rookie season signed for a bargain basement deal. In the aftermath of the signing, many felt the Wild took on a lot of risk and/or overpaid. No one feels that way now, and that deal is turning into a steal for Minnesota. 
The Athletic's Dom Luszczyszyn rated Kaprizov's market value in his 47-goal, 108-point 2021-22 season to be worth $14.6 million. Last season's market value is trickier to locate, but he projects Kaprizov to provide $12.6 million of surplus value on his $9 million AAV over the next three years. Divide that $12.6 million by three, then add it to the $9 million, and we get a projected market value of...
Well, look at that. $13.2 million per season. $50K per year short of what Matthews just got. 
Mind you, Kaprizov negotiated his last deal with very little in the way of actual leverage on his side. He had no arbitration rights after his rookie season, and no teams could make him an offer for him to sign as a Restricted Free Agent. All he had, really, was the nuclear option of going back to Russia, which would have hurt him nearly as much as Minnesota.
Yet, he still got more money than the Wild wanted to give him, for fewer years than they wanted to extend him.
None of this is necessarily earth-shattering. Most Wild fans knew coming into this week that whatever contract Kaprizov was going to get to extend in Minnesota, it was going to have to be big. But with Matthews inking the first huge deal of a league with an economic landscape much different than what we've seen in recent years, we got our first piece of the puzzle of what the actual number might be.
2

1