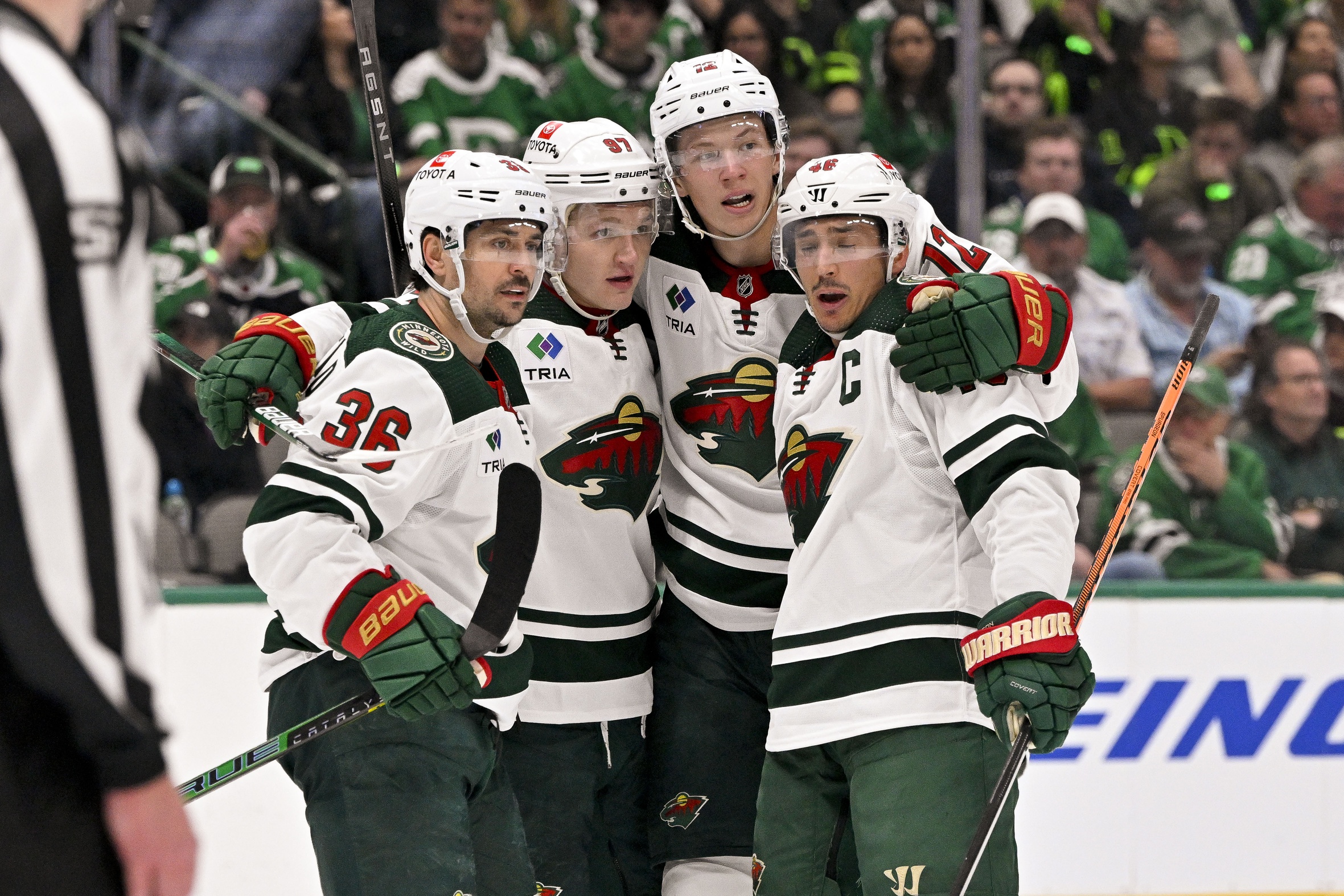 Image courtesy of © Jerome Miron - USA TODAY Sports
The Minnesota Wild were in the back half of the league in terms of powerplay rankings last season, scoring at a 21.4% clip during the 2022-23 campaign. Kirill Kaprizov, Mats Zuccarello, and Matt Boldy carried the team offense. The top unit of Kaprizov, Zuccarello, Boldy, Joel Eriksson Ek, and Calen Addison was the only effective power play unit for Dean Evason and the Wild. 
While they were not great amongst their leaguewide counterparts, the Wild didn't have any more luck with their second unit. But were they doing too much damage on the powerplay and not enough at even strength? 
Kaprizov was tied for 17th in the NHL among forwards in powerplay points. If you extrapolate his points to an entire season like many of his counterparts, the Russian would have been tied at 10th in the NHL with roughly 36 powerplay points. Kaprizov only suited up for 67 games last season, while his competition played in at least 78 games. That's 12 games where Kaprizov could have added to his powerplay point totals. Behind the absurdity of the trio in Edmonton, Kaprizov would have been amongst the best in the league on the powerplay. 
But unlike the players in that tier, like Matthew Tkachuk (36 pp points), Jason Robertson (41), Mitch Marner (36), and David Pastrnak (37), Kaprizov is doing a lot more of his damage on the powerplay than not. Minnesota's star winger scored a whopping 43% of his points on the powerplay. For comparison, Pastrnak and Tkachuk only scored 33% of their points on the powerplay, while players like Robertson and Marner scored 37% and 38%, respectively. 
All these players are in contention to be among the best at their position and are top players in the league. Stars get time on the powerplay, and teams expect them to produce. Kaprizov did just that. The Russian scored goals and made plays. So why does it matter that he has more points on the powerplay? 
Because Kaprizov is not the only Wild player leaning on the man advantage to score, Boldy and Zuccarello are not as high in the total points rankings, but they both had at least a 40% share of their points on the powerplay. Addison was over 60% by himself. Eriksson Ek is a more manageable 38%.
There were no Wild players outside of the top group that even registered six points on the powerplay. Marcus Johansson has five, but he only played 20 games with the Wild at the end of last season.
The Wild were also 29th in the NHL in goals/60 at even strength. That number jumps to 24th in all situations. So, the Wild offense was better with the powerplay, but it's not like it was good to start with. 
For example, a team like the Boston Bruins had an excellent offense with more than four powerplay contributors. There were players with decent point totals on the powerplay outside the top five guys. The Bruins had the second-best offense at even strength and a top powerplay unit. Their powerplay worked in tandem with their offense. Minnesota's powerplay was sometimes the only hope they had to score goals.
It's no secret that the Wild were not as effective 5-on-5. But the players scoring on the powerplay were also scoring at even strength. Players like Ryan Hartman (27) and Jared Spurgeon (23) put up almost all their points at even strength. Those players are valuable because of their contributions at even strength. Still, the top four even strength point producers were Kaprizov, Zuccarello, Eriksson Ek, and Boldy. Addison did not contribute as much 5v5 and worked as a powerplay specialist most nights. This one-dimensionalism led to his time spent scratched. 
So yes, while power play production aided many of the Wild's top scorers, they were also the only ones doing any damage at even strength. That speaks more to Minnesota's team offense as a whole rather than their powerplay merchants. Goals are goals, and the Wild will take them however they can. 
All stats and data via Evolving Hockey unless otherwise noted.
1