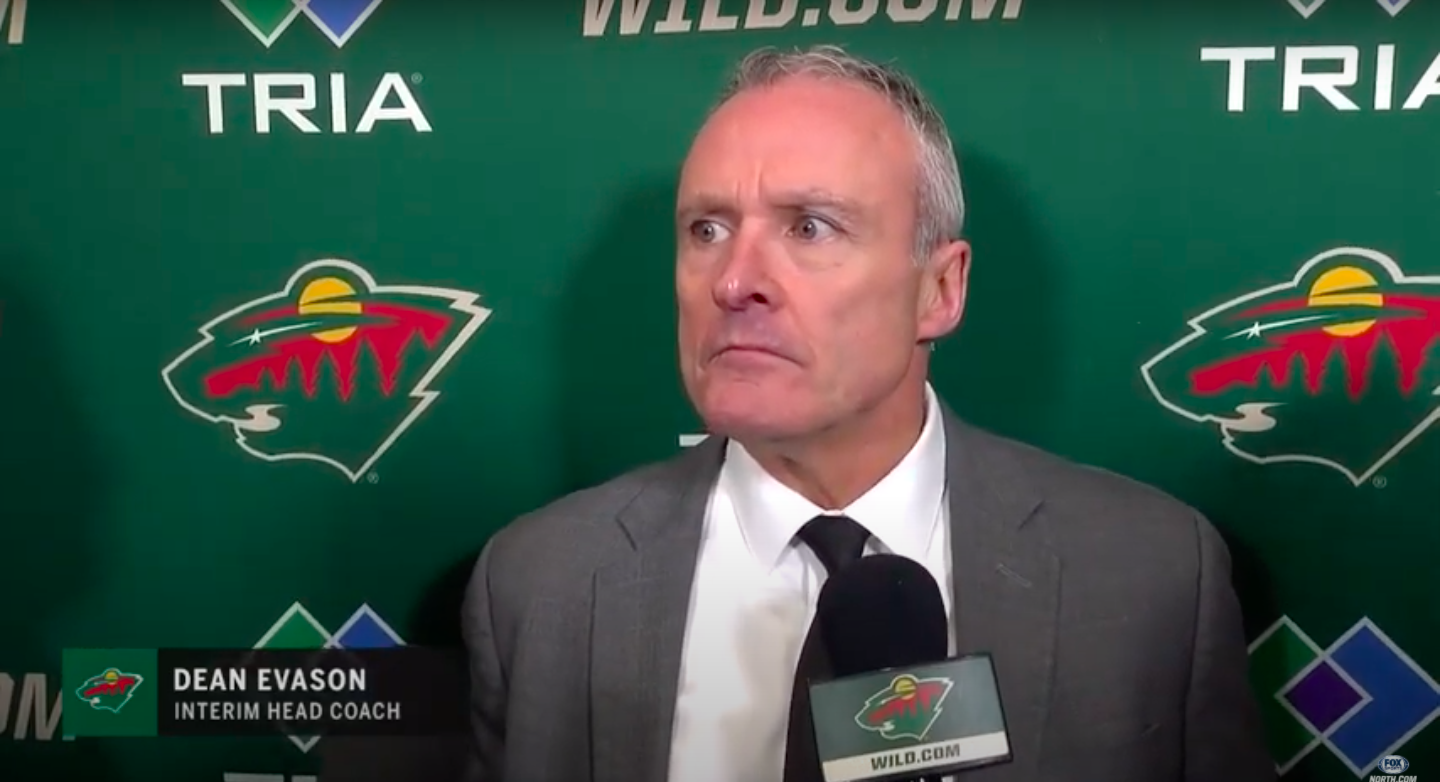 It was quite the week for the Minnesota Wild back mid-February. After trading long-rumored forward Jason Zucker at the beginning of the week, Wild GM Bill Guerin made more waves by dismissing Bruce Boudreau from his head coaching position. Assistant coach Dean Evason was promoted to interim as the Wild tried to make a final push toward the playoffs.
It wasn't the first time Dean Evason as an assistant witnessed Boudreau getting removed from his position -- Evason was an assistant coach with the Washington Capitals from 2005 to 2012. The change this time around was that it was Evason sliding into the big chair with his general manager stating publicly that he'd be, "in the running," for the position when a full coaching search was conducted at the end of the Wild's season.
Not many took Evason's candidacy for real. It was chalked up as the GM paying lip service to keep his coaching staff and players engaged. And yet, the 12 games he was able to coach has people wondering if he deserves more.
The odds are against him. He's never been a head coach in the NHL. Evason had his short audition as an NHL coach interrupted abruptly. He was brought in by a former general manager. Finally, and probably most importantly, his GM doesn't have any previous ties to him. The battle for the head coaching position is one that is all uphill.
That doesn't mean he shouldn't be a serious candidate for the job.
Evason is not afraid to challenge players, even if they happen to be the best goal scorer in NHL history. During a profanity-laden locker room rant, captured by the microphones of the HBO series 24/7 Road to the NHL Winter Classic, Evason went off on the Capitals players. He challenged them to get involved in the play and compete. That they need to get in someone's face and not back down.
https://www.youtube.com/watch?v=LxESKM6-r_A
The Wild needed someone to challenge them. The change to Evason seemed to be hitting the right nerve. In a recent interview with TSN, Wild defenseman Matt Dumba explained how Dean Evason was getting through.
"Nothing against Bruce, but I think a change just needed to be made, and having a stern voice and a guy like Deaner was awesome for our group. He was holding guys accountable and just pushing us. . . That's why you were seeing our best game."
He's challenging players by putting them in elevated roles as well. Kevin Fiala and Joel Eriksson Ek saw roughly 15 minutes per game this season with Boudreau at the helm. While Mikko Koivu, Mats Zuccarello, and Zach Parise saw the lion's share of minutes. One thing that was often criticized of Boudreau was his deference to veteran players in crunch time and overtime. Not to mention this being a trend set way back under Mike Yeo's tenure. Evason challenged Fiala by giving him top minutes and utilizing Joel Eriksson Ek in more prominent minutes.

Fiala topped the list of forwards - a jump from 14:42 a night to 17:53. Eric Staal and Parise were right behind him on the team, but they were on the same line. No more Mats Zuccarello eating up minutes better served to young guys. Zuccarello's time went from over 16 minutes per game to under 15 minutes. Koivu's time was cut by nearly 25 percent and featured mostly on the fourth line. Evason pushed the young guys into spots where they either had to sink or swim, and, credit to both players, they did way more than just tread water.
The challenge to the team paid dividends too. Evason went 8-4 in twelve games as Wild head coach. As much as Boudreau had to pay for the lackluster goaltending this season, Evason didn't all of a sudden get All-Star caliber performances in net. Five-on-five save percentage dropped slightly from 91.78 percent to 90.40 percent. Yet, Minnesota controlled the goals share by increasing that mark from 51.43 percent to 57.95 percent!
Those numbers bare out when Corsi For and expected goals and against are factored in. Evason knew the risks of exposing his goalies, and the Wild rewarded him with an uptick in offense that resulted in wins.
He coached some prolific players in his time as an assistant. In Washington, he worked with the Capitals' centermen and forwards, primarily on penalty kill. In Milwaukee, as head coach of the Admirals, he spent time coaching Roman Josi and Filip Forsberg - Nashville Predators star players. With Minnesota, he pushed Fiala into the limelight.
Evason has a track record of working with real talent and getting them into spots to succeed. Now, there are other, more established coaches on the market. Peter Laviolette, Gerard Gallant, among a slew of other names that were relieved of their duties this past season. However, if Evason really does have a knack for challenging, pushing, and turning his players into upper tier game breakers, then he may be the right guy for when Kirill Kaprizov arrives on the scene.
There is a lot riding on the decision for the next head coach of the Minnesota Wild. Bill Guerin knows he needs to get it right as a first time GM. Will he trust his team with a first-time NHL head coach? Evason seems to be up for the challenge. Even if the odds are stacked against him and he has an uphill battle to land the spot.