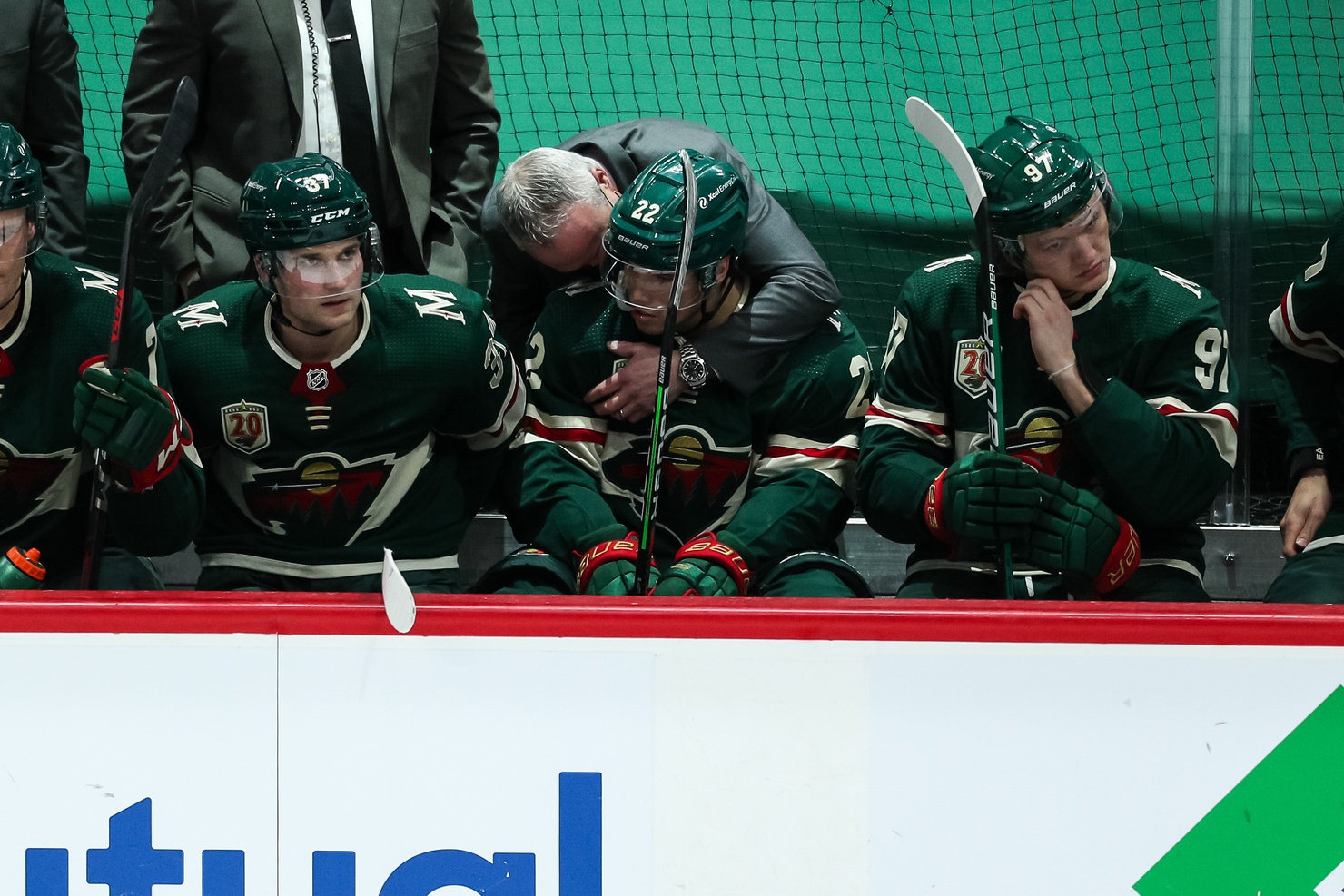 Dean Evason will get consideration for the Jack Adams Award. The common denominator for past recipients of Coach of the Year honors is they've all surpassed expectations. Stories like Barry Trotz and Gerard Gallant taking upstart New York Islanders and Vegas Golden Knights teams to the playoffs get attention.
Evason will also largely deserve the accolades. His Minnesota Wild team is solidly in third place in the West and is a top-10 expected goals team at 5-on-5. They're succeeding, and it's largely sustainable.
Well, it was, anyway. The past two weeks have been a major wart on Minnesota's season and Evason's Jack Adams resume. Since March 18th's loss to the Colorado Avalanche, the Wild have controlled just 39.8 percent of the expected goal share at 5-on-5. That's dead last in the NHL, according to Evolving Hockey. Their results aren't looking good, either, having been out-scored 8-15 at 5-on-5 in that span.
It's a small sample size, and fatigue has surely been a factor. But that doesn't explain all their woes. The Wild got outshot 36-22 by a bad Sharks team and did so after three days of rest. Minnesota snuck out a point, thanks to 12 percent shooting, but the loss was as alarming as it was well-deserved.
Thanks to Cam Talbot's heroics, the Wild managed to scrape by with a 3-2-1 record in that stretch. However, as important as it is to bank points, even when playing poorly, that can't be the takeaway here. The last six games are exposing legitimate cracks in their armor.
What's gone wrong? Evason has prioritized balance when constructing his lineups, evenly distributing talent between four lines. For a while, it worked. Kirill Kaprizov, Joel Eriksson Ek, and Kevin Fiala traded scoring streaks in the early goings, mostly on separate lines.
Looking at Evason's lineups through this lens shows the logic in his decision-making. Once Kaprizov found chemistry with Mats Zuccarello, why not have them both prop up previously struggling center Victor Rask? Why put Eriksson Ek with a star like Fiala when they could both drive their own lines theoretically?
It worked for a while, but now the balanced approach is precisely what's sending them into a tailspin.
This troubling trend starts at the top. Kaprizov and Zuccarello have undeniable chemistry together. They're both capable of connecting on cross-ice passes that produce high-danger opportunities and can convert those to goals. That's one constant of their time together. The other is Rask.
Since Zuccarello's return on Feb. 21, 71 percent of Kaprizov's 5-on-5 minutes have come with Rask centering him. At the start of this run, all seemed well. Rask was clearly a passenger, but Minnesota outscored opponents 7-2 when those three were on the ice at 5-on-5, and Rask had six points in their first five games as a line.
But since the calendar flipped to March, Rask hasn't found the scoresheet. He has just three points in 15 games, with just 11 shots while skating alongside two brilliant playmakers. Worse yet, the underlying numbers suggest Rask is a boat anchor for Kaprizov and Zuccarello. In March, the trio has controlled just 38.9 percent of the expected goal share at 5-on-5. Without Rask, Kaprizov and Zuccarello had a 63.9 percent share in 53 minutes. It's a major difference.
Anyone watching Monday's game could see it. Rask couldn't defend, he couldn't move the puck in transition, and he couldn't finish given at least two golden opportunities.
It's just one instance of what's becoming a team-wide plague. Fiala's showing signs of life, with three points in two games thanks in part to budding chemistry with Marcus Johansson. Before that, Fiala had a disastrous March, with just three goals, five points, and barely two shots per game in 13 contests.
Spreading the wealth struck again. Fiala found February success skating alongside Eriksson Ek. They outscored opponents 5-3 at 5-on-5 while controlling 62.8 percent of the expected goal share. Fiala was even productive, then, with five even-strength points in those seven games. Despite that line working so well, March saw Evason split them up and never rejoined them.
Instead, Ryan Hartman is Fiala's most common center lately. Hartman played most of last season, and the start of this one, as a fourth-line winger. He provides energy and shoots the puck but has several offensive drawbacks. He's not a finisher (career 9 percent shooter) and rarely makes himself a passing option for Fiala.
Johansson looks like he can be the Zuccarello to Fiala's Kaprizov, but where does that leave Hartman? He hasn't driven results defensively alongside Fiala (42.2 xG% together in March) and doesn't even win faceoffs, predictably going 42.8 percent in the dot.
Last week Evason went to the media to voice his displeasure with Fiala's "individual" game. The displeasure should be with himself for not setting up his star to succeed. Fiala had success with Eriksson Ek in February and these last two games with Johansson because he had teammates who could complement Fiala's high-volume shooting style. Players like Hartman just can't, yet Evason stubbornly clings to that despite both poor results and better options.
Eriksson Ek is also suffering because of the balanced lines. Eriksson Ek and Jordan Greenway have seen their line become a dumping ground for misfit players since Marcus Foligno's injury. Zach Parise, who's lost his hands this year, spent time there. So has fighter Joe Cramarossa. Nick Bonino joined the fun last night, where his faceoff prowess bumped Eriksson Ek to right wing.
Evason set up Eriksson Ek to produce like a third-liner, and it yielded third-line results, with the 24-year-old providing five points in March. Still, Evason has yet to be swayed towards putting his best center with his stars, despite proving himself worthy in the first two months and showing himself capable of making star-level plays.
Under the best circumstances, a coach playing his best center as a bottom-6 winger is unacceptable. It's doubly so when both top-6 lines are sputtering. Minnesota has limited options at center, but it's clear that Rask and Hartman aren't working as centers of scoring lines. There's no point to balance if it means that every line is equally ineffective.
Evason has to adjust and concentrate the talent among his top lines. Eriksson Ek driving play for either Kaprizov or Fiala's line is a no-brainer. There aren't many good answers after that. The closest to one is likely Nick Bjugstad despite his lack of foot speed. Unless there's a trade or an experiment to audition Matt Boldy at center on an emergent basis, that's about it.
Minnesota can't rely on running these broken "spread the wealth" lines down the stretch. Their lead on a playoff spot is formidable, but limping into the postseason and getting swept can't be the goal. The Wild need to get their stars going to have a chance against teams like Colorado and Vegas. That means putting them -- Kaprizov, Fiala, and Eriksson Ek -- in positions to succeed, balance be damned.
All stats courtesy of Natural Stat Trick unless stated otherwise.