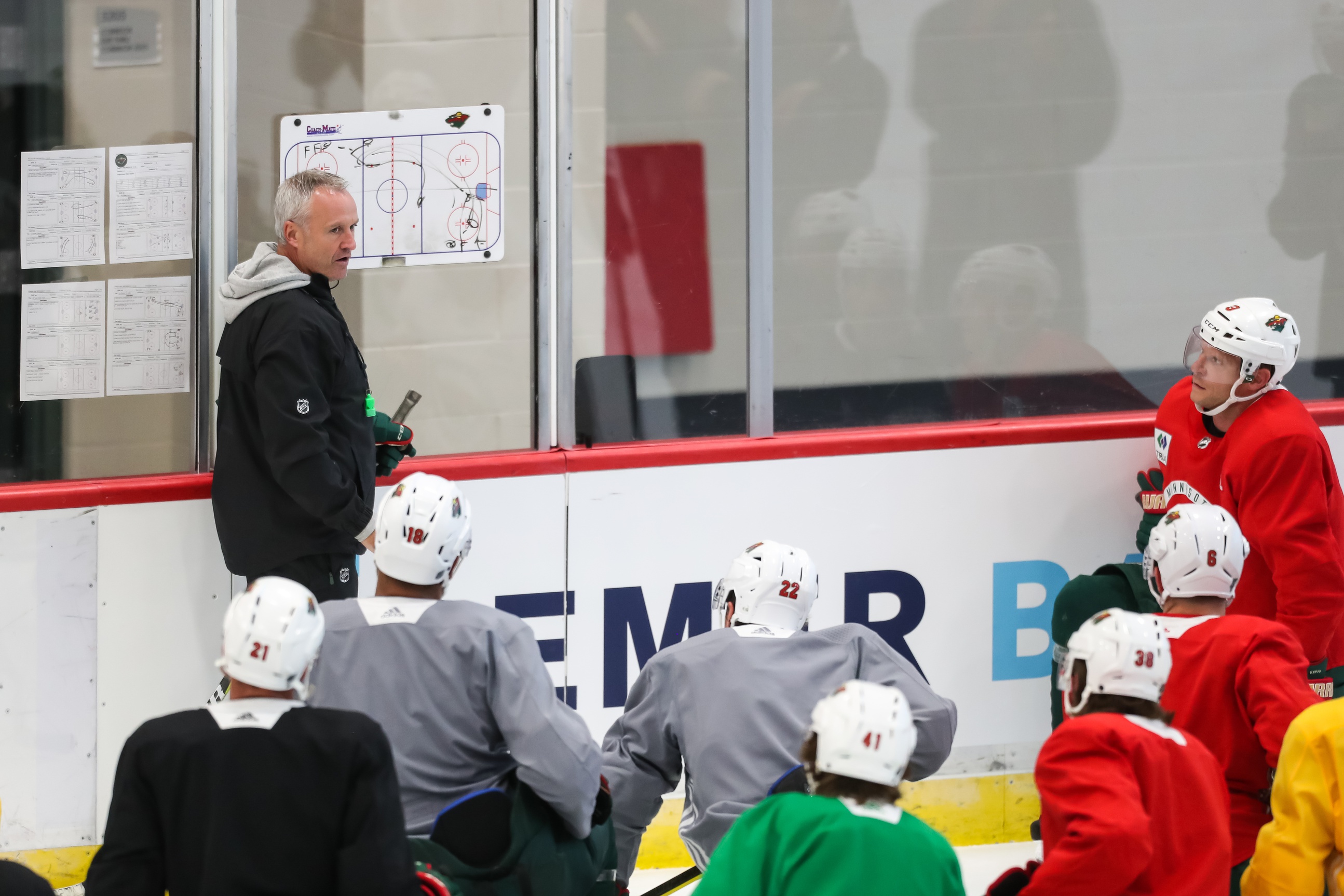 Image courtesy of © David Berding-USA TODAY Sports
The long-standing tradition of "off-season lists" has continued this summer. We do it every year. You want content in the doldrums of summer? Well, anyone who writes or blogs about a team has run out of ideas by August, and thus, we get list season.
Best jerseys ranked, best arenas to visit this season, or even lists of the top prospects in next year's draft. It gives us a chance to debate topics around the NHL when the league itself is in snooze mode leading up to the preseason. One list we always enjoy here at Hockey Wilderness is our ranking of the top prospects in the Minnesota Wild system.
While the release of our top-ranked prospect drops this next week, we aren't the only ones releasing prospect rankings. The Athletic's Corey Pronman has also released his annual team prospect pool rankings, along with where each player stacks within their franchise. Whether you agree with anyone's prospect rankings or not doesn't matter, it's just fun to debate them when we have nothing else to discuss. Other than the newest State Fair food, of course.
And yet, no matter which list you dig into, there is one common denominator within Minnesota's prospect pool that seems to be missing. The Wild may have what many consider one of the deepest prospect pools in the league, but a key piece is missing to create a true contender in the coming years.
The dominant, big defenseman.
Hold on. Stop. Before we go any further, I need to clarify that none of this is an indictment on Jared Spurgeon or Jonas Brodin's play styles. Or for that matter, any of the three defensive prospects who made our top-10 list in Brock Faber, Daemon Hunt, and Carson Lambos. In some cases, those players can be extremely good defensemen. But Stanley Cup-winning teams have proven over the past decade that you need a big, dominant, skilled defenseman to win.
The physical makeup of guys like Spurgeon or Brodin are sprinkled onto these rosters, but they aren't the best defenders on the team. I use Spurgeon and Brodin in this exercise because they are such good examples of great defensemen who are still limited in too many areas of their games to be "the guy" on a Cup-contending team.
Brodin is fantastic in defending the rush, but he lacks the strength to be an impact defender on the penalty kill. Spurgeon's overall play is extremely under-appreciated in NHL circles. However, his diminutive size was noticeable during his struggles in the past postseason against the Dallas Stars' heavy forward group. Both players lack the combination of elite skill and elite size to truly be a do-it-all defenseman in the playoffs.
If you examine the rosters of Stanley Cup winners of the past decade, they nearly all possess one singular defenseman who is gifted in size. And if they lack size, they are truly elite in nearly every other part of their game.
| | |
| --- | --- |
| 2023 Las Vegas Knights | |
| 2022 Colorado Avalanche | |
| 2021 Tampa Bay Lightning | |
| 2020 Tampa Bay Lightning | Victor Hedman |
| 2019 St. Louis Blues | Alex Pietrangelo |
| 2018 Washington Capitals | |
| 2017 Pittsburgh Penguins | |
| 2016 Pittsburgh Penguins | Kris Letang |
| 2015 Chicago Blackhawks | |
| 2014 Los Angeles Kings | |
Six of the last 10 Stanley Cup-winning teams possessed a do-it-all, big defenseman anchoring their blue line. But even in the cases of all but one of those smaller defensemen, their impact can't be ignored. Cale Makar is truly a once-in-a-generation talent and was the best player on the ice throughout Colorado's Cup run. Duncan Keith was a multiple-time Norris Trophy winner who never left the ice as part of the Chicago dynasty.
Kris Letang is the only player who doesn't really fit the case we are trying to make. However, when you have generational talents in Sidney Crosby and Evgeni Malkin on your roster, maybe that can explain away the outlier. Those back-to-back Stanley Cup teams were truly remarkable in comparison to every other winner of the past decade.
Nevertheless, it's clear that a Stanley Cup-winning team needs to have a true workhorse on the blue line who can absolutely dominate in all facets of the game. The Wild don't have that right now and the case can be made they may not have it in their system either.
Can someone like Faber develop into that? Perhaps. But it's much more likely his game resembles that of his current partner, Brodin. And that's fine, but history shows it likely won't be enough. Hunt, Lambos, and other prospects such as Ryan O'Rourke certainly profile as future NHL players. But it would be foolish to count on any of them developing into a Pietrangelo, Hedman, or Makar.
When Minnesota's true contention window opens in a few years, the clock will start ticking on their push for the first Stanley Cup in franchise history. But to reach those heights, they'll likely need to go searching for that big-time defenseman between now and then.  
1