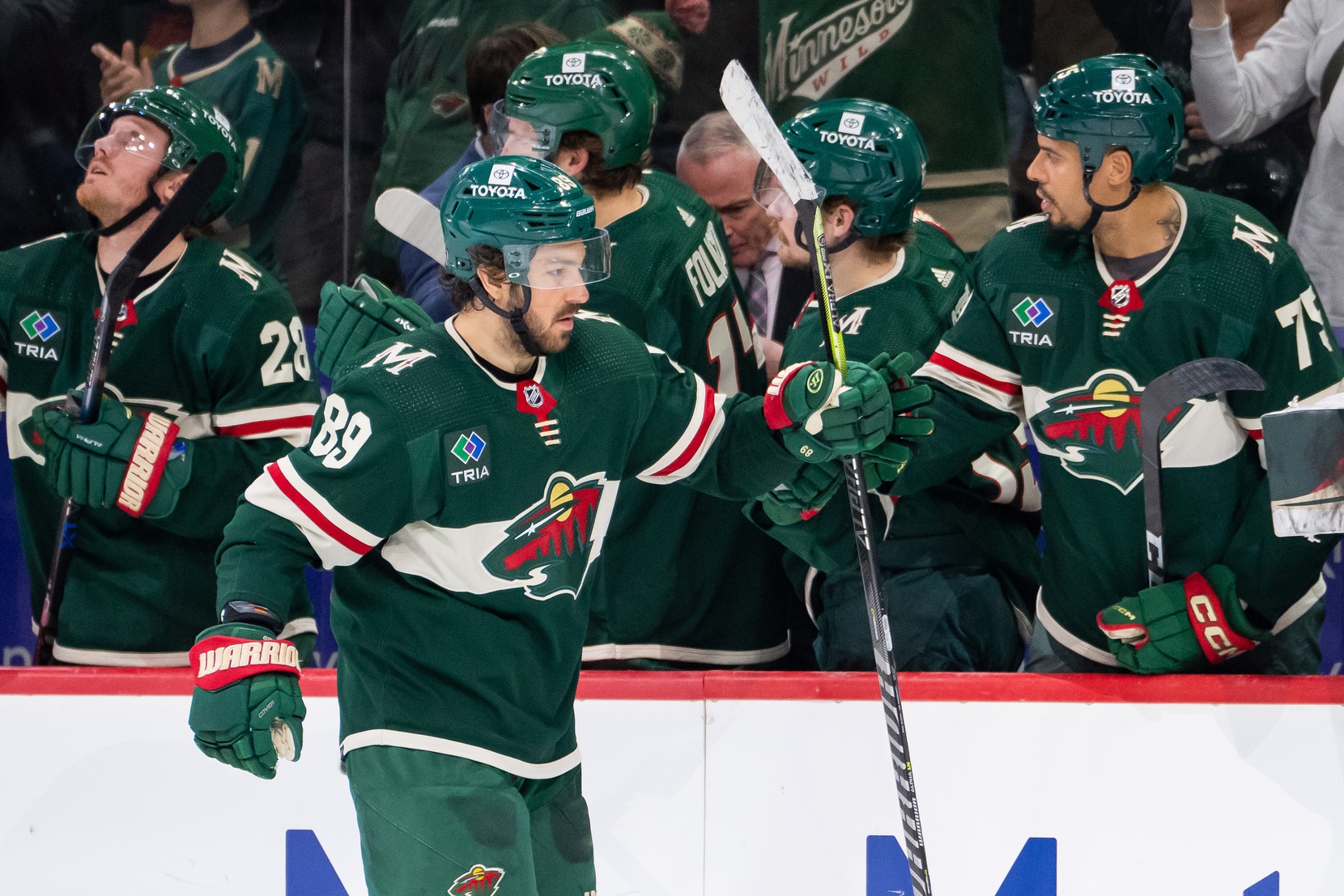 Image courtesy of © Brad Rempel-USA TODAY Sports
The Minnesota Wild will have to rely on increased production down the depth chart this season to win games as they trudge through two more years of the Ryan Suter and Zach Parise buyouts costing $15 million against their salary cap. Of course, they can rely on the likes of Kirill Kaprizov, Matt Boldy, Joel Eriksson Ek, and Mats Zuccarello to provide 60 points or more on the season. But who else on the roster could hit that level for the State of Hockey in 2023?
In a perfect world, one of the team's young players would have a scoring breakout. Over the past couple of years, Wild fans have dreamed of Marco Rossi coming into his own. The hype surrounding Rossi is ongoing and justified. He possesses the potential to be special one day. However, thinking he'll be a 55- or 60-point producer this season after one point in 19 games last year might be a stretch.
That leads us to look elsewhere. Most high-profile prospects will be in Iowa for most of the year or are completing obligations to other leagues or colleges. The most likely candidate to increase his scoring lies somewhere between the lines, no pun intended. Brandon Duhaime and Connor Dewar have yet to score 20 points in a season, and they aren't point producers by nature. Furthermore, Marcus Foligno and Pat Maroon's best scoring days are behind them. Ryan Hartman had a scoring explosion in 2021, and Marcus Johansson had a decently consistent stretch of mid-40s to mid-50s point totals from 2013 to 2017.
But Frederick Gaudreau could take a step forward this year. Not only does he have sweet nicknames like "Freddy Hockey" and "Phone Booth Freddy," he started bringing a legitimate scoring threat to the Wild offense last year. Obviously, he isn't going to post Kaprizov's numbers. Still, Minnesota needs someone to elevate themselves into the Eriksson Ek or Boldy group – players who had a sudden leap in production one year.
Gaudreau was the only Wild player to play in all 88 games (including playoffs) last year. He posted 38 points (19 goals, 19 assists) in the regular season and 3 points (3 goals, 0 assists) in the playoffs. His most notable moments came in shootouts, where Gaudreau scored 8 goals, leading the NHL. He was also second on the Wild to Kaprizov in shooting percentage, hitting a 13.8% clip. His shooting touch and ability to translate defense to offense, even on the penalty kill, earned him 4 shorthanded goals, ranking third in the NHL.
The beauty of Gaudreau is that not only can he play center, but he is a capable winger in a pinch. Gaudreau is also a solid defender, creating the fourth-most turnovers on the Wild in 2022. That's even more impressive when you consider that he only spent ten minutes in the penalty box in 82 regular-season games last year.
Gaudreau's versatility to play anywhere as a forward and be a reliable, disciplined defender earned him a five-year, $10.5 million extension with Minnesota in April 2023. Locking in a reliable and versatile skater like Gaudreau was a no-brainer for Bill Guerin and the front office, especially for an average annual cost of just under $2.1 million. 
So, where does Gaudreau's scoring leap come from? 
There's no way to predict the future. But it's clear that there's untapped skill in Gaudreau's stick, and it's even more clear that the Wild will need a bit more scoring help. In 2021, Minnesota had nine players with at least 35 points. Last year, they only had six. That metric ties the same number of 35+ point scorers as the Anaheim Ducks, and they only one more than the Chicago Blackhawks and Arizona Coyotes. Chicago just had the first pick in last year's draft. 
Kaprizov's late-season injury, Kevin Fiala's departure, and Ryan Hartman's injury and point regression created a scoring void. When those things happened, we saw Boldy supplement more scoring, going from 39 points as a rookie in 2021 to 63 in 2022. However, that wasn't enough to compensate for the overall drop, even if it was still an excellent development for Boldy and the Wild's future.
But it's possible that "Phone Booth" can earn more of a scoring role this season. The Wild lack scoring threats, especially if any injuries strike again. Having the same high-volume scorers as the worst teams in professional hockey isn't a recipe for going deep into the playoffs.
With Minnesota's cap restrictions, Dean Evason and his staff will have to wring out every last drop of production out of this core group of players over the next two years. They know they're going to get points out of their normal bunch. However, it's up to the middle-six guys to explode onto the box score to make an impact, like Ryan Hartman did in 2021. 
Considering Gaudreau's efficient shooting ability and that he got 19 goals despite ranking just 167th in shots on goal in the NHL last season (138), it's reasonable to think that he can force his way into a 55-point season. The shootout goals also suggest there are a few more goals in that stick than we've seen so far.
The opportunities should also arise, as Evason values his versatility. Expect the coach to move him between lines this season, depending on Hartman's play as the top-line center. Last year, Evason demoted Hartman when his play faltered, even after a breakout season. If Gaudreau gets an extended audition with Kaprizov flanking his left and Mats Zuccarello's passing ability on the right, he could produce points by association. 
Thinking the Wild will have a player take a scoring leap isn't just wishful thinking. They need it. And it's rational to believe that an already efficient scorer can who leap into the next scoring tier, with just a bit more volume of shots and opportunities. 
After all, his name is "Freddy Hockey."
2