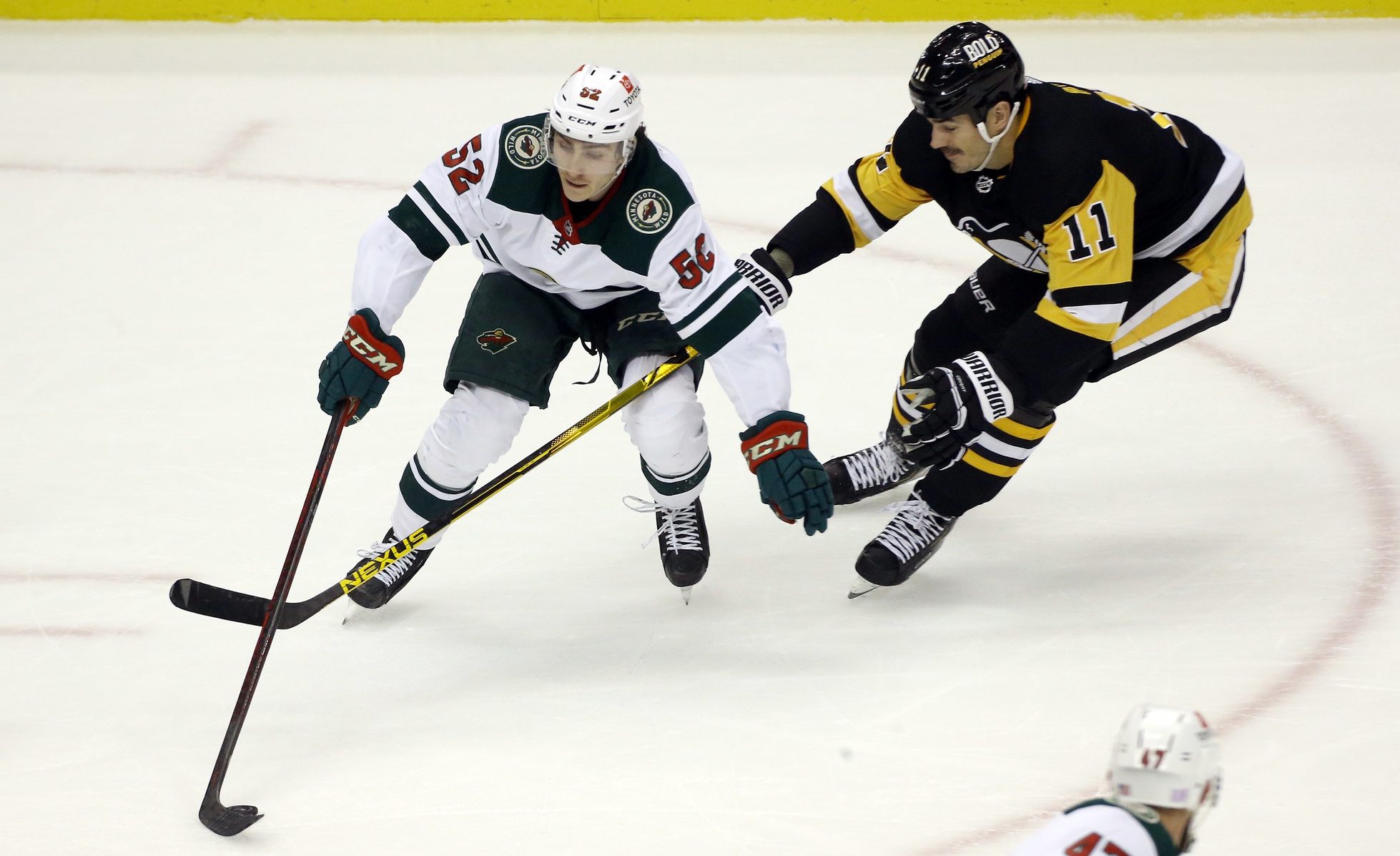 Drafting and developing centers has proven a difficult task for the Minnesota Wild. Until recently, the Wild swung and missed on just about every center prospect since Mikko Koivu. Then Joel Eriksson Ek showed he could be matched up against the top lines of the opposition. Marco Rossi might eventually find himself taking on some of that load. However, there's one center in Iowa that head coach Tim Army uses to match up against the top lines. 
The Wild drafted Connor Dewar in the infamous year that Paul Fenton reached for Filip Johansson in the first round. While the Fenton reach took the headlines, the third round of that draft was more or less the saving grace for Minnesota that year. The Wild picked Dewar 92nd overall after selecting Jack McBain and Alexander Khovanov in the same round. Since then, Dewar's rise has been steady.
The Matt Boldys, Adam Beckmans, and Rossis take the majority of the headlines in Iowa. Ask Iowa play-by-play announcer Ben Gislason who the dark horse of the Baby Wild is, though, and the answer is Dewar. Gislason believes he'll be the guy Wild fans be surprised by in the same vein as Nico Sturm or Brandon Duhaime. "I don't know if he is unknown enough because he has made his NHL debut this year, but pound-for-pound, minute-by-minute," Gislason explained on a recent episode of 10K Rinks Radio. "I think Connor Dewar has been the best player on the ice in most games that I've seen him play this year."
Dewar received a call-up recently when injuries and COVID struck the team during a road trip to the Pacific Northwest.
Born in The Pas, Manitoba, Dewar played four years with the Everett Silvertips (WHL). His game had grown, and his production had increased every year. In the last two seasons, he sported a letter on his chest, and Everett named him captain in his final season.
He made his NHL debut against the Seattle Kraken at Climate Pledge Arena, only 30 miles from Everett. "It was pretty exciting," Dewar said. "Aside from Winnipeg, probably not a better place to have played my first career game. So I'm very lucky to play there."
Army believes the short stint was great for his young center. "[Dewar] had some good moments," Army explained. "He had some moments where he got beat to the net by [Gabriel] Landeskog. He got beat to the net against Ottawa. But you're learning at that level where you could maybe be a split second late here and get away with it. Maybe you don't get away with it, maybe you might, but there you won't. You can't get away with it."
He struggled while playing on Minnesota's fourth line. Granted, he was a rookie playing his first four games. His line was 37.99% xGF and was underwater in SF% with 44.29. Dewar knows he still has strides to make to play in the NHL full-time. "I think that every day is a chance to improve my game," Dewar said about what he learned in Minnesota. Army added, "It was a good experience for him. Now he comes here, and he makes those adjustments."
Dewar's pronounced and impressive intensity suggests he'll make those adjustments in time. "He is a no-nonsense guy," notes Gislason. "He's a no-frills, old school player." That intensity translates to the ice. If there was one word to describe Dewar's game, it's responsible. He was healthy scratched in Iowa's first three games when he jumped to the AHL. But once he got in, he commanded increasingly more responsibility from his head coach.
"I always say he's a poor man's Mark Johnson," said Army, comparing Dewar to the Miracle On Ice Gold Medal-winning center. "I used to talk a lot about this with Tom Kurvers. If you watch that last shift against the Russians, when they're winding the clock down, Mark Johnson is in the right spot all over the ice. And that's Connor. He's always in the right spot. So when he's not or turns a puck over, you can't fathom that he did it because his game is so tight."
Dewar finds himself getting opportunities in all situations for Iowa. Playing on the penalty kill, the power play, and significant time at even strength, he receives ample opportunities to impact the game on a nightly basis. It's that responsibility that has allowed Dewar to play such a massive role.
Dewar leads the AHL with two short-handed goals, and he was close to adding another against Tucson were it not for a slash by a Roadrunner defenseman to break up the scoring chance. He assisted Beckman's power-play goal the night before with a great cross-ice, cross-PK defensive box pass to an open Beckman for the goal. He finds ways to deliver in all situations. "You know, I've played all the situations my whole life," said Dewar, "so I'm very comfortable doing it. That's why I'm having success."
Dewar might be a little further away than Rossi and Boldy from making the NHL on a full-time basis. But his game continues to impress. He's always been a player who grows with time at each new level. It was apparent in juniors, and it's happening at the AHL level now. He'll continue to blossom. Dewar's coach has complete faith in his abilities. "He is an exciting prospect for the organization. There's going to come a time where he's going to be a big contributor in Minnesota."