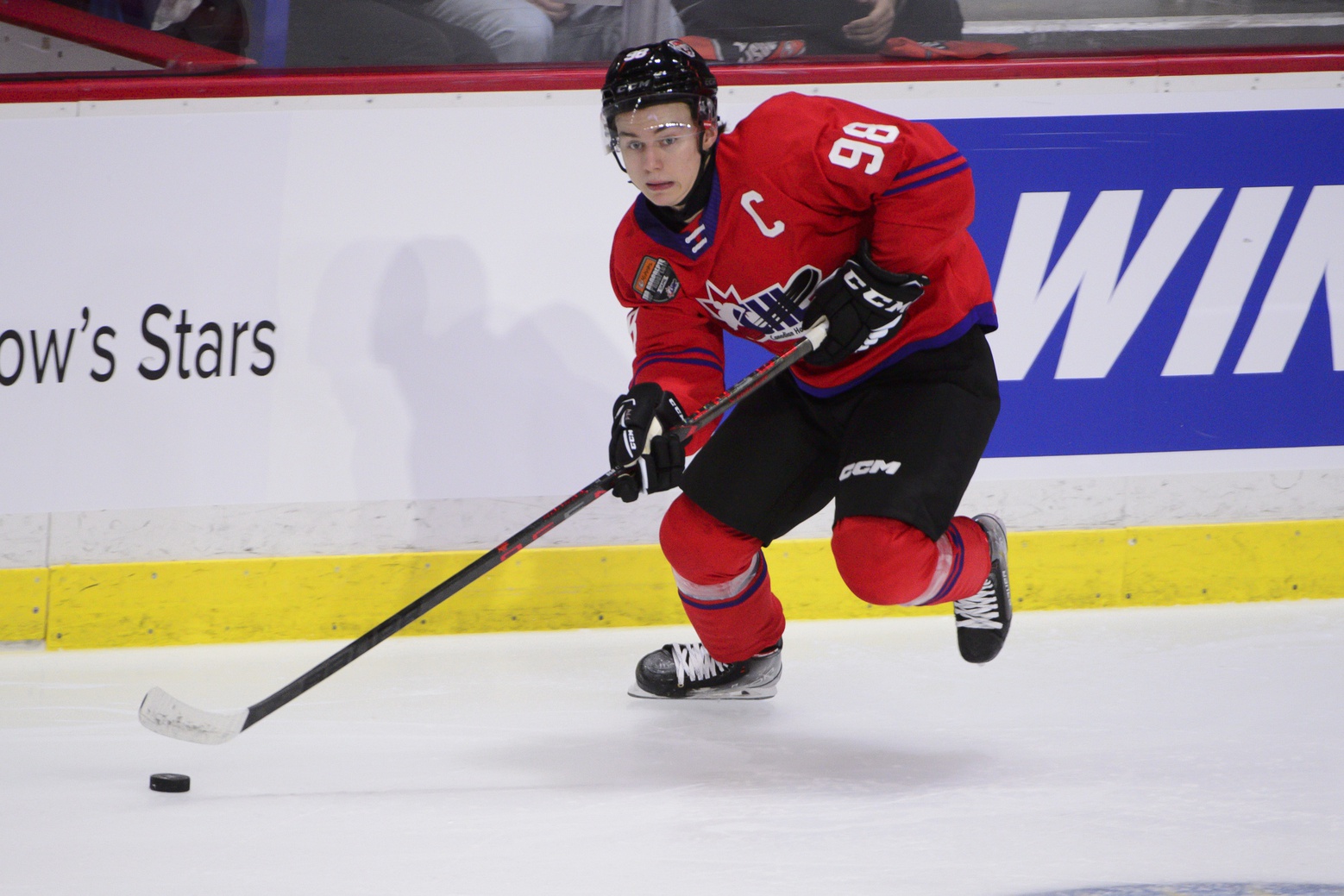 Image courtesy of Anne-Marie Sorvin-USA Today Sports
On Monday night, the worst-case scenario for the NHL happened. Fans everywhere mourned to see that Connor Bedard, the shining light of the league's future, was sentenced by Gary Bettman's Ping Pong Ball Mafia to join the Chicago Blackhawks organization.
It's a result that absolutely no one outside of the state of Illinois wanted to see. It's one thing to see a generational prospect just so happen to land in the biggest possible market at basically the exact second their 15-year run of success turned sour. We might even be able to get past the fact that the City of Chicago, famous for rigging elections, somehow got the most rigged-seeming result possible. But the franchise that covered up an employee's abuse of Kyle Beach getting rewarded with the best player since Connor McDavid feels gross on a level that's difficult to articulate.
For Minnesota Wild fans and the rest of the Central Division, it's an extra-bitter pill to swallow as they can see a future where they have to go through Bedard to get to a Stanley Cup. The Calgary Flames don't enjoy getting torched by McDavid every postseason. No one in the Atlantic enjoyed having to go through Sidney Crosby and Alex Ovechkin. Now, it's the Wild's turn to become cannon fodder for a generational player.
Or, so we think right now. But is there still hope that Chicago can squander Bedard's career?
Maybe so, Wild fans, maybe so. Because here's the thing: Tanking is easy. Now comes the hard part for the Blackhawks.
Teams that stripped down to the studs in an effort to tank for Bedard, be warned: You aren't a generational prospect away from a dynasty, let alone competing. 
I mean, just look at that roster! Of course you have to be bad to get competitive for the Bedard draft, but jeez, this team is awful. Their best player is Seth Jones, who turns 29 next season, gets $9.5 million until 2029-30 (when Bedard is 25), and already is what kids Bedard's age call "mid." 

That's pretty much their only NHL player. 21 players logged 400 or more minutes for Chicago last year. Only 10 of them weren't in the negatives for Goals Above Replacement. Just three were worth even one point in the standings.
You just don't build that up overnight, especially when your prospect cupboard is pretty barren outside of Kevin Korchinski and Lukas Reichel. Bedard had better cross his fingers that Frank Nazar III does a little better this year than putting up seven points in 13 games on a loaded Michigan team next year.
Now, a terrible team means a lot of cap space. But Minnesota should worry absolutely zero percent about that this year, at the very least. You want to bring Max Domi back? The entire NHL is quaking with fear. Maybe get a relatively young free agent like Tyler Bertuzzi? Please. For his career, the Boston Bruins forward has as many playoff series wins as he does COVID shots: Zero.
It can't be understated how much infrastructure the best draft prospects in the last 20 years have had coming into the league. The Pittsburgh Penguins had Evgeni Malkin before they landed Crosby, even if it took him a year to arrive from Russia. McDavid stepped into the league with Leon Draisaitl and Taylor Hall alongside him. Mitch Marner and William Nylander were riding shotgun with Auston Matthews the second he got in the league. Even Patrick Kane had Jonathan Toews and Duncan Keith by the time he made the NHL. 
Ovechkin is one of the only of that group of generational players who didn't have that kind of running mate in place for him when the Washington Capitals drafted him. But Nicklas Backstrom (the good one) came into the organization a year later, so they were at least able to remedy that quickly.
We're talking high-upside, top-six picks in the draft for all these guys. The Blackhawks don't have a second one like that. Therefore, the only way they'll get one is if they get lucky and land an Elias Pettersson or Matthews in free agency in a couple of years.
Or, hey, maybe Bettman can force Minnesota to trade Kaprizov to Chicago, since he's in the giving mood. Bettman can even dump another $10 million of retroactive cap penalties on the Wild for good measure.
In all seriousness, the Blackhawks could easily go down the Jack Eichel road here. The Buffalo Sabres also went for broke to get a generational stud in McDavid, then landed Eichel as a really good consolation prize. A decade in Buffalo broke him, in more ways than one. Awful contracts to the likes of Matt Moulson, Kyle Okposo, and Jeff Skinner made it impossible to compete, drove No. 1 center Ryan O'Reilly away, and then finally, Eichel forced his way out of town.
That sounds like maybe a comforting fantasy to Wild fans. But remember, even the Oilers have only just barely gotten it together with McDavid and Draisaitl. Just look at their history since drafting McDavid:
2015-16: Missed playoffs
2016-17: Lost in second round
2017-18: Missed playoffs
2018-19: Missed playoffs
2019-20: Lost to below .500 team in Qualifying Round of COVID bubble
2020-21: Swept in first round
2021-22: Swept in Conference Finals
Maybe this is all just cope and two seasons from now, the Wild will go right back to being Chicago's little brother who gives them a swirlie in the playoffs year in, year out. But you can never count out an NHL general manager when it comes to completely botching a golden opportunity. If the Oilers can do it with two of the best scorers we've ever seen, the Blackhawks can do it with Bedard, Jones, and a ragtag group of B+ prospects, overpaid vets, and nobodies. We can hope, anyway, right?