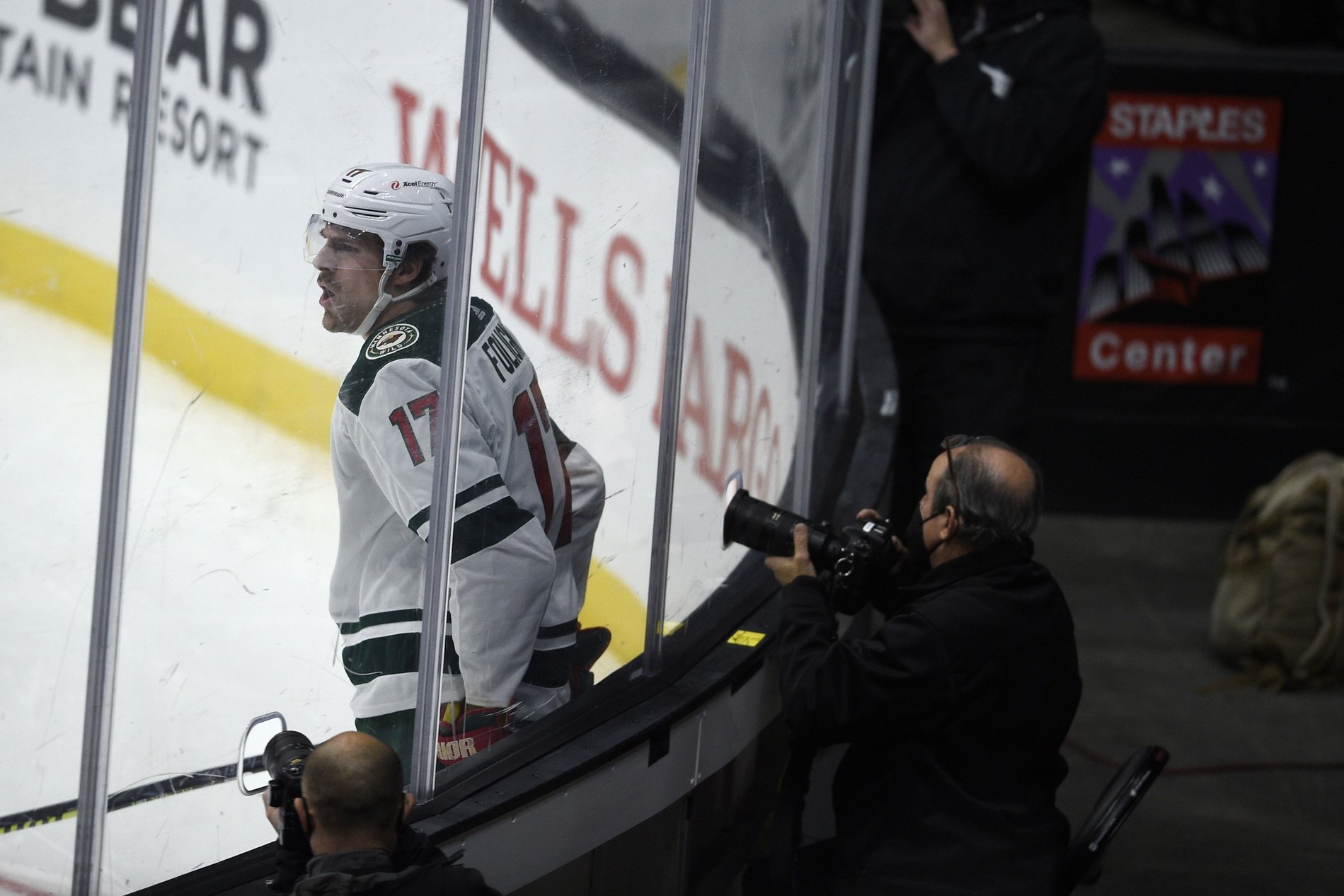 The Minnesota Wild were scheduled to take on the Colorado Avalanche to finish a four-game regular-season series on Thursday. Of course, this season has been anything but regular. It started late, features only intra-divisional play, and the only sound in each arena is piped-in recordings of crowd chatter.
Even with all of that, there was reason to look forward to the final game against Colorado.
Hockey was still played on Thursday, but not by the Wild. The NHL suspended Minnesota's team operations on Wednesday after five more players joined Marcus Foligno on the COVID-19 Protocol list. A sixth player, Nico Sturm, was added late Thursday. The Avs did not defeat the Wild. COVID did. 
Minnesota's current outbreak is only a part of the greater picture of the NHL's COVID disaster. It's commendable that the NHL is trying to return to play in the fall and award the Stanley Cup, but it must be equally criticized for the 2021 season's current state. Nearly 100 players (and counting) have been forced into the league's protocol. The Buffalo Sabres and New Jersey Devils have been suspended. The Dallas Stars had to delay the start of their season. A total of 26 games have been postponed just a month into the season, and there's likely to be more.
This comes on the heels of the Wild announcing that Marco Rossi -- their 19-year-old first-round pick and potential No. 1 center -- was sent home to rest and recuperate after dealing with complications from COVID-19. In the long-term, his agent, the Wild, and his family are encouraged that Rossi will eventually make a full recovery and be playing hockey again by the start of next season. Nevertheless, concerns about Rossi's long-term health remain.
Selfishly, fans are robbed of Rossi's debut, and they can't go to the arena to see their favorite team perform. The NHL, as a whole, is deprived of witnessing Kirill Kaprizov's rise to stardom. And unfortunately, this is happening in a league that has the financial wherewithal to protect its players.
The Isobel Championship game was supposed to be aired live on NBC Sports Network on Thursday night. It was considered to be a monumental event for the NWHL and women's' hockey. The agreement to put women's hockey on a national stage alone was a giant step toward meaningful growth for the league. 
The NWHL announced Wednesday it was suspending its season. The New York Riveters were the first team to withdraw, followed by the Connecticut Whale, revealing a sizable crack in the Lake Placid bubble. Once members on the remaining teams began to test positive, NWHL Commissioner Tyler Tumminia made the difficult decision to suspend a day before the national broadcasts began.
But while the NWHL is a professional league with a union, the players get paid very little. Asking players to risk their health for "growth of the league" and below-poverty-line salaries can only go so far. In the NHL, players have both a stronger union and are making life-changing money. Asking players to put their health in jeopardy for a couple million dollars isn't any better, but they have come out in support of playing this season, knowing full-well the risk they were undertaking.
Even though the Wild weren't playing hockey on Thursday night, many high school teams were playing across the state of Minnesota. "Let Them Play" was a common mantra from parents, pundits, and MSHSL leaders. Ultimately, no one wants to have these kids miss out on the memories of prep sports. "Let them play," sure, but who is asking the obvious follow-up, "To what extent?" Who is protecting the players from people in the high school league and parents who desire to live vicariously through their children?
The same goes for all of the players across the NCAA, an organization with no qualms about exploiting players even when there isn't a global pandemic happening. They aren't allowed to unionize, and they certainly aren't being paid for their contributions to their respective schools. 
From pro to amateur hockey, every single player is taking their health into their own hands. The virus has shown that it doesn't discriminate: High school players, a 19-year-old top prospect, or a 31-year-old captain can all contract it. It's crazy to think hockey is even being played during a global pandemic that has killed more than 440,000 people in the United States alone. So while the NHL announced Thursday that it's adding more restrictions and measures in response to the latest additions to the COVID protocol list, will it ever be enough? Hopefully, perish the thought, if something worse happens, we won't have to ask, "Was it worth it?