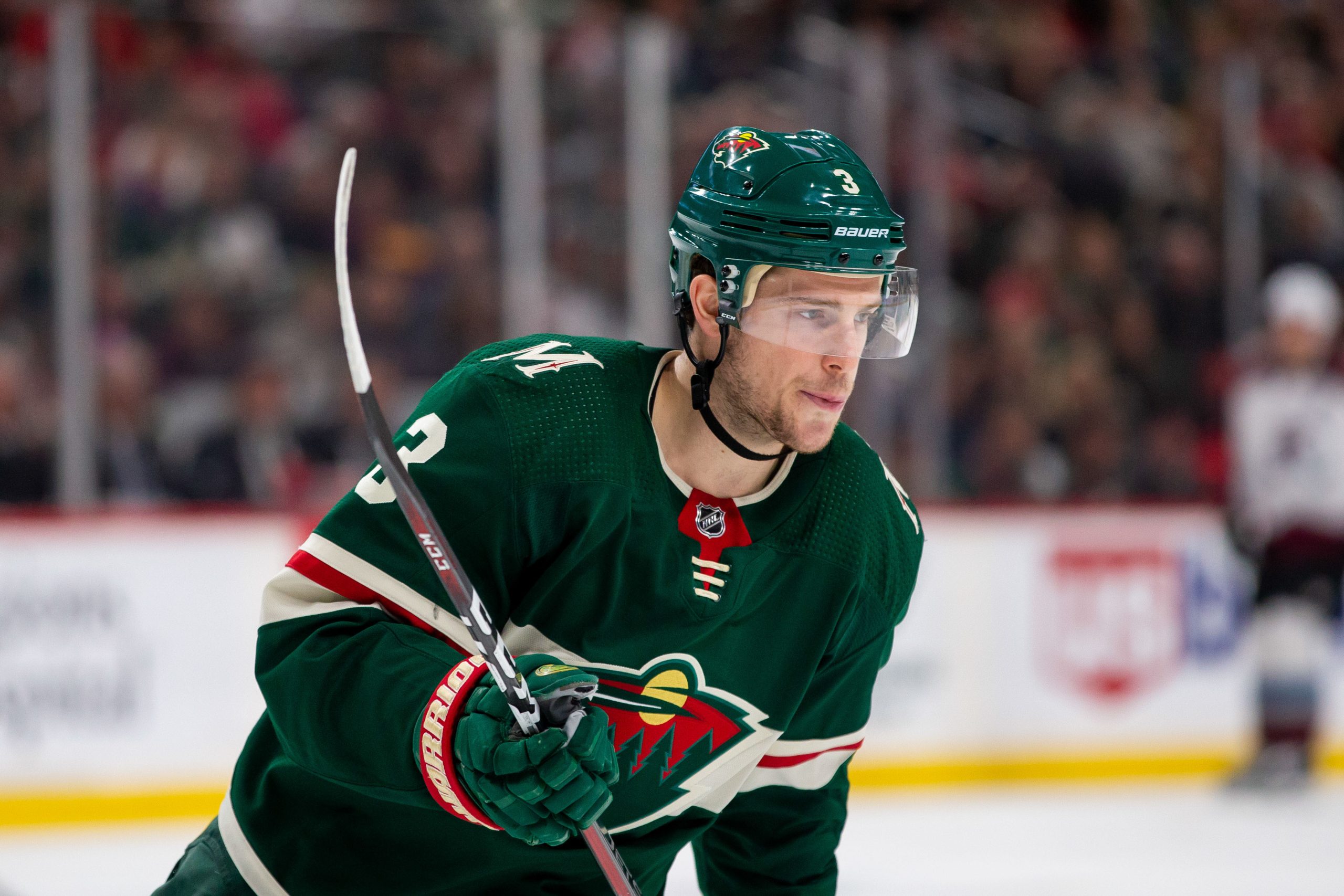 On June 24, 2011, Minnesota Wild general manager Chuck Fletcher made perhaps the biggest trade in franchise history when he traded defenseman Brent Burns to the San Jose Sharks on the draft floor.

 

The move, as expected, drew a big rave from the hometown crowd on draft night.

 

 

The trade signaled that Minnesota was further going with a youth movement, as they were stockpiling an impressive collection of prospects that included Mikael Granlund, Jonas Brodin -- who was drafted minutes before that trade -- and ultimately Charlie Coyle.

 

Coyle was the key piece of the trade. Officially, the trade was Burns and a 2012 second-round pick -- Nashville ended up acquiring the pick via Tampa Bay from San Jose and drafted now current Wild forward Pontus Aberg -- for Coyle, Devin Setoguchi and the Sharks' 2011 first-round pick -- which became forward Zack Phillips. The move was heralded as great for Minnesota, as it stockpiled a couple of prospects and got a good young goal scorer in Setoguchi, who had scored 73 goals in the previous three seasons with San Jose.

 

At the time Coyle was considered a top prospect as he had the potential to turn into a power forward the Wild could badly use down the line with his big frame. He flashed some of that at both Boston University and with the Saint John Sea Dogs before making the move to professional hockey.

 

However, the move for Minnesota ended up being anything but great in the long run.

 

Phillips' skating issues followed him from the Quebec Junior Leagues to the AHL, and he never even got a sniff of the NHL before the Wild moved on from him. Ultimately, he was just another name added to the long list of Wild players who became tabbed 'a first-round bust.'

 

In just two seasons with the Wild, Setoguchi totaled 32 goals in 137 games. Minnesota traded him in the summer of 2013 to Winnipeg for a second-round pick -- which was later used to acquire Matt Moulson at the 2014 trade deadline -- but his best days were clearly behind him and the Wild had to get whatever they could for him.

 

Setoguchi also was battling some inner demons of his own, which contributed to his demise from the NHL -- which he has since recovered from.

 

With those two parts of the trade never panning out, the pressure -- whether you think it is fair or unfair -- was solely on Coyle to make anything of the trade.

 

At the time of Setoguchi's trade in the summer of 2013, Coyle had just 37 games of NHL experience under his belt. He was coming off the lockout-shortened season in which he had scored 25 points (14 goals and 11 assists) in 47 games with AHL Houston before getting recalled to Minnesota. In the 37 games that followed to close the regular season, Coyle settled in nicely on a line with Zach Parise and Mikko Koivu.

 

The Massachusetts native tallied eight goals and six assists in those 37 games and offered a glimpse of great things to come from his behalf.

 

 

But after that short season, Coyle never lived up to the lofty expectations that were placed on him, especially considering that he was the only remaining hope the franchise had in making anything from that 2011 draft night trade.

 

Coyle bounced around

more times than one would care for. In the three first full seasons he played in the NHL he saw his points production rise from 30 to 35 to 42, with his highest goal total being 21 that he scored in 2015-16.

 

At no time during that run did anyone feel he was living up to the hype. His play always left more to be desired, even though he had become a staple in Minnesota's top nine -- mainly top six unless he was placed at third line center for whatever reason.

 

Then entered head coach Bruce Boudreau, who looked to have maybe finally pushed the right buttons with Coyle. A career high 56 points -- 18 goals and 38 assists -- was had by Coyle in his first season under the highly touted head coach in 2016-17, and perhaps it looked like Coyle was going to finally fulfill that potential that was said of him on the 2011 draft floor.

 

 

In the nearly two seasons that have followed that career year for Coyle, it has been more disappointment. In 126 games, there have just been 63 points marked to Coyle's name -- which just barely covers the 56 he scored in that great '16-17 season. Even though he was still getting favorable linemates in Minnesota's top six, the points weren't coming and his play was once again leaving much to be desired.

 

A big problem for Coyle during his run in Minnesota was that he was his own worst critic, and when slumps happened he would really get down on himself. He also never really used that 6-foot-3, 220-pound frame to develop into that power forward one would have hoped he would be back on draft night in Minnesota.

 

But again, is that more to do with the expectations placed on him that evening?

 

While Coyle has rounded into a serviceable hockey player, he ultimately will be remembered in Minnesota as one who did not live up to the hype that came with him. While it may not be entirely fair to him as he shouldered fleeting hopes of keeping up the Wild's end of that significant Burns trade, his time will be thought of as what he wasn't -- not what he was.

 

When all is said and done, how will you remember Coyle? Will you remember him for what he was, or what he wasn't? Just some interesting food for thought, as we close the book on the Coyle-era and more importantly -- the Burns trade.

 
---