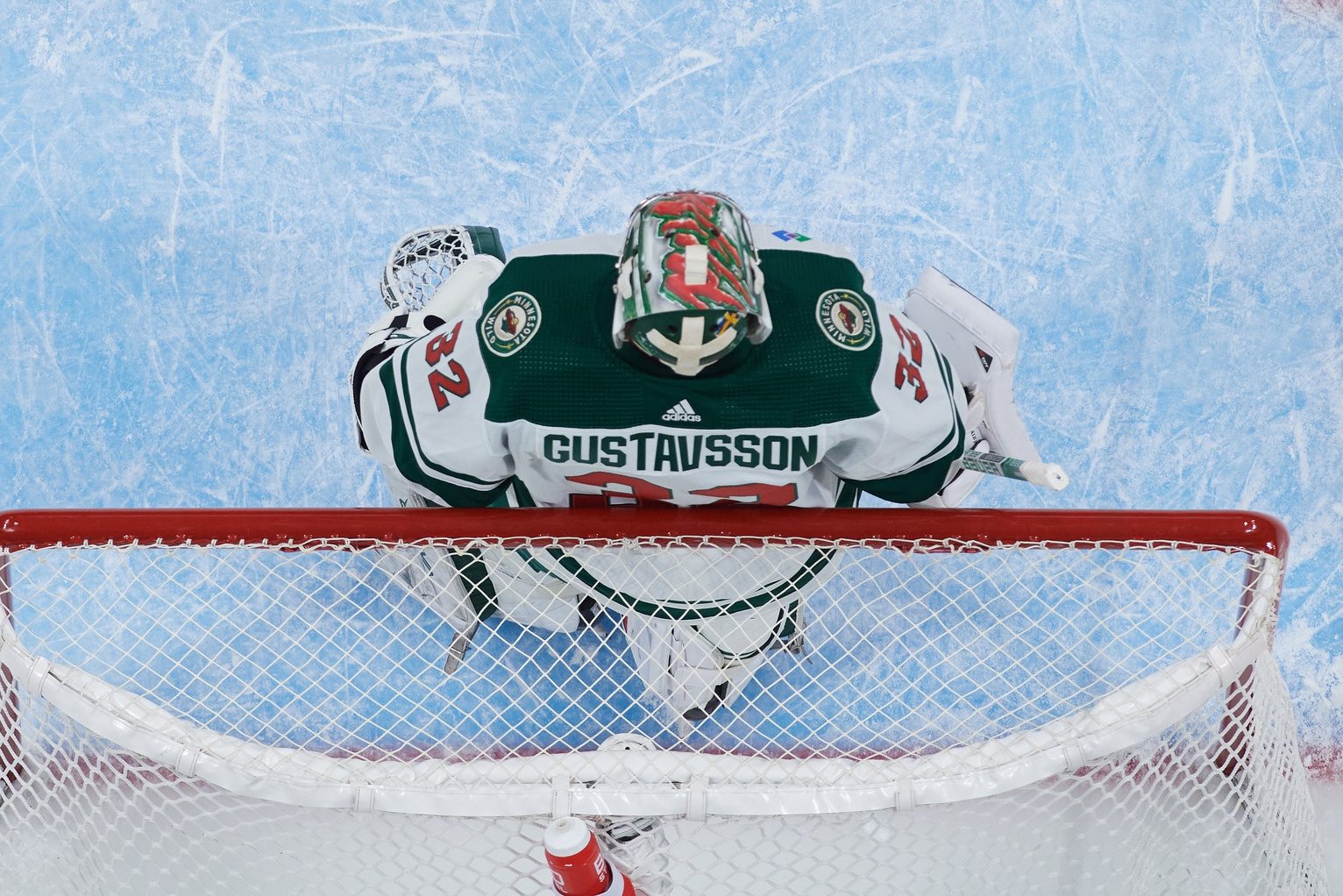 Goaltending will make or break the season was a prevailing sentiment in the State of Hockey during the preseason. There was definitely reason for concern for Minnesota Wild fans. Marc-Andre Fleury entered his age-38 season, which is ancient for goalies, and Cam Talbot engineered his departure over the summer.
In the Talbot trade, they received 24-year-old backup in Filip Gustavsson. The former second-round pick's NHL results were mixed before this year. A strong nine-game stretch in 2020-21 (.933) and a weak 18-game season (.892) as a backup last year made for a career .905 save percentage in an Ottawa Senators uniform. Hardly inspiring.
Until this season, that is. Gustavsson only has 18 games in a Wild uniform, but they've been almost entirely fantastic. He's second in the NHL (behind only Boston's Linus Ullmark) with a .926 save percentage on the year, and even better, he has been consistently strong in net. Of his 17 starts, Gustavsson has allowed two or fewer goals in 13 of them.
You can argue that he, not Fleury, is making and not breaking the Wild's season. Evolving Hockey estimates his value to Minnesota is worth 4.6 points in the standings this year. That's the difference between them being comfortably third in the Central and fighting on the fringes of a playoff spot.
It's easy to get excited about this, but at the same time, in the back of your mind, you might wonder Is this going to last? Goalies can go off for weeks, or even a few months, only to crash back to Earth later. Can we say Gustavsson is for real?
If so, make no mistake, that's huge for the Wild. They entered the season hoping that he'd give them enough good games to rest Fleury through the season. Instead, he's been one of the best goalies in hockey.
His Standings Points Above Replacement is, again, 4.6, which is 10th in the NHL. On a per-minute basis, he's sitting fourth in the NHL in terms of impact, with only Ilya Sorokin, Ullmark, and Juuse Saros ahead of him. Note that names like Jake Oettinger, Connor Hellebuyck, and Andrei Vasilevskiy all sit (slightly) behind Gustavsson.
Again, though, how can you trust it? Hockey fans have fallen for a seeming breakout before. Andrew "The Hamburglar" Hammond carried the Senators to the playoffs once with a 22-game stretch where he posted a .941 save percentage. He played 42 games for the rest of his career, stopping just 90% of pucks.
Heck, even Kaapo Kahkonen had Wild fans pumped after he put up a .924 save percentage through 17 games (February 2) last year in his age-25 season. Eight games of .880 hockey later, Minnesota traded him to the San Jose Sharks, where he's gone .890 since.
It can go the other way, too. Talbot burst onto the scene with a .941 in 21 games as a 26-year-old. Great, but was he going to fall off? Nope. He was a .914 goalie from ages 27 to 33. Throw out the two years the Edmonton Oilers overused and broke him with their awful defense, and that goes up to .919.
So how can we tell which is which?
There aren't many hard-and-fast indicators for sustainable goaltending. But one thing that Clare Austin of InGoal Magazine suspects after studying the matter is that 5-on-5 save percentage and high-danger save percentage are the strongest measurements we have to judge goalies on.
Looking at 5-on-5 high-danger save percentage year-to-year, there does seem to be merit to this. Of the Top-10 goalies (minimum 800 minutes) in 5-on-5 high-danger save percentage this year, seven cracked the Top 10 in either 2020-21, 2021-22, or both. Flukes happen, and goaltending can be somewhat random, but making the same list as Igor Shesterkin, Ullmark, Vasilevskiy, Oettinger, and Spencer Knight feels like a good start.
By the way, Gustavsson ranks fourth in the league with a .885 save percentage on high-danger shots at 5-on-5, though that drops to .843 (21st of 65 goalies with 600-plus minutes) in all situations. Still, these are small sample sizes. He only has 822 5-on-5 minutes this year, so let's boost the sample by around 250% and look at his entire career.
Sixty goalies have played 2000-plus 5-on-5 minutes since 2019-20. How does Gustavsson rank in the two most important stats during that time? His 5-on-5 save percentage is at .927, seventh in the NHL. He sits between Vasilevskiy and Knight.
His performance against high-danger shots is a bit more middle-of-the-road, though. Gustavsson ranks 24th with an .831 in that category, somewhere between Freddie Andersen (.835) and Jacob Markstrom (.826) -- two fine but not great goalies. And remember, his save percentage on high-danger shots is great this year, so he was significantly worse in his first two seasons.
But that still isn't a great way to predict Gustavsson's curve. Did he struggle because he was adjusting to the NHL as a 22- to 23-year-old? Or is that his true talent level?
One solid sign, perhaps, is that fluke or not, he's performing about as well as a young goalie can play. Of all the seasons by an under-25 goalie, Gustavsson ranks fifth in SPAR per hour. Here are the Top-20 seasons since 2007-08, with the names of anyone who had a run of three straight years where their Goals Saved Above Expected was in positive territory.
[caption id=attachment_143060" align="alignnone" width="1059]

Courtesy of Evolving Hockey[/caption]
Again, that's a good list to be on. Eighteen names appear on the list, and nine were reliable starter or tandem options for their teams for a significant stretch in their career. Three others are notable as well. Oettinger is 24, meaning we don't know what he'll be after this breakout season. Thatcher Demko (27) was a great starter the past two seasons before getting hurt this year. Sergei Bobrovsky won two Vezina Trophies, even if he wasn't consistent.
Another reason for optimism? Many of these players were in Gustavsson's situation: Backups whose teams weren't giving them the full workload. Despite those smaller samples, their strong performances appeared to be good indicators of their talent.
Now count the flukes in this group. It's basically Calvin Pickard and Joonas Korpisalo. Alex Nedeljkovic also looks headed for that list. Stuart Skinner is a rookie, so we don't know how his story will end. And despite some reasons for optimism, the same holds true for Gustavsson.
But as much as we'd love to know the future, we just can't. Maybe Gustavsson's had a real breakthrough. Perhaps he's just an average-ish goalie on a brilliant run. Either way, it doesn't change what Minnesota should be doing with him. The only way to get a handle on who he can be is by playing him more. So you might as well get on board the "Gus Bus," even if you should at least note where the emergency exit might be.