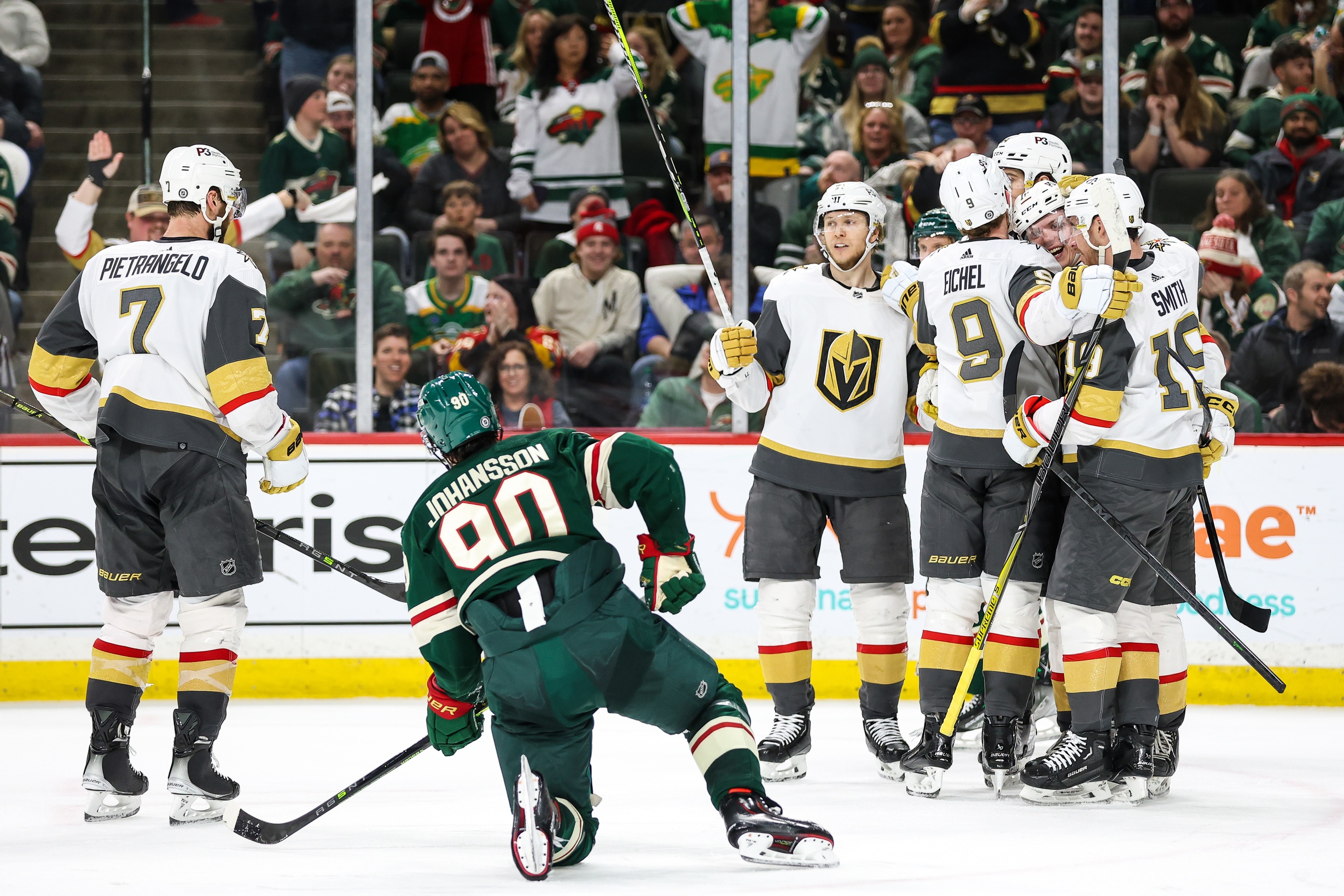 Image courtesy of Matt Krohn-USA Today Sports
In the past two years, Kirill Kaprizov wasn't the only thing that gave the Minnesota Wild any hope of a deep playoff run. Nor was it adding the playoff bona fides of Marc-Andre Fleury, or Filip Gustavsson's sudden rise to prominence, orJoel Eriksson Ek and Matt Boldy's breakouts.
Those were all the signs of a team that had Stanley Cup aspirations, but a big reason their hopes should've been high had little to do with anything they did or were. It was that the Western Conference was uncharacteristically weak. 
Yes, the Colorado Avalanche are one of the NHL's best teams, and they are in Minnesota's division. But just about every other team going into the previous two postseasons was flawed, had serious questions, or both.
For example, few people expected Vegas to win a Cup while on their third or fourth goalie. But when the teams you have to go through are a checked-out Winnipeg Jets, the top-heavy Edmonton Oilers, and a Dallas Stars squad that looked like Swiss cheese once Jake Oettinger faltered, their window was more open than most thought.
Maybe that window would have opened for the Wild had they gotten past the first round. We'll never know. We don't know what the future holds, either, but we can guess pretty reasonably that the Weak West Window is going to close for Minnesota next year.
In this league, if you're not getting better, you're getting worse. And the Wild aren't getting better this summer. The draft came and went without Minnesota making a major trade. A combination of Bill Guerin decisions -- some necessary, some not so much -- has greatly limited their flexibility to upgrade this offseason.
Other than a sneaky upgrade at the margins, replacing the Ryan Reaves role with a similarly aging but more skillful Pat Maroon, the Wild haven't been able to boost their team at the start of free agency.
The same can't be said for the West's contenders. The Wild challenged the Avs and Stars for the Central Division crown last season. But it'll be a surprise if they threaten to do so again. The Avalanche traded for center Ryan Johansen to replace the slowly-developing Alex Newhook and added more jam to their lineup in swinging trades for Ross Colton and Miles Wood.
Meanwhile, the Stars made a nifty pickup themselves, scooping a bought-out Matt Duchene for a cool $3 million. Then they took Sam Steel off the market for $850k, cutting off a cheap option for the Wild.
These were two talented, deep teams as is, and each of them picking off the corpse of the Nashville Predators made them better. Both Johansen and Duchene overstayed their welcomes, but they were both locked in at $8 million-plus cap hits. Johansen is 31, only two years removed from a 60-point season. Duchene scored 56 points last year, and 43 goals and 82 points two years ago. He wouldn't be the first 30-something to get new life in Dallas.
The big dogs aren't limited to the Central, either. Vegas had to shed Reilly Smith this offseason, but remains a very strong team, bringing back playoff star Ivan Barbashev, even. Edmonton couldn't upgrade their team either, but still have Connor McDavid and Leon Draisaitl. The Los Angeles Kings swung their second big trade in as many years, nabbing Pierre-Luc Dubois to join Kevin Fiala on their resurgent team.
You'd even think losing Dubois, Johansen, and Duchene would mean the Jets and Preds are waving the white flag. Not so much. They both got NHL help right away.
The Dubois trade brought Alex Iafallo, a reliable middle-six winger, to Winnipeg, in addition to Gabriel Vilardi and Rasmus Kupari. Vilardi was a promising, but often injured, 6-foot-3 center prospect who finally had a strong season, scoring 23 goals and 41 points in 63 games. He'll turn 24 in August. Kupari hasn't found his way yet, but he just turned 23 and is also a big center. Maybe a change of scenery helps. As long as they don't trade Connor Hellebuyck or Mark Scheifele, they figure to be competitive.
Nashville is in a similar boat, in that whatever else you can say about them, they have a goalie in Juuse Saros. They've also got Roman Josi quarterbacking their blueline, and former 40-goal scorer Filip Forsberg, whose health was an issue last season.
They don't have last year's center depth, but look at what a culture change did for the Wild. Ryan O'Reilly showed he had gas left in the tank in Toronto, and he's in Nashville now. O'Reilly is a former captain and can theoretically lead the new-culture Preds. Gustav Nyquist could be a sneaky-good pickup, as he was for the Wild.
Last season's surprise playoff team, the Seattle Kraken, hasn't upgraded materially yet, but they are one of few contenders with loads of cap space remaining. If they can get in the hunt for Erik Karlsson, or Alex DeBrincat, that changes the complexion of the team.
Those are eight teams, right there, that have either meaningfully upgraded their team or stayed within the Wild's range. That doesn't account for any surprises, either. Can a new-look blueline propel the Vancouver Canucks to the postseason? Filip Hronek and Carson Soucy were both very nice additions from the past six months. Can Connor Bedard team up with Taylor Hall to sneak the Chicago Blackhawks (who are also loaded with cap space) into a Wild Card spot? 
Again, we can't know. But things are looking fraught for the Wild this upcoming season. They still have a path to the playoffs. It involves that trinity of Kaprizov, Eriksson Ek, and Boldy remaining healthy and strong. It relies on internal improvements for Marco Rossi and Calen Addison. The plan will be contingent on goaltending, likely Gustavsson showing he can keep his stellar game from last year going.
With so many other options cut off from Minnesota, though, everything will basically need to go right for them. Free agency probably isn't going to do them any favors. Aside from Rossi and Addison, most of their young prospects are about a year away. The trade deadline won't be nearly so eventful with such little cap space.
Can they do it? The Wild aren't conceding the season and going into sell mode this offseason, so it appears they believe they can. We'll see if they're right.
2

1