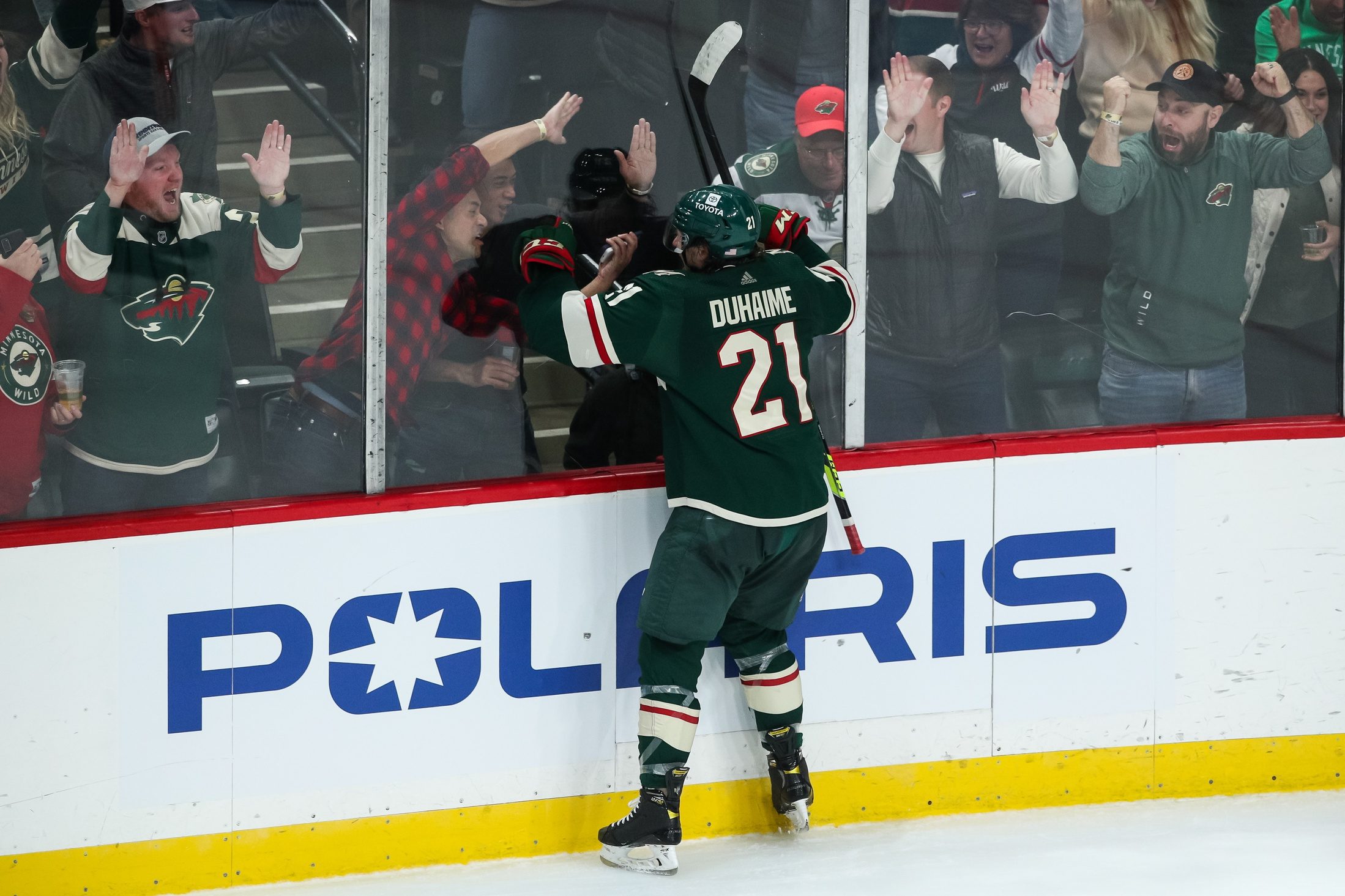 Brandon Duhaime turned heads last summer when he -- not Marco Rossi, Matt Boldy, or Adam Beckman -- made the Minnesota Wild. Duhaime was far from a top prospect. He entered camp last year as a 24-year-old late-round pick who toiled for three relatively quiet years at Providence College. Duhaime had just 29 points in 87 AHL contests as well.
But the organization clearly believed in him. They liked his tenacity, his commitment to playing a bottom-six game, and even thought he had more offense to give than he showed in the American League.
How'd that work out? Well, at the end of the season, Duhaime had only 17 points in 80 games. On a team packed with overachievers, Duhaime finished tied for 10th among forwards in scoring, tied with Nico Sturm, who Minnesota traded mid-season. In fact, he didn't do much more than Nick Bjugstad (13 points in 27 games), Victor Rask (13 in 29), and Rem Pitlick (11 in 20).
In the playoffs, he went scoreless while playing only seven minutes a night. Now Duhaime is in the last year of his contract before hitting restricted free agency, and you already have to wonder: What's his future in Minnesota?
I'm not trying to be too hard on Duhaime. After all, this was his rookie season, one that didn't carry massive expectations with him. He hovered around exactly replacement level last year, which sounds about right for the type of player he is.
If he's not more, the problem is that he'll find himself squeezed out in Minnesota pretty quickly. Minnesota's crop of prospects is coming. Connor Dewar is a young player who will likely be fighting with Duhaime for fourth-line minutes. And there's more on the way.
Beckman, Sammy Walker, Mitchell Chaffee, Vladislav Firstov, Nick Swaney, Mason Shaw, and Sam Hentges will all be in the AHL at age-24 or under. Obviously, all seven won't make the NHL full-time. But will one of them do that? Almost definitely. Two or three? Why not? They'll all make near the league minimum, too. Duhaime will be easily replaceable in short order.
That is, unless he makes a jump this year. Can he do it?
Looking at the overall season stats, it's hard to be optimistic. But what if we cut Duhaime's season neatly in half? Here's how that shakes out at 5-on-5 play, ranked against Wild forwards:

It's an incredibly stark difference. Through 40 games, Duhaime played like a young Marcus Foligno, scoring at about a 10-goal, 26-point pace. Is that a ton? No. But you'll take that from a fourth-line guy who loves to shoot the puck.
In his final 40 games, Duhaime played like a young Nicolas Deslauriers. A willing fighter? Sure. But with four points on much fewer shots, Duhaime was a liability down the stretch.
Which of those Duhaimes is the real deal?
Here's the case for it being the first-half Duhaime: It's pretty easy to fluke your way into getting some nice-looking scoring rates on a fourth line. Since you're not playing a lot of minutes, a small hot streak can carry your numbers a long way. Scoring rates aren't extremely predictive or stable.
That's not the case with shot generation. Those numbers are pretty stable. That is, players who are good at shooting a lot stay good at it for a long time. For example, when Jason Zucker was coming up, he shot the puck around nine times per hour, whether he was on the first or fourth line.
Duhaime had the shot rate; again, you don't get that by accident. He had the speed and the mentality to fire the puck constantly. Those skills shouldn't just disappear overnight.
But if we're looking for an explanation as to why, it's not hard to guess a possible culprit. Duhaime went on the COVID list in early January, missing his only two games of the season. Now, COVID affects everyone differently. Some players bounce right back; others, not so much. Even something disastrous like myocarditis, the virus can sap your energy for a while after.
That's bad news for an energy guy like Duhaime. If that's what happened, he's never said anything or used that as an excuse. As resistant as everyone should be to playing Online Doctor... that makes sense. The NHL season is grueling at the best of times. If COVID compounds that even slightly, it's not hard to see something similar to what happened with Duhaime playing out.
Regardless of what happened, after an offseason of rest and resetting, Duhaime has another opportunity to be the first-half Duhaime year-round. If that's who he is, Minnesota may have unearthed yet another bottom-six contributor in the lineage of a Foligno. If not? Wild fans needn't worry for the same reason Duhaime would need to: Someone else is there coming for that spot.
All stats via Evolving Hockey