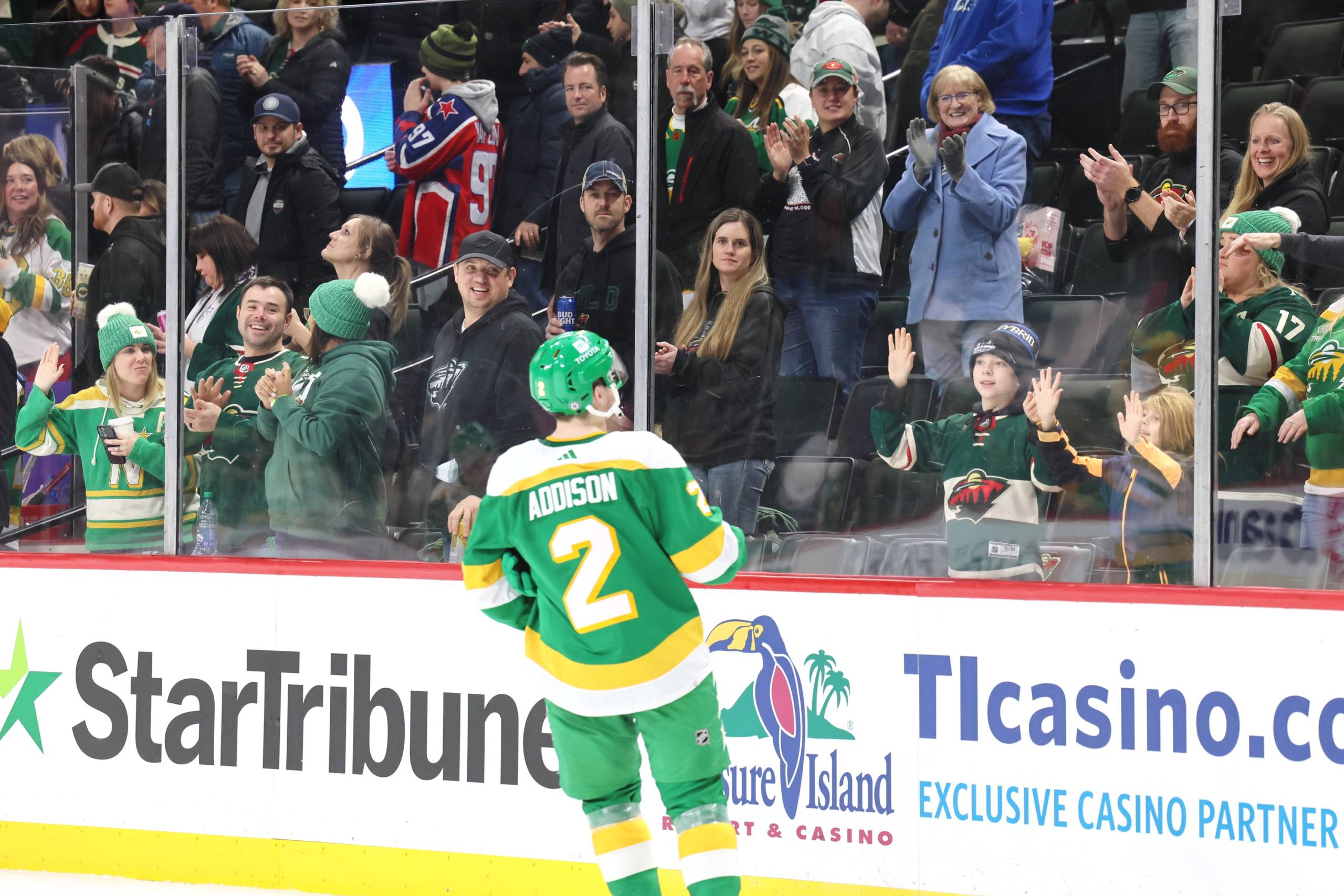 Why should Kirill Kaprizov get to have all the fun?
You'd think that Kaprizov has broken so many records that there aren't any left for the rest of the Minnesota Wild's players. Most goals in a season, most assists and points in a season, virtually every Wild rookie record. Fastest to 100, then 200 points. Very shortly he'll be the fastest to 100 tallies. What's left?
Nothing. If you're a forward, that is.
But you know what Kaprizov doesn't do? Skate backwards. At least, the Wild don't have him doing that. We're sure if he did, he'd be great at that, too. But regardless of whether he'd be great at it or not, the fact remains that Kaprizov isn't a defenseman. So there's a whole set of Wild records that he, by definition, can't touch.
Calen Addison is taking advantage of that absence. On Saturday night, he notched two assists. The first was a pass that directly resulted in Kaprizov's 5-on-3 goal to get his 20th point of the season. He later added his 21st, making a fantastic stretch pass to spring Joel Eriksson Ek on a breakaway for a go-ahead goal.
It was his second multi-point night in as many games, giving him five total in that pair of contests, including two at even strength. There's no doubt now, Addison's scoring is back on track. Addison sits at fourth in rookie scoring, and is seven points ahead of Jake Sanderson and Owen Power, the next-most prolific rookie defensemen.
Now, on pace for seven goals and 46 points, Addison is getting ready to whip out a pen and scribble in his own contribution to the Wild record books. Think of all the great defensemen who came up through the Wild system. Brent Burns, Jared Spurgeon, Jonas Brodin, and Matt Dumba immediately come to mind.
Where does Addison stand in comparison to them? Ahead of them already, and picking up distance. Dumba actually had the most success on the score sheet among the group, with 16 points. Heck, if Addison gets the 46 he's on pace for, he'll out-pace the four of them (Spurgeon, 12; Brodin, 11; Burns, 6 for 43 total) combined.
No, you can win a bar bet by watching your friends never, in a million years, guessing Filip Kuba currently has the Wild rookie scoring record. Kuba, then 24, scored 30 points in his first full season with the inaugural 2000-01 Wild. If Addison keeps things up, he could pass that by mid-to-late February, with about another third of the season to go.
Sure, we can point to age as a factor in why Addison's rookie performance is out-classing the rest of the great homegrown Wild defensemen of years past. Burns and Brodin were teenagers when they made their NHL debuts. Dumba's rookie season was at age 20, and Spurgeon's at 21. Addison is 22, which means he got at least a year of development on all of them.
Still, it doesn't make what he's doing any less impressive. Here are the top scorers (measured in points per game) of any Under-23 defenseman in Wild history:
1. ADDISON (22), 2022-23: 0.57
2. Burns (22), 2007-08: 0.52
3. Dumba (22), 2016-17: 0.45
4. Spurgeon (22), 2011-12: 0.33
T-5. Burns (21), 2006-07; Dumba (21), 2015-16: 0.32
That's a heck of a list to top. Burns wound up winning a Norris Trophy in San Jose, racking up five straight 60-plus point seasons. Dumba was on a Burns-type trajectory before injuries derailed his offense. Spurgeon is almost undoubtedly the best defenseman in Wild history, a group that also contains a borderline Hall of Famer in Ryan Suter.
What's Addison going to look like once he hits his prime?
Not only does Addison do well when measured against Wild history. He's also standing out when compared to the best Under-23 defensemen league-wide. Among that group, he's sitting fourth in scoring, with just Rasmus Dahlin, Quinn Hughes, and Noah Dobson ahead of him.
The scoring is good, but it also translates into great overall impact. Let's evaluate Addison using Evolving Hockey's Expected Standings Points Above Replacement (xSPAR) statistic, their preferred way of evaluating defensemen.
Addison again shows well here, as his play is worth about 1.4 points in the standings, per xSPAR. Here's how he stacks up against the top, as well as some other notable names in that Under-23 bracket:
1. Dahlin, BUF: 4.4
2. Rasmus Sandin, TOR: 2.3
3. Evan Bouchard, EDM: 2.1
4. Braden Schneider, NYR: 2.0
5. Dobson, NYI: 1.8
6. ADDISON, MIN: 1.4
7. Sanderson, OTT: 1.3
9. K'Andre Miller, NYR: 0.6
11. Power, BUF: 0.2
14. Quinn Hughes, VAN: -0.1
15. Moritz Seider, DET: -0.2
In fact, let's throw out the Under-23 qualifier completely. 1.4 xSPAR is enough to put Addison into the fringe of the Top-50 in the NHL, as he's tied for 48th among defensemen. His impact is on par with that of Drew Doughty (1.5), Shea Theodore (1.5), and John Carlson (1.4). It's good company!
It gets even better, though. Addison has played just 616 minutes this season, 128th in the NHL and nearly 400 behind some of the league's top minute-munchers. If we account for that by looking not at their raw xSPAR, but at their impact on a per-hour basis, Addison is 38th in the NHL among the 168 defensemen with 500-plus minutes.
This again puts him on par with players like Shea Theodore, but also ahead of some massive names like Burns, Jakob Chychrun, Charlie McAvoy, Aaron Ekblad, and Roman Josi for this season.
[caption id=attachment_142178" align="alignnone" width="754]

Courtesy of Evolving Hockey[/caption]
Now, that's not to say that he can, for sure, keep it up while taking No. 1 defenseman minutes. His impact comes entirely from his offense, with his defense and penalty differential rating as basically neutral. That could have to do with Evason putting him in favorable spots, letting Spurgeon soak up the most difficult minutes.
Sheltered minutes don't explain everything, though. Addison is far from the league's only sheltered defenseman, and he's been crushing it in the role he has. He should only get better defensively as he gains experience, and the best defensemen in the NHL excel at turning defense into more offense. There's been little to suggest that Addison couldn't do the same with an improved two-way game.
That will come with time, though. For now, he's got two tasks at hand: Keep the Wild on their winning ways, and join Kaprizov in re-writing their rookie record books. It's hard not to like his chances at doing both.
All data via Hockey Reference/Stathead unless otherwise noted.