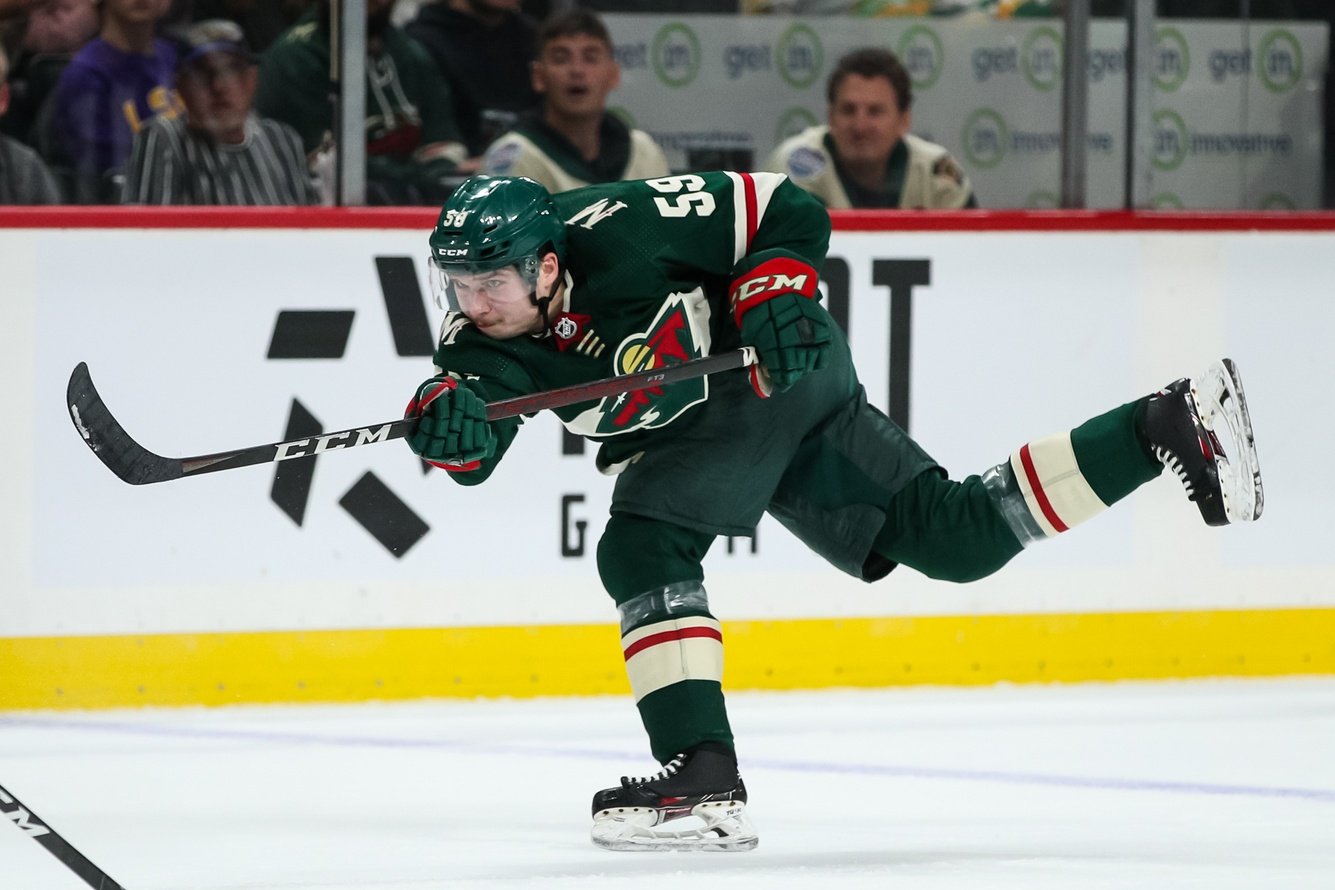 Bill Guerin's first target when he got to Minnesota was Calen Addison, who he acquired in the Jason Zucker trade. Three years later, Guerin paved the way for Addison by trading away Dmitry Kulikov, a defenseman in his 30s who played a solid two-way game in the regular season in limited minutes, for nothing except to gain an open roster spot. Clearly, he cares about Addison.

 

It's easy to see why. You can replace a player like Kulikov, but a player like Addison isn't as easy to replace as his detractors think. A spot in the lineup is ready for Addison -- all he has to do is grab it.

 

Addison's responsibility is to spread the wealth offensively. His puck-carrying game and ability to be a game-breaker on the powerplay may solve the Minnesota Wild's problems. I mean, can the Wild do any worse this season than last year? They finished 18th in the league with a power play percentage of just 20%. There's no way adding Addison to the mix is a non-factor. Tony Abbott brought up that Addison will undoubtedly change the blueline's identity.

 

Even if Addison gets 3rd pairing minutes, his impact on the powerplay will have him sneak into the top-10, maybe top-5 in Calder Trophy voting.

 

Imagine a unit consisting of Matt Dumba and Addison being a tag team to support Kirill Kaprizov and Mats Zuccarello, who's already an established duo. Think of the creativity and shooting prowess that comes from that combination. Joel Eriksson Ek looks good as a net-front presence on this hypothetical unit.

 

The Wild need to use Dumba's shot to the fullest. Adding Addison to play the point takes much of the burden off Dumba. He can just shoot a lot of shots — at some point, teams won't block them. Addison, Kaprizov, and Zuccarello are all top-notch distributors who can find Dumba in space for one-timers.

 

If Minnesota utilizes Dumba's shot to the fullest, that opens more room for Kaprizov. Teams must choose between covering Kaprizov or stopping No. 24 from blasting shots. Dumba's former glory could be in reach — maybe even that 20-goal season.

 

Addison is also the key to keeping Dumba healthy. He can enable Dumba to regain the scoring touch he lost back in 2018-19 when he was on pace to score 31 goals and 57 points. Addison can reduce the stress of extra minutes on Dumba; all Dumba has to do is not try to be Dustin Byfuglien. He's gotten himself hurt several times by playing as if he's a 6'5" bruiser.

 

Sure, some in Minnesota lost faith in Addison's ability to play in the NHL, but outsiders still believe in Addison. He made the NHL's Top-50 fantasy defensemen list, finishing 48th. The NHL also included him on their Rookie Watch list. Here's the chance for him to build off of the buzz he's receiving, despite getting limited playing time.

 

Clearly, Addison is more than an average offensive defenseman prospect. He has the attributes of being a star player who can carry the team's powerplay thanks to his ability to shoot and rack up assists.

 

 

Addison is a high-caliber player, and his numbers show it. Addison has scored .75 points per game in 77 career AHL games. Here are some players that he out-scored, just to name a few.

Tyson Barrie (.69 PPG in 93 GP)

Roman Josi (.59 PPG in 74 GP)

Evan Bouchard (.67 PPG in 54 GP)

Torey Krug (.71 POG in 63 GP)

Dumba (.61 PPG in 23 GP)

Anthony DeAngelo (.59 PPG in 123 GP)

Josi is the name that stands out the most. He had a huge year for the Nashville Predators and has given Wild fans nightmares. Sure, Josi and Addison are different players. Josi is more of an active elite two-way pivot who plays a sound defensive game. Addison is more prone to joining the rush but is not yet a very strong player, which limits his defense. However, after some digging, it seems fans shouldn't worry about Addison being "small." Spoked Z, who watches Wild prospects more than anyone, points out that Addison is one inch shorter than Dumba but is the same size as Cale Makar. He can hang with professionals and hold his own.

 

 

 

 

Still, he should probably be careful engaging in the physical game. He may suffer a similar fate to Dumba if he forgets that he should hold his own, not dish out punishment. Addison may not score 90 points like Josi — almost no one does. He might not even put up big numbers right away. But his impact will leave a mark on the rest of the team. Give him a chance, and he will deliver.

 

You can count on him being motivated. He should be livid after the Wild placed players like Jordie Benn ahead of him on the depth chart last year. He should be motivated to take his spot in the lineup and never look back. Those whispers about Guerin possibly trading him will go away if he does that.

 

If the Wild want to compete with the likes of the Colorado Avalanche in the West, they need a player like Addison full-time. Should he struggle out of the gate, fine, just give him more opportunities to succeed. If they could do that for Benn last year, they can do it for their top prospect.

 

We've just witnessed Addison flourish as a prospect for the Iowa Wild. Now it's time to see if he can handle being an NHL player. They have to see how he responds. Odds are, he'll adjust to the NHL as he did to the AHL.

 

Guerin might not end up trading Addison. Maybe he can even find a way to keep Jared Spurgeon, Addison, Dumba, and Brock Faber together in Minnesota. They're all right-handed shots but offer different skill sets. And with Jake Middleton and Jonas Brodin as left-shot defensemen, and Alex Goligoski in a leadership role, that's a deep group of guys.

 

Does that hint that the Wild will move Jon Merrill at some point? Maybe, maybe not. For the most part, the Wild have fared well with left-shot defensemen playing the right side. Why can't they use more right-shots? Addison can open the gate for more right shots in the lineup and offers a dynamism that can compliment Spurgeon, Dumba, and Faber. Whatever his role is, though, Addison has the chance to make a big rookie splash this fall.