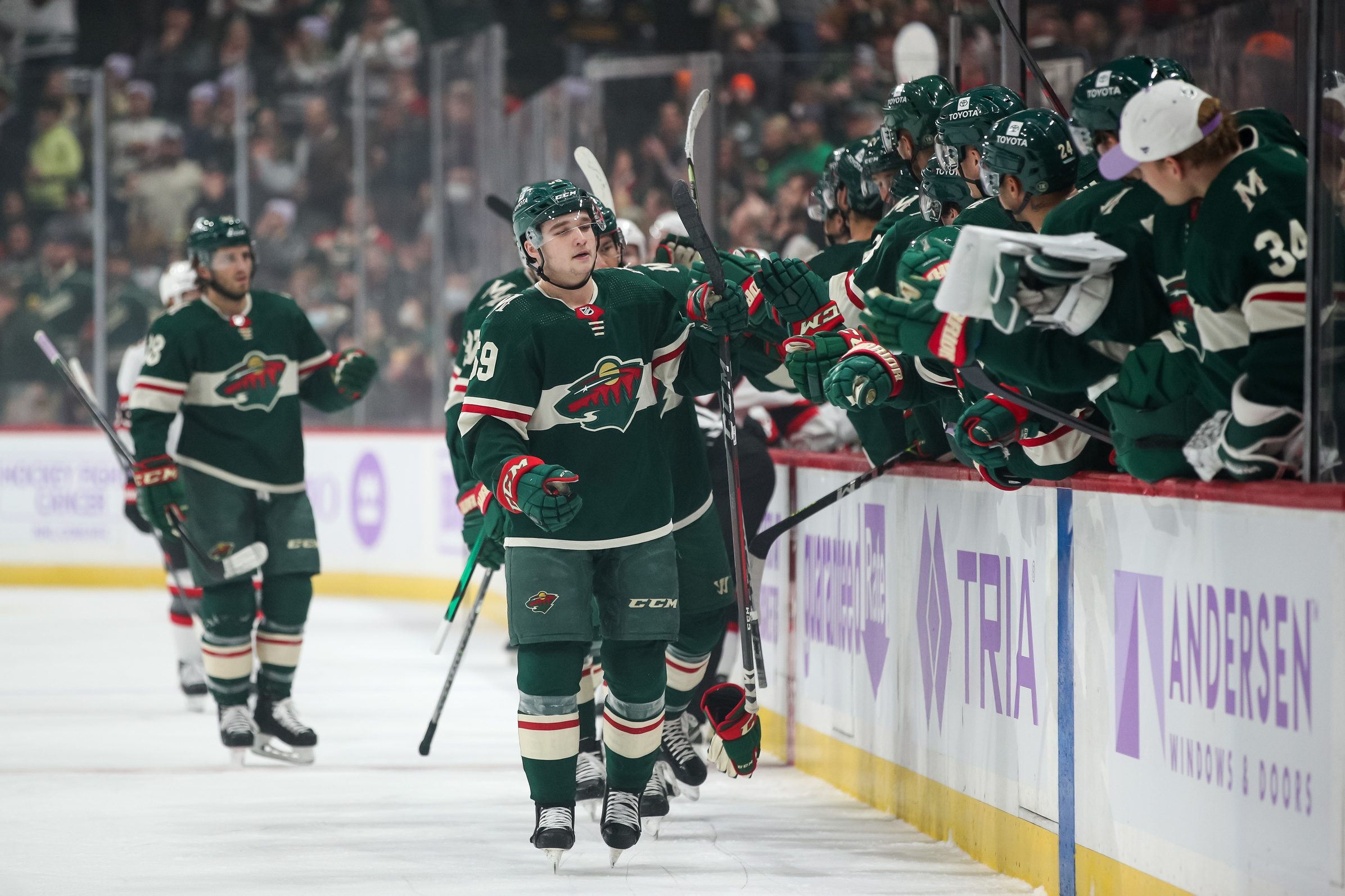 Let's get this out of the way: There's no replacing Jared Spurgeon. The Minnesota Wild captain is an essential part of their success and is even more prominent than ever this season. No one on the roster can match Spurgeon's dominance in all situations. He's crucial to the Wild's 5-on-5 game, power play, penalty kill, and even their empty net heroics.
But that's the task the Wild must deal with for the foreseeable future. Spurgeon exited Saturday's game early against the Florida Panthers with an injury, and there's neither a diagnosis nor timetable for his return as of this writing. The results since have been concerning. Minnesota's shorthanded blue line was immediately out of sorts, surrendering eight goals this weekend, though admittedly against two great offenses.
The Wild can't replace Spurgeon by putting someone in his do-it-all role. Multiple players have to fill pieces of his role. Matt Dumba and Jonas Brodin averaged over 25 minutes a night this weekend, up from the 22-23 range. Dmitry Kulikov and Jon Merrill may see more minutes in defensive situations. And someone's got to fill Spurgeon's role on the top power play.
Dumba would seem the natural choice for the role. He already leads the team's second unit and is historically one of the best power play goal-scorers in the NHL. Since his debut, 135 defensemen have logged 400-plus power-play minutes. Dumba's 1.43 goals per hour rank ninth among them.
Despite that, Minnesota should take advantage of the opportunity to let rookie Calen Addison take on those duties. Addison, who the Wild brought up Sunday, has 30 points in 44 career AHL games, ten of which were on the power play. But why should he supplant Dumba for the top role?
Addison offers a skill-set that Minnesota doesn't have much of. Dumba's power-play success stems from his blistering shot, Spurgeon's comes from his sneaky pinches, and Ryan Suter's came from efficient puck management. None of them particularly excelled at creating space with their skating.
That is Addison's bread-and-butter. He uses his mobility to draw defenders and open up space for himself or his teammates. Check out this goal from last February against the Texas Stars.
He uses his speed to prevent Texas from clearing, then takes the puck at the point with all four Stars in his shooting lane. The typical move from a Wild defenseman would be to pass to one of the players on the half-wall, who aren't in a particularly great shooting position. Addison doesn't do that. He skates the puck down low to start a cycle with Mitchell Chaffee. Once he gets the puck back, he finally has some space, which he exploits with a great shot.
Addison's ability to skate dynamically with the puck opens up options for a Wild power play that feels stagnant. The Wild rank eighth in shot attempts per hour at 5-on-4 but 21st in both generating goals and expected goals at 5-on-4. Why is that? A lack of movement on the power play.
Opponents block 30.7% of the Wild's power-play shot attempts, a rate surpassed only by the Montreal Canadiens. Minnesota's tendency to shoot from predictable shooting lanes allows opponents to clog them up. Letting Addison do his thing should help force opponents to move more, opening shooting and passing lanes. His transition game should also help the Wild gain the offensive zone, something they've struggled with at times.
Might it fail? Sure, but the Wild are desperate to find that spark on the man advantage. History suggests that the power play won't quite click with Dumba taking over the first unit, either. Despite his fearsome shot reliably getting him goals, it doesn't often translate to converting power plays at a high rate.
The Wild have generated just 6.51 goals per hour with Dumba on the power play in his career. Going back to that list of 135 defensemen, he ranks 68th, well behind Spurgeon (7.21). That rate's dropped below six goals per hour since his pectoral injury three seasons ago.
Furthermore, this gives Minnesota a chance to assess whether Addison can handle the role in the future. The team has two years to decide how to proceed once Dumba's contract expires in summer 2023. If Addison shows that he can handle top-four minutes and a power play role, it will make Minnesota a lot more secure should they decide to move on then. A Spurgeon injury is basically the only opportunity that allows for Addison to have the starring role on a top power play. Might as well see if he can handle it now, instead of throwing him into that role cold two years from now.
It's also the best thing for his growth as a prospect. Remember, development doesn't stop just because a player gets to the NHL. Addison needs to get minutes, and putting him on the top power play allows him to crack 18-20 minutes a night even if they ease him into the 5-on-5 side of the game. Being able to rack up points on a Wild power play big on talent but light on points could bleed confidence into the rest of his game as well.
Yes, there's no replacing Spurgeon, and his absence will surely test Minnesota's defense. But every injury, no matter how difficult it is to overcome, presents opportunities to others. The Wild are finally in a position where they can let their hotshot rookie take on a significant role. They need to take it.