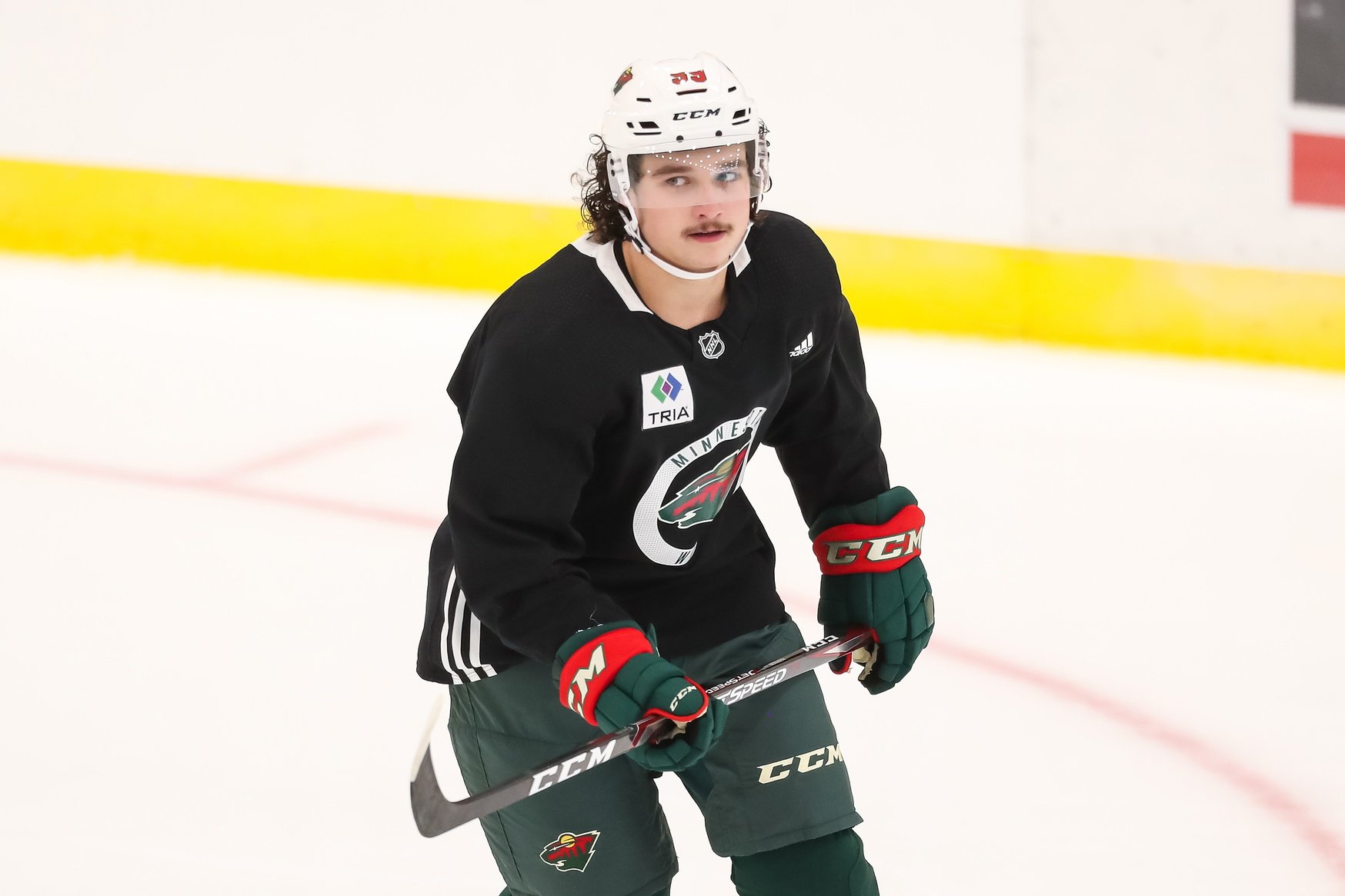 One year ago Calen Addison had a clear path to making the Pittsburgh Penguins roster. He was their top prospect and the road ahead was manageable. His top competition on the right side of Pittsburgh's defense was aging, oft-injured Kris Letang and defensive stopper John Marino. Addison was going to get a shot, and probably sooner rather than later.
Then he got traded to the toughest blue line to crack in the league. The Minnesota Wild had Jared Spurgeon and Matt Dumba in the NHL, both right-shot defensemen with power play chops. It's a skill set that lines up exactly with Addison's strengths.
With his arrival, Minnesota would surely clear out a space for him by trading Dumba, right? Dumba's hard shot and ability to play top minutes on the right side made him a coveted trade chip, the thought went. The Wild could flip Dumba for help at forward, then give Addison a top-4 role in the NHL.
Those plans never materialized. A perfect storm of a down season from Dumba, a soft trade market for defensemen and a flat cap due to the coronavirus kept Dumba in Minnesota, and might for the foreseeable future. Even worse, there's now competition for Addison among prospects. 23 year old right-shot defenseman Brennan Menell is dominating the KHL. That's yet another defenseman who can move the puck and quarterback the power play.
How does Addison crack this lineup with so much competition?
The first thing he's going to have to do is prove himself worthy of making the roster. As you can read in our July article on Addison, he has talent and production. Addison has had .98 points per game between his age-18 and age-20 seasons. That ranks 10th among WHL defensemen since 2010-11, a touch higher than Shea Theodore (.96) and just below hotshot prospect Bowen Byram (1.05).
Addison shows up favorably in a database run by prospect analyst Byron Bader, with some intriguing comparables.
Three of the five most similar NHLers to Addison are Wade Redden, Ivan Provorov and Mikhail Sergachev. It's solid company. Most will remember Redden for the ugly end of his career, but before turning 31 he was a workhorse and high-end power-play quarterback. Provorov and Sergachev haven't fully developed, but they both have 40-point seasons under their belt before turning 24.
All three of them were in the NHL by their age-20 seasons, which is probably not going to be the case for Addison, at least not full-time. The Wild have Carson Soucy, Brad Hunt and Greg Pateryn healthy and under contract. It's hard to see room for Addison, barring an injury.
Luckily, Addison should be able to play in the AHL this season, which has a tentative start date of Feb. 5. Without Menell taking up top minutes, Addison will have an opportunity to quarterback the Iowa Wild power play and show he can not be a liability on defense.
There's only so much Addison can do that's within his control, however. The next step is waiting for an opportunity, and that is hard to see right now.
A bounce-back season might put Dumba back on the map in terms of an elite trade asset. It also might not matter. Teams had a lot of difficulty shedding big money players this offseason operating under a flat cap. Quality players like Nate Schmidt and Paul Stastny got moved, but their price tags (around $6 million each) made it so they got only mid-round picks in return.
With fans unable to attend games this year, revenues won't bounce back enough to raise the cap for next season. That's bad, considering teams are already struggling to get under the cap as it is. Ten of the league's 31 teams are over the cap with a month to go before the season starts. How much worse will it be next year, after another round of extensions and free agency?
Might that spot open up in the Expansion Draft?
Conventional wisdom has Minnesota protecting eight skaters in order to protect their top-4 defensemen. That's the right call as far as talent goes. You don't want to give a top-pair caliber defenseman away for nothing.
At the same time, if Minnesota has two right-shot defensemen in the wings and Spurgeon locked in for seven more years, when's the right time to make room for them? Will it be next year?
Exposing Dumba might seem galaxy brained, and maybe it is. Still, if Minnesota can't get what they want in return for him and are determined to move him, one can at least see some benefits in exposing him. Freeing up $6 million in salary could give the team financial flexibility going into an offseason where they'll want to re-sign stars in Kirill Kaprizov and Kevin Fiala and do some big-game center hunting.
The Seattle Kraken wouldn't have to take Dumba in order to clear the decks for Addison, though. Most have the 6'5" Soucy pegged as a target for Seattle to pick in expansion. That doesn't quite pass the smell test. Soucy had a fine season, but he'll be 27 at the time of Expansion and his upside doesn't appear to be much more than he showed last year. Is that the kind of player Seattle will target to start their new team?
If the Kraken want to take advantage of the logjam at defense and Dumba is indeed protected, Menell is a better choice. Menell will be 24 and has already shown elite production at the AHL and KHL. Given that Seattle Director of Hockey Administration Alexandra Mandrycky came out of the Wild organization, you can bet that Seattle will have some inside intel on Menell.
This is great from Minnesota's perspective. Having too much talent at a position is much better than not enough, and the Wild could conceivably keep this group together and let the most talented players win out. The hope is that iron will sharpen iron, and that Addison will be better off for the competition. However, if he can't find a spot to grab, Addison may not find a sufficient opportunity to launch his career.
This article is part of a series ranking the Minnesota Wild's Top-10 Prospects. Addison comes in at #6. Stay tuned Wednesday for #5.