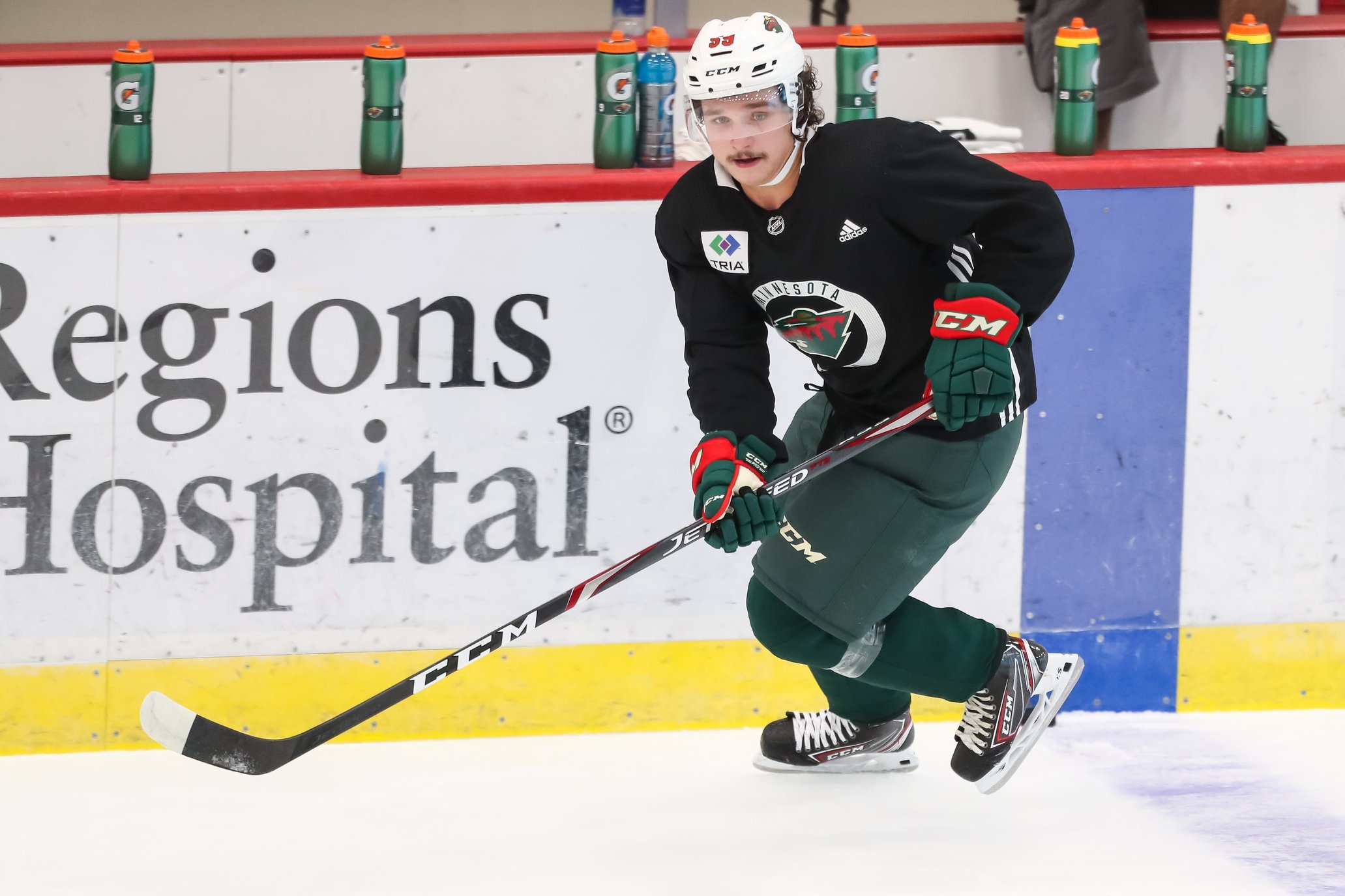 If money could have been wagered on whether Matt Dumba would still be on the Minnesota Wild at the start of the offseason, the money line on "Yes" would have been set at plus-750. Dumba's name was often in the rumor mills with having a team-friendly contract, and he still possessed loads of unrealized potential as a top-four defenseman. Add in the position scarcity of a right-shot offensive defenseman, and Dumba should have fetched a good haul in the trade market.
Except he didn't, and the Wild bought out Ryan Suter instead to keep him. Cash those tickets if you were one of the few to take "Yes." To even consider trading Dumba meant that the Wild had to fill in the void left behind. Minnesota could have elevated Carson Soucy, but the Seattle Kraken laid waste to that plan. However, even after all of that, the Wild still have a defenseman who many felt was heir to Dumba's spot all along. Perhaps, even GM Bill Guerin had that plan in mind when he targeted Calen Addison in the Jason Zucker trade.
Addison was considered a top prospect in the Pittsburgh Penguins system at the time of the trade, and upon consummation, he immediately became the Wild's best prospect on the blue line. Consider that Minnesota was in the midst of primarily drafting forwards and that the most recent first-round selection used to take a defenseman was spent on Filip Johansson. But for Addison to go from a top prospect playing junior hockey into replacing a Dumba was always far-fetched. Even if fans were putting that scenario into the ether, making it a reality, and it being a success was far from a certainty.
Could the Wild have found someone to step up and play as good on defense as Dumba? Sure. Guerin essentially replaced the defensive play of Suter and Soucy with Alex Goligoski and Dmitry Kulikov. However, replacing Dumba's abilities on offense is where they would have felt his loss the most. 
Addison put his best foot forward last year, in some of the most trying of times too. He took a 10-goal, 52-point season out of Lethbridge into the AHL and made the jump look easy. He scored six goals and 22 points in 31 games on an Iowa team with most of its better players sitting on the taxi squad in St. Paul. The Brandon, Man. native's .710 points per game was the eighth-best among all AHL defensemen. It was a pretty good season, to say the least.
That said, every other defenseman in the top 12 of that list was 21 years of age or older. In fact, that same PPG mark from Addison was the 10th best age-20 season all-time in the AHL. That's mere percentage points behind Mike Green and Shea Theodore's age-20 season. It's also better than teammate Dumba or P.K. Subban and Jake Bean's at the same age. Those players put up those numbers when there wasn't a global pandemic wreaking havoc around the world. Addison dealt with the daily COVID testing, quarantines, and a depleted roster and still turned in a great season in the minors.
What's even better is that he'll no longer have the pressure of trying to step in immediately to keep the top four afloat. Dumba is still on the team, and the Wild have acquired enough defensive talent through free agency that he can take his time to adjust to the NHL. Guerin hasn't wavered much, if at all, from his desire to have young players earn their keep in the NHL. And while that sounds ideal for a much more perfect world, the reality is that players should be allowed to make the jump when they show they're ready.
It's tough to glean anything from small sample sizes. For Addison, we're talking three games and a total of 55 minutes. He doesn't have any goals or assists during that time. Addison took six shot attempts, four of them on goal. He looked the part in his three-game sip of coffee in the NHL. The sample size is so small, yet while Addison was on the ice, the Wild had an xGF number of 2.13, where Addison managed to add at least .12 xGF to that total. Now that doesn't sound like a lot, but mind you, we're talking about a 20-year old kid adding that kind of value in a total of 55 minutes of ice time. Natural Stat Trick extrapolates that .12 into a per 60-minute rate, and that 2.81 xGF/60 is higher than Joel Eriksson Ek's full season metric.
This is not to say that Addison would actually provide that kind of production over a full slate of games. Nor would he realistically have more expected goals for than a forward who spends a lot more time in the offensive zone than even he does. But that shows how quickly Addison got to his game in a small amount of time. Given a chance to finally prove himself in a full training camp and exhibition season, Addison might find himself added to the NHL roster out of camp. That's why he was ranked as third in 10k Rinks' Top 10 Wild Prospects rankings.
This article is part of a series counting down the Top 10 Minnesota Wild Prospects of 2021. Addison was ranked third by 10k Rinks staff. Check back Friday and Monday to see who lands in the top 2 spots!