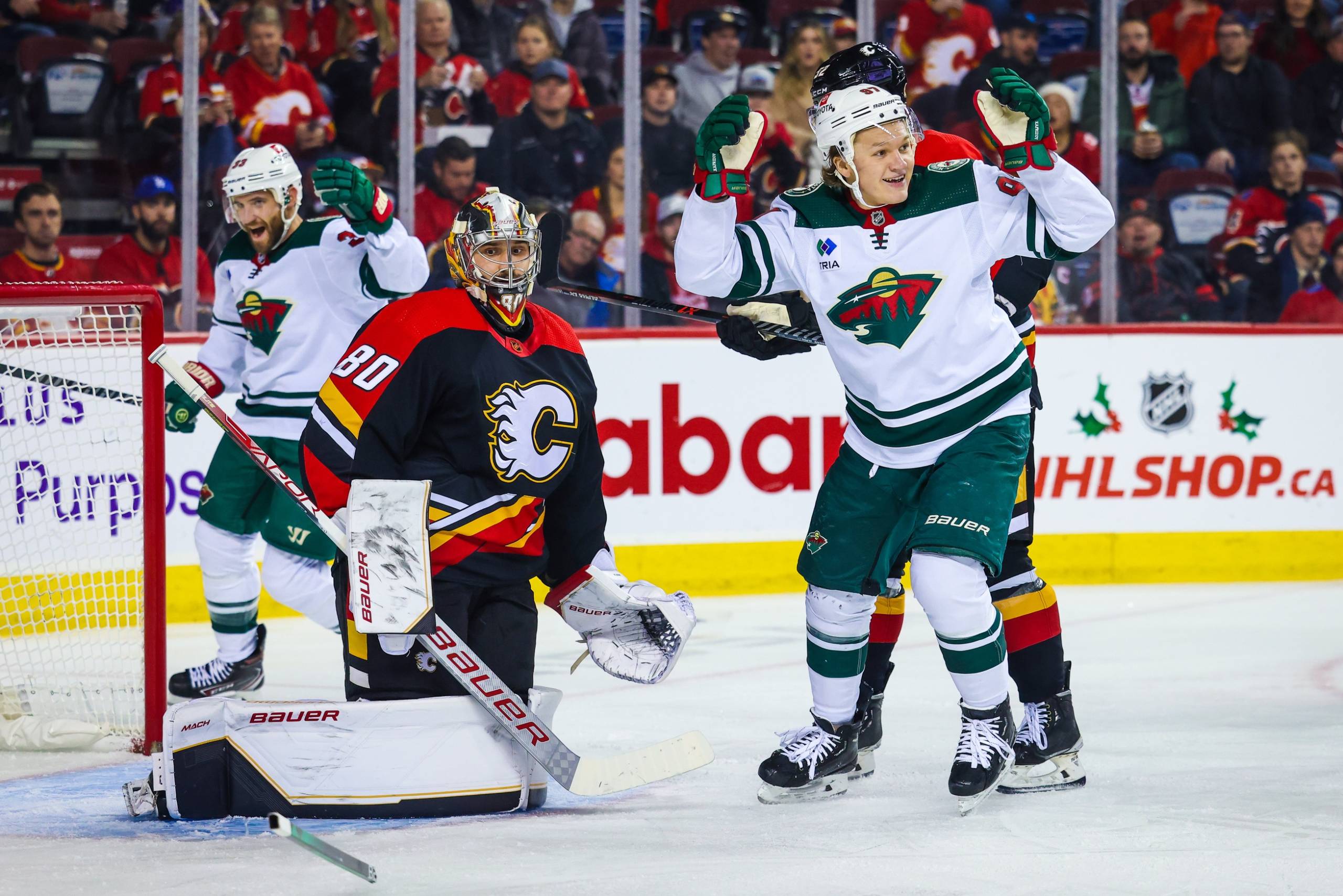 Folks, we've made it. 100 goals from Kirill Kaprizov, with the promise of many more to come. So at this historic moment, let's take a quick look back and remember the best of what we've seen from Dolla Bill Kirill.
Now, all goals are important. They're so rare in the NHL (even with a boost in scoring, we're only averaging 6.34 goals per game, and that is the most we've seen since 1993-94) that it's very hard to find meaningless goals.
Still, some goals are more important than others, and some goals wow us more than others. We've seen so many goals from Kaprizov that it almost feels routine to see him unleash his hard, deadly-accurate shot. Watch his highlights, and you'll see a lot of ruthless efficiency. If he gets to an area of the ice, he's going to score. It's almost automatic.
But let's not forget the times when Kaprizov has gone out of his way to wow us with his feats of speed, skating, and strength. We're building the Mount Rushmore of Kaprizov goals, featuring the four most breath-taking, important, or clutch goals we've ever seen.
Honorable Mentions
Goal No. 5 (February 27, 2021): Breaking Tackles
People might have looked at Kaprizov and seen a 5'9" shrimp who isn't the fastest skater in the NHL. Could bigger opponents bully him? Would he wilt under physicality?
This goal showed them that, no, Kaprizov would be able to muscle through anything you could throw at him. Drew Doughty doesn't just hit or maul Kaprizov here. He tackles him, but it doesn't matter. Kaprizov is strong enough on his skates to break through and sink the wraparound attempt.
It's a great goal, but it also sent a message to the rest of the league: Kirill would not be bullied.
Goal No. 9 (March 12, 2021) Skating Circles Around the Coyotes
Kirill may not be a burner in the traditional sense, but he showed off his power and agility here. He encircles every Arizona Coyote player like a sheepdog and pens them in by appearing to attempt a wraparound before ultimately deciding to go to the slot for the goal.
He does all of this within six seconds of initially touching the puck, giving poor Adin Hill no chance to recover to make the save, and leaving five helpless Coyotes defenders to watch. The only knock on this goal is... it's the Coyotes.
Fun Fact: Kaprizov's 100th goal is already 10th in franchise history, halfway to besting Zach Parise (199 goals) for third-best in franchise history and 119 away from Marian Gaborik's record. Up next? Jared Spurgeon, who's in ninth place with 104 career goals.
Goal No. 20 (April 23, 2022): Legging It Out
In terms of raw skill, this might be Kaprizov's best goal. The move speaks for itself, and it's downright vulgar. He fools Mikey Anderson to bait a poke check, then Kaprizov brings it between his legs and gets around him to walk to the net. Disgusting. Kaprizov's tried some incredible moves on the ice, and this might be the one that's simultaneously his most ambitious and successful.
Goal No. 30 (November 4, 2021): Toy-otes
Since we're discounting goals against the Coyotes, let's get this out of the way. The best Kaprizov goals are when he seems to invent ways to score, or at least, in ways never seen before by Wild fans.
This goal sees him cruelly toying with Karel Vejmelka on a 5-on-3, throwing the puck back-and-forth to Mats Zuccarello virtually unchallenged. After a few rounds of catch he gets Vajmelka out of position enough to tap the puck in for an easy goal. It's simple, and perhaps doesn't show off the breadth of Kaprizov's skill, but it's so barbaric and effective that it has to go here.
Fun fact: Kaprizov has scored on 45 different goalies in his March to 100 goals. His most against any goalie is five, a record held by Cal Petersen, Jake Oettinger, and... his current teammate, Marc-Andre Fleury.
Goal No. 78 (October 20, 2022): Righting the Ship
The 0-3 Wild looked like a disaster, surrendering 20 goals in their first three games. It looked like they were going to lose their fourth game against the Vancouver Canucks, until Kaprizov took over. Assists won't make this list, but Kaprizov essentially scored the tying goal in the third period, using Zuccarello's stick as an intermediary.
In overtime, Kaprizov drew a delayed penalty then camped out by Thatcher Demko for a shot. He gets the opportunity, but Demko is square to the puck. However, Demko loses the rebound, thinking it went out front, leaving it Kaprizov to collect it on the side of the net. He gets it as it bounces behind the net, collects himself, and puts it past a desperate Brock Boeser to seal the win.
Goal 79 (October 27, 2022): Opa! Just Gonna Sneak Past You
There was no slow start for Kaprizov this year. In the game after he lifted Minnesota to their first win, he followed it up with another goal where he invented a way to score.
Erik Brannstrom is defending Kaprizov pretty much perfectly. He's boxing Kaprizov out of a clear line to the net, and he's fighting Kaprizov, pushing the strong Russian star further away from the net. And it still doesn't matter, because Kaprizov just reaches around Brannstrom's body with his stick and tips in Jared Spurgeon's shot. It takes so much coordination and awareness for Kaprizov to do this, even while being actively pushed. It's unbelievable.
Fun fact: Just four of his first 100 goals came against an empty net, according to Natural Stat Trick. When playing with his team's net empty, he has eight goals, tied with Corey Perry for the most in the last three years.
Breaking down the on-ice situations for the rest of Kaprizov's goals, 51 came at 5-on-5, three at 4-on-4, and three at 3-on-3. As for the power play, he has 27 5-on-4 goals, two 5-on-4 goals, and five 5-on-3 tallies.
The Mount Rushmore
Goal No. 35 (December 2, 2021): Back From the Graves
I mean, come on, look at this move Kaprizov does to rip out Ryan Graves' soul.
The way that he freezes, out-muscles, than goes around Graves could put this goal on the Mount Rushmore of Kaprizov goals by itself. It might be the best synthesis of everything he does well, all in one goal.
But it's not just about that goal, it's about what that goal meant. Kaprizov started out slow in his sophomore season, with zero goals in his first eight games. He'd showed signs of life, netting seven over Games 9-22. But the extra explosiveness Wild fans saw from the Calder Trophy winner appeared missing.
This goal proved Kaprizov's first season was no fluke, and that his explosiveness was back. Starting with that goal, Kaprizov finished the year with a whopping 40 goals in his last 59 games.
Fun fact: Auston Matthews (123), Connor McDavid (115), Leon Draisaitl (112), and Alex Ovechkin (104) are the only four players to score more goals than Kaprizov these past three seasons.
Goal No. 43: I Get Knocked Down!
This one almost requires a degree in forensic science to fully comprehend. At 2:55, Kaprizov is knocked down by 6'4" Erik Johnson while fighting for a faceoff. At 2:53, Kirill is already not only on his feet, but trying to deflect a shot in, then collects the rebound. At 2:51, the puck is in the net.
It's an incredible sequence on its own, but then you look at the context of the play. The Wild were down a goal to the eventual Cup Champion Colorado Avalanche. On the road. And Kaprizov had already scored another terrific goal that could've merited consideration for the Mount Rushmore to tie the game up earlier in the third period.
Kaprizov isn't just a fantastic goal-scorer, he's also one who steps up when he's needed most. The Wild lost in the shootout, but they came away with a point because solely because of the fact that when the spotlight is brightest, Kaprizov is there, scoring incredible goals.
Goal No. 94 (December 29, 2022): Playing H-O-R-S-E
Again, pretty much the only way for Kaprizov to wow us anymore is by inventing new ways to score. This isn't a hockey shot, so much as a challenge. Kaprizov wins a board battle in the corner, then fires the puck from the boards behind the net. It's as low-percentage of a shot as it gets, except he hits Oettinger's shoulder and bounces straight into the net.
It came in a loss, but when you're breaking the physics of hockey and beating an elite goalie, it's hard to care about anything else. This goal still rips.
Fun Fact: Kaprizov has 100 goals, but he's spread them out evenly throughout the NHL. Kaprizov has scored a goal against 30 NHL franchise, with only the Washington Capitals (2 games against Kaprizov) holding him off the scoresheet. His most victimized opponent? The hated Colorado Avalanche, with 9 goals in 13 career games.
Goal No. 1, January 15, 2021: First Impressions
You don't really want to say that Kaprizov peaked in his first game, but his first goal is still his most memorable. Kaprizov shows off his awareness and crafty puck-hounding right off the bat, swiping the puck for a breakaway. It bounces off his skate, but literally no one cared. It was instant proof that Dolla Bill Kirill was one of the most electric goal-scorers in the league.
Any concerns about Kaprizov being overhyped, not translating to North American hockey were dashed after seeing him for 65 minutes. It lit the State of Hockey abuzz, and he never looked back.