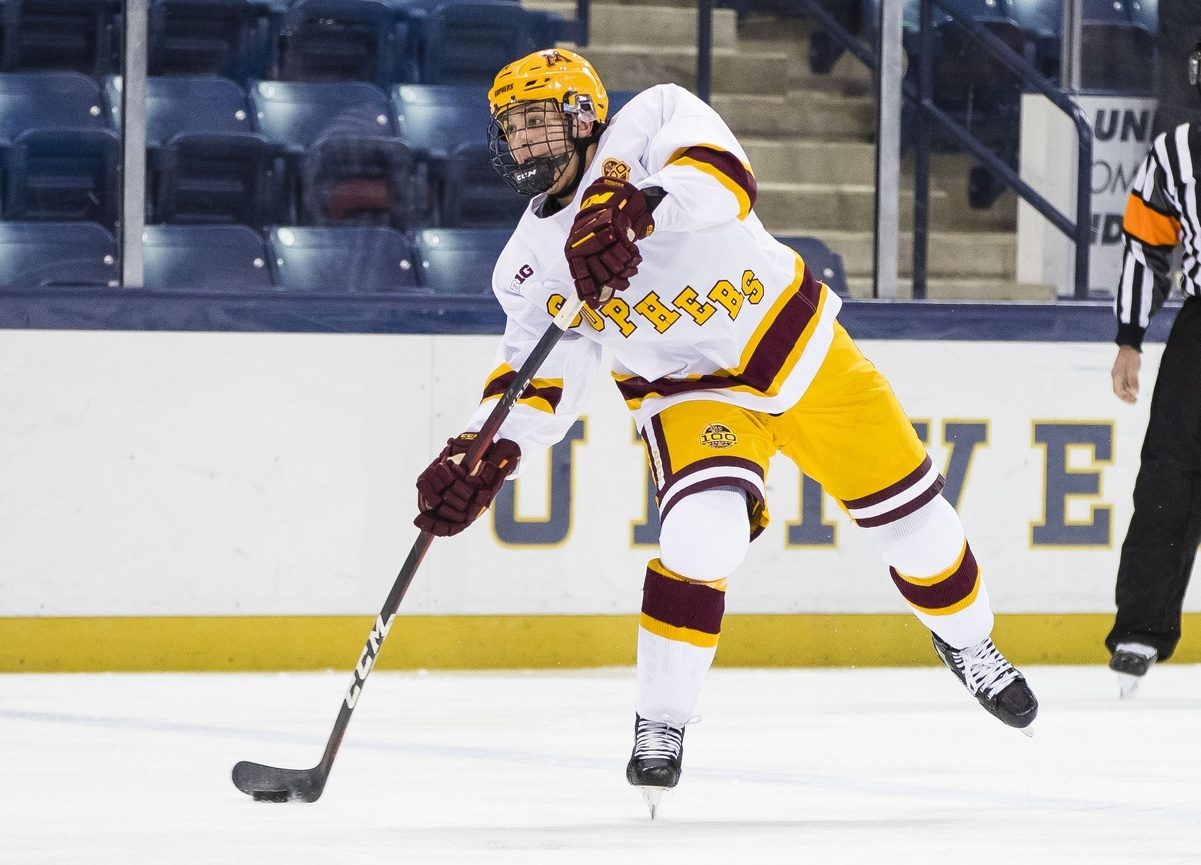 10K Rinks is counting down the Minnesota Wild's Top-10 Prospects, as voted by our staff. Today, we give you everything you need to know about our No. 4 prospect, Brock Faber. 
The Minnesota Wild needed to trade Kevin Fiala this summer for cap purposes and had few options. However, acquiring Brock Faber and a first-round pick — which Minnesota used to draft No. 7 prospect Liam Öhgren this summer — in return from the Los Angeles Kings looks like a success now.
Of course, the initial news didn't quite deliver on the hype surrounding Fiala. After all, it's not every day that teams trade an 85-point scorer. Plus, the Kings have plenty of young forwards they could have sent the Wild: Arthur Kaliyev, Rasmus Kupari, or even higher-end options like Quinton Byfield and Alex Turcotte. To be fair, the Wild didn't have much leverage. Still, there's no question the Wild got two prospects in return who should be valuable pieces soon.
A few years ago, the Wild lacked talent at defense in their prospect system. But they've completely changed that in the past few drafts, suddenly making it their strength. Faber, 10K Rinks' No. 4 prospect, joins a solid defensive crop in Calen Addison (No. 5), Carson Lambos (No. 8), Jack Peart, Ryan O'Rourke, and Daemon Hunt, among others in the pipeline.
Faber isn't a flashy offensive defenseman, but he's a slick skater with strong defensive ability. The 20-year-old showcased these things at the University of Minnesota, performing as a top defenseman in the Big 10.
It's not difficult to see that Faber is an intelligent defenseman. He highlighted his ability to find space and make plays happen from his assist in the NCAA Frozen Four tournament.
"Faber is an excellent skater who plays hard and projects to be a quality defender in the NHL despite not having great size," Corey Pronman wrote in his recent 2022 best players under 23 piece at The Athletic. "The offense in his game doesn't stand out, but he moves the puck well enough on his first passes."
Meanwhile, the probability of him becoming a star or even an NHLer is shockingly low, according to Hockey Prospecting. Among his top comparables, the best case scenario is Justin Schultz. But there's a major caveat: It's based entirely on offensive production. That's not Faber's game, so it makes sense why he's rated so poorly, given his low point totals.

That's why projections don't matter as much in Faber's case. Although more offensive production would be ideal, it could come later as he continues developing. Like Jonas Brodin, Faber's strengths are defending and dominating in transition.
There are high expectations this season for Faber, who is entering his junior year at the University of Minnesota. He's coming off a strong sophomore season, finishing with a career-high 14 points and a +8 rating in 32 games. He was named the Big Ten Defensive Player of the Year last season, then had a strong showing at the Olympics.
There's a reason why 10KRinks has him at No. 4. Even better is that Faber raised his stock even more after an excellent performance at the World Juniors in August.
USA outscored opponents 10-0 at 5-on-5 in the tournament with Faber on the ice, and there was a lot to like about Faber's performance on a major stage.
"Did his thing. Quick, balanced footwork. Active stick. Perfect timing in the neutral zone. Heady escapes. Smart atop the zone offensively," Scott Wheeler of The Athletic wrote in his World Juniors notebook.
There's no question that this season will be a major point in Faber's development. He isn't a point-producing offensive defenseman. Still, he's displayed an ability to be effective in the offensive zone by making things happen with his skating and a simple but effective game. That, coupled with his defensive skillet and his ability in transition, are reasons to believe he can develop into a solid Top-4 defenseman.
While the Wild are stocked with defensive prospects, it's undeniable that they added another strong talent in Faber to their pipeline in the Fiala trade. Faber isn't far away from making his NHL debut, and he has the potential to be a mainstay on Minnesota's blue line soon.
The interesting wrinkle about the trade? The Wild have two quality projected Top-4 defensemen in Faber and Addison on the right side. Assuming Matt Dumba doesn't re-sign with the Wild next summer, they might have to battle it out for that spot behind Jared Spurgeon in the Top-4. Faber and Addison have two different skill sets, too. Addison is projected as a power-play quarterback, while Faber is projected to be a shutdown defenseman.
It feels very appropriate. Faber and Addison neck-and-neck on our list and neck-and-neck on the depth chart for the foreseeable future. Only time will tell who grabs that role.
All Data Via Elite Prospects.