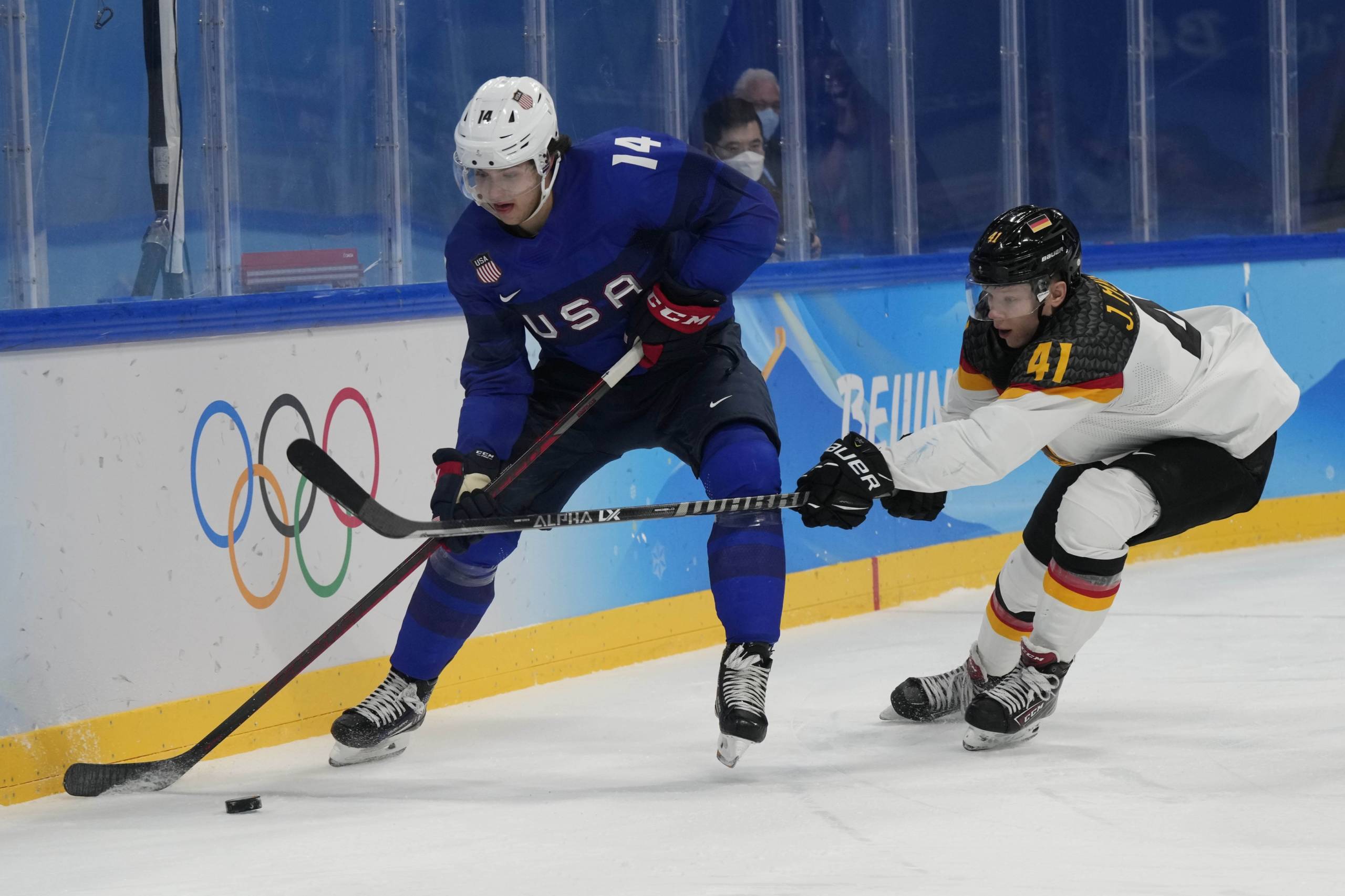 Brock Faber has been making a name for himself recently as the newly-minted captain of the Gophers. This week, he's doubled down on leadership and is captaining Team USA at this month's World Junior Championships. Faber was the key piece in the trade that sent Kevin Fiala to the Los Angeles Kings. The Minnesota native was more than thrilled to be coming home to hopefully play for the team he grew up cheering for.
Being a captain of a college team is one thing. Playing in the Winter Olympics, then getting to captain your country in a major tournament has got to feel even more incredible. He says of the Olympics, "It was pretty special, the best experience of my life for sure."
The Wild have plenty of prospects that are considered captain material. Still, could the hometown kid be catapulting himself to the top of the list of future Wild captain candidates?
Most hockey players from Minnesota grow up wanting to play for the Golden Gophers and the Minnesota Wild. But few have done it and made an impact.
Faber is looking to be one of the more impactful hockey players to come from the Gophers. Many see him as a logical replacement for Matt Dumba once his contract expires next season. Faber grew up in Maple Grove and is now one of the co-captains of a solid Gophers team looking to make a National Championship run this year.
Furthermore, the World Juniors have rescheduled from January because of COVID and are set to start today. Therefore, Faber is looking to lead his team to another Gold Medal. This comes after winning Gold last time alongside Matt Boldy in 2021.
He's your typical Minnesota kid, and now he's just looking forward to the chance to play for the Wild. Originally drafted by the Kings in the second round of the 2020 Draft, Faber was working on homework when he got the call that LA had traded him to his hometown team. In his introductory interview with the Wild, he talked about what the day was like when he got traded. "I was trying to focus, but there wasn't much more school done that day," he said. "I tried to open my laptop again, but nothing was really coming through."
When asked if he ever could've imagined that he'd have an opportunity to play for the Wild as a kid, he said, "Ever since I started playing hockey growing up in Minnesota, it's always the Gophers and the Wild. Those are the two teams that you want to play for someday. Playing for the Gophers now and having the opportunity to hopefully play for the Wild in the future, it still really hasn't quite sunk in yet. Gives me chills thinking about it."
To add to his obsession with Minnesota hockey, he also talked about having all kinds of Gophers and Wild jerseys growing up. "I had hundreds of Wild jerseys," he said. "Gopher jerseys, shirts, sweatshirts, and going to the games, it's obviously pretty special."
A few weeks back, Faber finally participated in his first development camp. The previous two he would have had with the Kings were canceled due to COVID, and injury prevented him from attending last year's camp. Therefore, Faber enjoyed after his first day of camp with the Wild. "It was pretty cool to put the Wild stuff on. Obviously, that was a dream of mine as a kid," he said. "But it was good. Good to get back in shape, meet a lot of the guys. It was pretty cool, a great day for sure."
The Gophers are rolling with an all-new leadership group this year. Faber, Jackson LaCombe, and Jaxon Nelson are the new co-captains of this year's Gophers squad.
When asked if he learned anything about being captain from longtime Gophers leader Sammy Walker, Faber said, "He was the kind of leader the lead by just enjoying the moment. [Walker] was a guy who would do anything for his teammates. He's a guy who always had a smile on his face, so that's something I'd like to bring to my leadership."
Faber really isn't a loud guy either. "That's not really me," he said. "There's three guys who have a letter on their jersey, and a lot of other guys who have been here for a while, from the freshman to the seniors, there's plenty of leaders in the room. That's why it's gonna be a special year and why we're all looking forward to it."
Faber says he leads by example. "Maybe not as vocal, obviously I try to be, but more just doing the right things. Trying to be a good person and player on and off the ice. That's kind of just how I've been raised my whole life."
Wild GM Bill Guerin talked about Faber's leadership role for the Gophers. "Anytime you're put in a leadership position like that at a young age, it's good for you," he said. "It can give you confidence, and that helps you develop at a quicker pace. All the people I talked to about him give him fantastic reviews — great character. Even from Bob Motzko to David Quinn, who had him with the Olympic team, they just rave about him, and we feel we got lucky."
Guerin also talked about the pressures hometown kids face when playing for the team they grew up watching. "Depends on the kid, you can either handle it or you can't," he said. "And that goes for any kid playing in their hometown. Whether it's Toronto, Boston, or Detroit, it's hard. You have to be able to compartmentalize and block out some of the other noise."
Dealing with the pressures of having family and friends at nearly every home game might be challenging for some guys. Hopefully, Faber has shown that he's cool with playing at home during his time with the Gophers.
Already a captain of a few different teams, Brock Faber gives the Wild another solid defensive prospect and another option as a future captain for the big league team. He could be the first Minnesotan and Gopher to captain the Wild, and any Minnesota hockey fan would certainly love that.