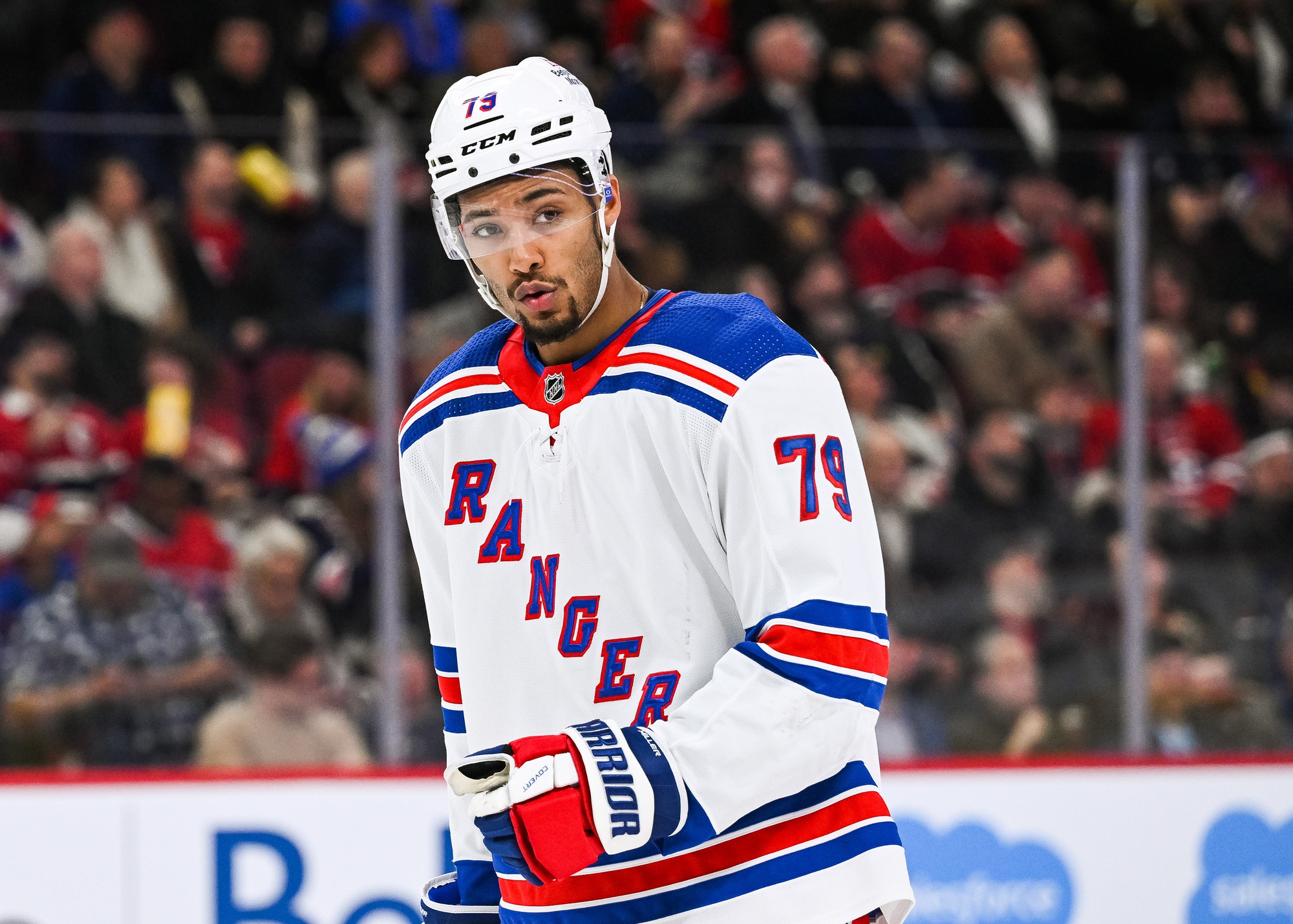 Image courtesy of © David Kirouac - USA Today Sports
After another first-round playoff exit in 2023, the Minnesota Wild and their fans turned their attention to next year. The problem is: there kind of is no next year. A double-barreled serving of $7.5 million dead cap hits over the next two seasons is staring them in the face. Cap hell like that typically leads fans down one of two roads: get excited about prospects or fall into Armchair GM insanity. 
One way to enjoy the latter is to close your eyes and pretend it's the summer of 2025. Cap relief has finally arrived! With that comes the joy of signing key free agents with the piles of imaginary cash that will no doubt still be free at that time -- right?
One potential use of that cash could be to bring New York Rangers defenseman and St. Paul native K'Andre Miller home. Miller recently signed a bridge contract with the Rangers which happens to expire at the exact moment the Wild can get back into the money-spending game. 
Shayna Goldman refers to Miller's contract as a "bridge" because it walks him to his final year of restricted free agency (RFA). Restricted free agency represents a CBA-mandated period of a player's career where the team that drafted them controls signing rights to that player. 
Players must play either seven NHL seasons or hit the age of 27 before they can truly test the market. The team has first right of refusal for any contract the RFA might sign with another team which removes the fear of a bidding war. That depresses the value of a player's RFA years below the market value. Bridge deals allow a team to bundle all of these RFA savings into a short period of time. The player chews through most of their RFA years, and the team retains team control for the final RFA year. 
When teams sign RFA players beyond their final RFA year, there is an interesting phenomenon referred to as 'buying" UFA years. If the team extended Miller into his UFA years, they'd have to pay a higher average annual value (AAV). EvolvingHockey.com's contract prediction model, which they base on historical contract comparables, makes this very clear. And the price will only rise with the cap projected to explode.

Interestingly, the model predicted that the Rangers were far more likely to agree to a long-term deal, even though teams generally prefer the flexibility of re-negotiating each year. This implies that the team is looking to create cap space these next two years. Instead, New York went with a short-term deal to decrease the cap hit over the next two years. 
With this bridge contract, Miller's agent can force a one-year deal through the league's arbitration process and then force a UFA bidding war thereafter. Therefore, Miller will likely get a massive deal in the 2025 offseason unless the Rangers risk letting him walk after a one-year deal. After Miller's current contract expires, Miller will expect a team to pay him at, essentially, market value -- that's the tradeoff that New York made with this bridge deal. 
Two factors will challenge the Rangers organization if they try to re-sign Miller in 2025. First, Miller is just 23 years old, and he's only going to get better over the next two years. Miller has played only 241 NHL games, so he's just starting to hit his stride. Hall-of-Fame defenseman Denis Potvin said, "A player becomes a real player, a pro, with 300 games."
Hockey players generally hit their athletic peak around age 23 to 25, but they continue to develop technical skills even into their 30s. At 6'5", 215 lbs., Miller could have the durability to play at an elite level into his 30s. 
Miller's game is primarily built upon that massive frame and a mile-long stride to go with it. His foot speed is impressive, and his massive reach makes him impossible to beat. "When you think you're by him," Cole Caufield told The Athletic, "you find out pretty quick you're just … not."  
Look at this backcheck:
Miller played both forward and defenseman for the USNTDP, which is a testament to all the tools in his toolkit. His position switch may also mean he's just scratching the surface of his potential. Analytically, he's got the ability to contribute at both ends of the ice despite his early age. While he isn't quite at the level of other colossal top defensemen like Victor Hedman or Zdeno Chara, the blueprint is undoubtedly there.

Extending Miller in 2025 will be threatened if New York ends up cap-strapped. The Rangers racked up 107 standings points in 2022-23 in an ultra-competitive Eastern Conference. The East is entering something of an arms race. New York already spent big at the 2022-23 trade deadline, buying A-listers Vladimir Tarasenko and Patrick Kane, among other players. They seem determined to continue loading up in the midst of what they see as a window to win. 
Below is what New York's 2025 offseason looks like: 
For the next two years, Rangers fans are in for a ton of fun. After a couple of years of making a run, they'll have some outstanding players on the roster and an aging forward group. Unfortunately, the team's current prospect pool likely can't support a youth movement, even before New York puts assets into deadline trades. On top of that, their drafting and development have fallen under suspicion. 
Leadership is also aging, and Shesterkin and Miller are due for big extensions. It would make sense to re-tool around Adam Fox, Shesterkin, and whatever big UFAs they bring in during the 2023 and 2024 off-seasons. They might want to include Miller in that core, but if not, he could provide an influx of assets and cap relief. Between his current abilities and the advantage of playing defense on a stacked roster, "Key" may even become overpriced by 2025. 
To execute this, Minnesota would have to pull off an offer sheet (which seldom happens), or they could negotiate a sign-and-trade deal between New York's front office and Miller's agent. If the Rangers are indeed headed for a re-tool, there are clear reasons why New York could grant this request. For Miller, the point of the move is obvious: It's a chance to play for his hometown team. 
Minnesota has reason to make this move as well. The Wild have filled their CapFriendly page with free agents entering the 2024 and 2025 seasons. The team's best players – Kirill Kaprizov, Joel Eriksson Ek, Frederick Gaudreau, and Matt Boldy – will remain under contract. One or both of Filip Gustavsson and Jesper Wallstedt will backstop the group, and the defense corps will retain an aging Jared Spurgeon and Jonas Brodin. 
They can fill out their defensive corps by re-signing prospects Brock Faber, Calen Addison, and Daemon Hunt. The team also expects an influx of young talent at forward in Danila Yurov, Marat Khusnutdinov, Marco Rossi, and Liam Öhgren. Players like Connor Dewar, Adam Beckman, and Sammy Walker can fill out the forward room, and Jacob Middleton is an option to come back in free agency. Not only does this group have an intriguing upside, but it has the depth to allow some prospects to miss the mark (as they sometimes do). 
The biggest hole on this projected roster is a top-line center and a number-one defenseman. Miller could fill the latter void. He's only 23 years old and already established as a rock on New York's second pair. More than that, his prototypical size has been the only complaint among Minnesota's defense corps. For the Wild, it's a slam-dunk move if the opportunity arises. Bringing Miller home would be the cherry on top.
5