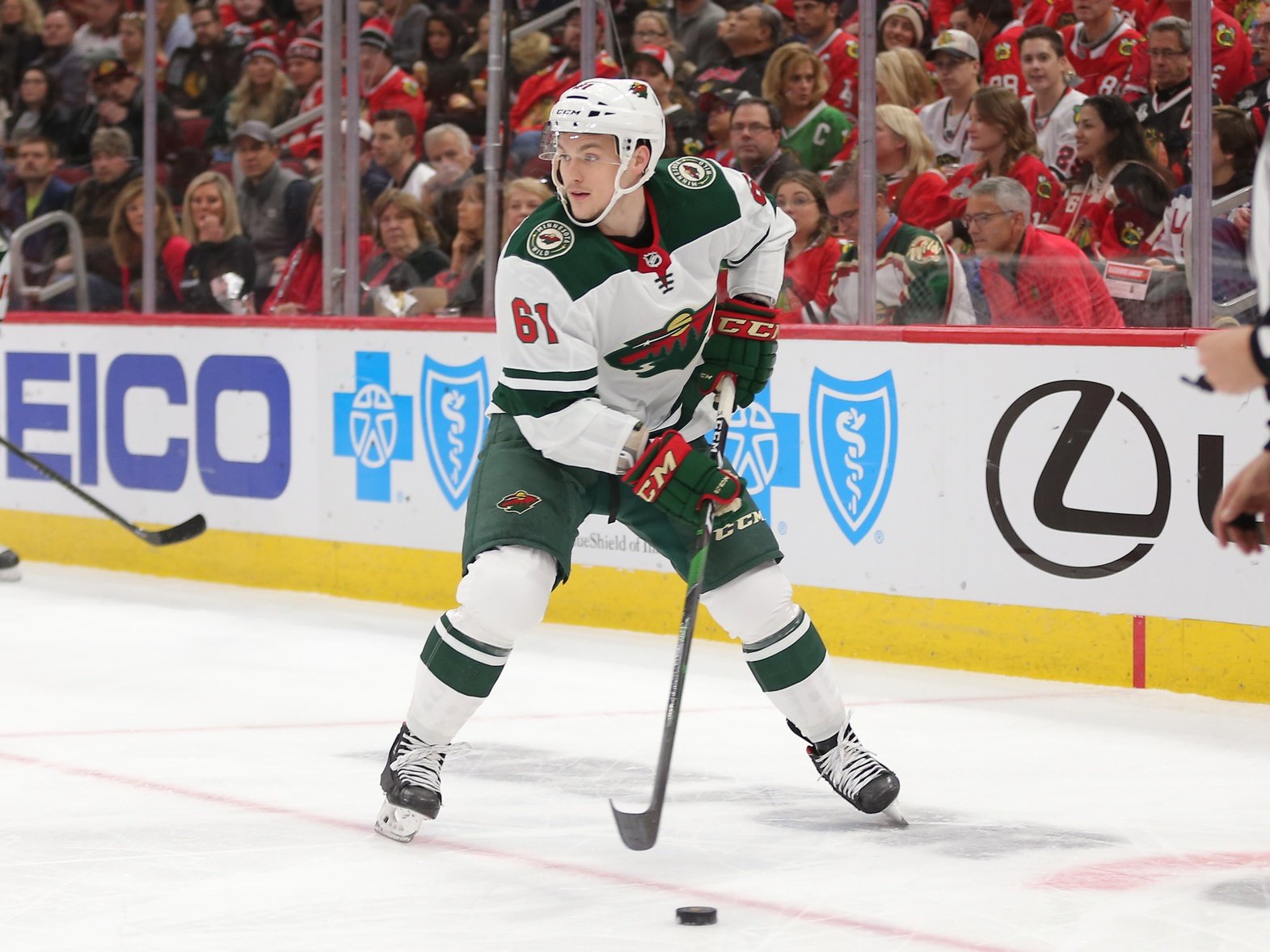 The City of Minsk was settled by Lithuanians in the 9th Century A.D., and control of it has been battled by the Polish and Russians since the Middle Ages. Yet, this former Soviet Union stronghold might as well have a State of Hockey flag flying high over the House of Government. Minnesota Wild defenseman prospect Brennan Menell has fans and media alike keeping tabs on him from his home state. It was a bit of a surprise when he signed a one-year contract with HC Dinamo Minsk of the Kontinental Hockey League back in August. The move even shocked the Wild's front office. 
Yet Menell is forcing everyone to take notice. The 23-year-old undrafted defenseman from Woodbury has 21 points in 23 games for the Bisons. With 0.91 points per game, he is on pace to perform better than any defenseman 24 years old and younger over the last 10 seasons of the KHL. In fact, he is on pace to have the fourth-best PPG of a defenseman all-time.
It was a season of accolades for Menell. He was named to the AHL's First Team All-stars in last year's shortened season with the Iowa Wild. In January, he, along with teammate Gerald Mayhew, took part in the AHL All-Star festivities, including the All-Star Competition. Mayhew and Sam Anas led the league in goals and points, respectively, and Menell was Iowa's third-leading scorer. In December he earned his first call-up to the NHL after Jared Spurgeon missed some time due to a hand injury. The honors followed him to Europe. Menell was named Defenseman of the Week in the KHL in late September. 
It's sweet symmetry that he was called up in Spurgeon's absence because players in the Wild organization have drawn strong comparisons between the two defensemen.
Both are mobile defensemen who use footwork to be in the right position and avoid contact.
T
hey each are strong in transition and can quarterback the power play.
And yes, they are both smaller in stature and are right-shot defensemen.
Most importantly, both defensemen aren't scared to pinch in and get involved in the play. 
Throughout their time in the WHL, the NHL draft and in the AHL, both players have had their doubters. Small players will always have their size called into question as they graduate up the ranks. Will they be as elusive against faster players? Can their bodies hold up against the physicality in higher leagues? Perhaps most importantly, will the things they do offensively translate up through the ranks? Spurgeon was drafted in the sixth round by the New York Islanders, but he was eventually non-tendered. He showed up to Wild training camp on a tryout and earned a contract with the AHL Houston Aeros. Menell was undrafted but was a training camp invite and earned a contract with Iowa following a strong showing in the annual Traverse City Prospects Tournament in 2017.
It might be preposterous to label Menell as the next coming of Spurgeon. It's comparing a 23-year-old prospect to an elite NHL top-pair defenseman. We just don't know how Menell stacks up defensively against NHL talent. He may never develop into the kind of exceptional defender that Spurgeon has become. But it is only a small stretch to think that Menell can be everything offensively that his idol has been.
Culture shock and all, Menell is showing he can adjust and still perform at a high level. Wild GM Bill Guerin may have been disappointed at Menell's decision at the outset, wishing the defenseman stayed close to home and worked with the Wild. However, as the NHL and Players' Union squabble over the Collective Bargaining Agreement, Menell is actually playing hockey and improving his game. He has already landed himself in the mix for the Wild.
The KHL is not the NHL, of course. But for now, Menell is proving that his style of game can be conducted in multiple leagues. That Menell has moved around for hockey isn't a surprise. He didn't come up through the Minnesota Hockey model. He didn't jump to USA Hockey either. For Menell, the route has never been traditional. Making the move to Minsk made sense for him in August because of the uncertainty surrounding the AHL and NHL seasons. But looking at his path to eventually making the NHL, the detour through Belarus makes even more sense now.
This article is part of a series profiling the Wild's Top 10 Prospects. Menell came in at No. 8. Look for No. 6 on Monday.