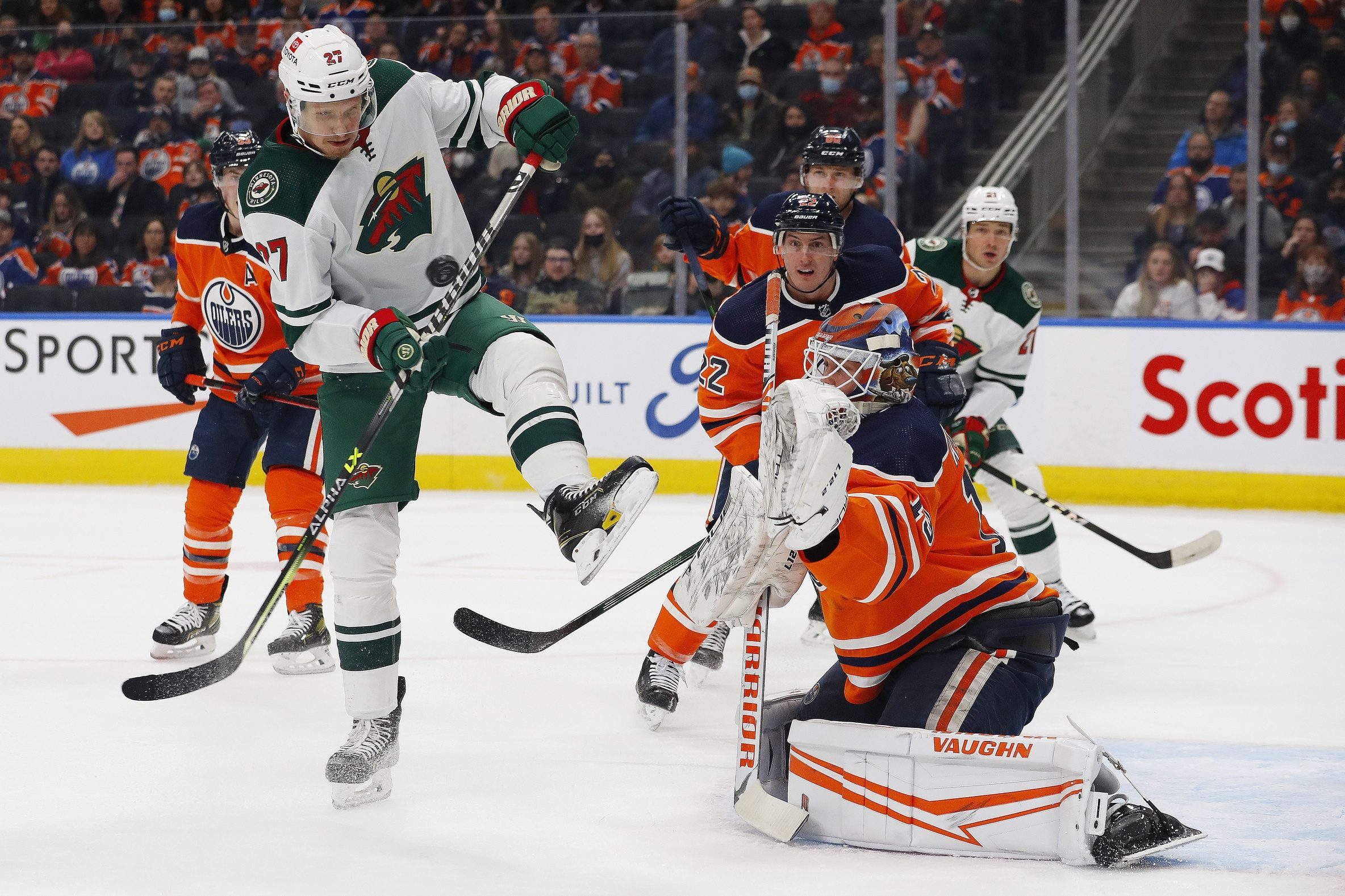 The Minnesota Wild's fourth line played one of their best games on Sunday. But it wasn't the typical Brandon Duhaime-Nico Sturm-Connor Dewar formation they've rolled with. Dean Evason slotted Nick Bjugstad for Sturm, a healthy scratch for the first time this season. Because the first three lines are clicking, Evason only tampered with the fourth line.
Bjugstad gave the fourth line a jolt in a 7-3 Wild win that handed the Edmonton Oilers their first loss under head coach Jay Woodcroft. After seeing that result, should Minnesota keep Bjugstad in over Sturm?
Bjugstad returned from a nasty hand injury that kept him out since early January. He made a big difference collecting two assists on goals from Duhaime and Dewar. It's yet another case of Evason's itch for a little bit of change turning out well. After two losses in a row, a player freshly off the injured list is just what the Wild needed.
The question now is who gets the playing time on the fourth line, Bjugstad or Sturm? Both? Does Dewar sit so Evason can reunite the opening night fourth line of Duhaime-Sturm-Bjugstad?
All four players have their strengths. Sturm is solid on faceoffs and is excellent on the penalty kill. Bjugstad has more of a scoring touch and can help drive offense but is inconsistent in his play. Dewar has been solid in his rookie campaign.
Bjugstad ended up playing right wing Sunday, moving Dewar over to center. That line had one of the most effective games from the fourth line this season. They even earned power play time in the third period, with Dean Evason saying it was the right thing to do at that point in the game.
Sturm and Bjugstad are free agents after this season, so it's possible that the Wild could use one of them in a trade for a center. However, for the time being, it's not bad to have the kind of depth the Wild boasts. Having an extra forward as valuable as Sturm, Bjugstad, or Dewar is a great problem to have.
The most significant advantage Bjugstad has is that he's a right-handed shot in a lineup full of lefties. He, Ryan Hartman, and Freddy Gaudreau are the only righties in the lineup, so it's nice to have a little more balance with Bjugstad.
All players bring their own style to the lineup. On Sunday, Bjugstad showed that he helps the fourth line out in the scoring and offense department. Sturm hasn't shown as much offensive upside. While he has eight goals and eight assists, Sturm is a better fit as a defensive forward.
The Wild now have the luxury of having their fourth line be more offensive with Bjugstad or more defensive with Sturm. Dewar is good in any situation. They have plenty of options for what they want the fourth line to accomplish. If they need to run-and-gun, maybe Bjugstad should slot in. If they need to slow opponents down, they can call on Sturm's defense.
Evason has had nothing but praise for his recent fourth-line trio. "It was a real good line. They played a lot," he said Sunday. "The game dictated that we didn't have to shorten [the bench] at all. We didn't double anyone up the entire night."
Players can get double-shifted a lot when the Wild are down. But being able to roll all four lines keeps legs fresh. That should do the team some good during this week-long Canadian road trip. A four-game road trip is tough for any team. To start it out with a blowout win in Edmonton is an ideal beginning.
"It's obviously nice to get on the road and be able to do [play all four lines], and the score dictated that," said Evason. "They were real good for us."
Fourth-line play is crucial to any team's success. Minnesota's fourth line was able to score the first goal against the Oilers, which set the game's pace.
Evason even commented on the depth that has been so controversial lately. "If we use our depth as our strength," he said. "We really like our club." The fourth line striking oil twice against a playoff team proves the value of Minnesota's depth.
Hopefully, by adding Bjugstad back in the lineup, the Wild can continue their winning ways for the rest of the season and have a good run in the playoffs. Minnesota has a hectic schedule coming up, and unfortunately, injuries are inevitable. But they should have the depth to overcome the hurdles they will face.
It also will help bad weeks not turn into slumps. Sometimes changing up a line is exactly what a team needs to get back to winning. It worked for Minnesota on Sunday, after dropping two in a row.
The Wild have one of the deepest rosters in the league. That is now being highlighted with Bjugstad back in the lineup. He sparked the offense as Minnesota routed the Oilers on Sunday, showcasing the fourth line's ability to score. The Wild now can dictate what kind of game they want to play with the fourth line.