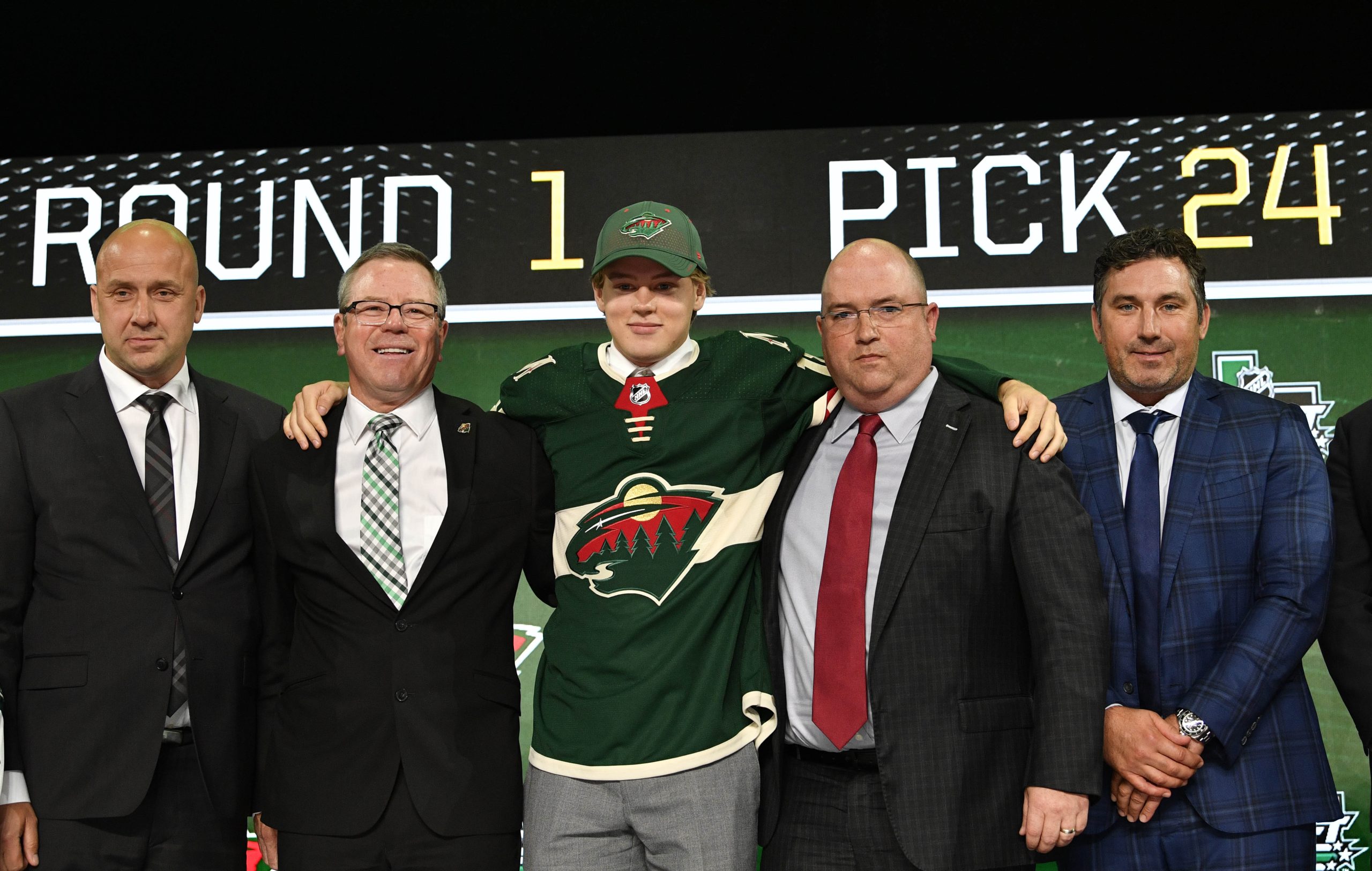 With the Minnesota Wild having some of the best defensive depth in the league over the past few seasons, the draft strategy has shifted away from blueliners to mainly forwards and a few goaltenders. Over the last three drafts, the Wild have just selected four defensemen with their 22 picks between 2017 and 2019.
The lack of defensemen picks from the Wild in recent years has created a bit of a weak spot in their system on the blue line.
The two most ready prospects on the blue line have been in Iowa the past three seasons. Louie Belpedio (third round, 2014 draft) and Brennan Menell (undrafted free agent – signed in 2017) have been stalwarts in Des Moines, especially this past season in Iowa's best season since moving from Houston. Menell was selected as an Iowa representative to this past AHL All-Star Classic.
Both Belpedio and Menell have received a brief cup of coffee in the major leagues. However, their future remains to be seen. Both are restricted free agents after this season – whenever that may be – but you have to figure the Wild bring them back to provide some depth in case the big club needs a call-up.
Behind Belpedio and Menell, there's a bit of a gap in NHL readiness for defensive prospects. There was hope that 2018 first-round pick Filip Johansson would be close by this point, but that is not happening. Johansson will undoubtedly return to the Swedish league for 2020-21, and who knows if/when the Wild will sign him to his entry-level contract before they lose his rights in the summer of 2022.
The pick remains as a major black eye for the Paul Fenton regime, so it will be interesting to see how current general manager Bill Guerin handles Johansson moving forward.
Aside from Johansson, there are just a few other notable defensive prospects the Wild have rights to. In the same draft as Filip Johansson, the Wild took Simon Johansson (no relation) and he brings some intrigue down the road considering his late-round draft position (fifth round). Simon Johansson brings some decent offensive skills on the blue line, and you have to think the Wild will give him a look and bring him over.
However, Simon Johannson's defensive play leaves much to be desired, so there is still plenty of work to do.
Perhaps the most intriguing player the Wild have in the system on the blue line is Marshall Warren, whom the Wild snagged as a sixth-round pick in 2019. Warren's size (5'11", 168 pounds) is a concern, but he is a great puck handler with decent skating ability.
Warren was a freshman this past season at Boston College, along with fellow 2019 first-rounder Matt Boldy, and will be returning to Chestnut Hill again next season.
Finally Calen Addison*, the prospect acquired in the trade with Pittsburgh for Jason Zucker, is a big offensive threat on the blue line and was most recently named a nominee for the WHL's defenseman of the year.
But there is still much work to be done with Addison in the defensive zone, but he is apparently a big note taker and looks to improve his game in that regard. Addison is under contract, however, he is more likely to get top minutes in Iowa as opposed to being a sixth/seventh defenseman with Minnesota once he jumps from juniors to the professional ranks.
The big takeaway from the prospect pool is that there is a lot of 'ifs' on the Wild blue line. There is no certainty anyone will become a stable NHL player, but there is potential for some to turn into NHL caliber players.
With the stable of forwards the Wild have in the system and the youth on the NHL roster, it could be a point of emphasis for Bill Guerin and his scouting staff to look to add some blueliners early in 2020 draft, whenever that may be.
While the Minnesota club enjoys great depth on the blue line, their prospect pool of defensemen leaves much to be desired.
*The original version of this article omitted Addison (h/t VexedClown3). It has been updated to include him. 
http://zonecoverage.com/wp-content/uploads/2016/05/itunes.jpghttp://zonecoverage.com/wp-content/uploads/2017/05/Podcast-header-Image-City-1.jpg