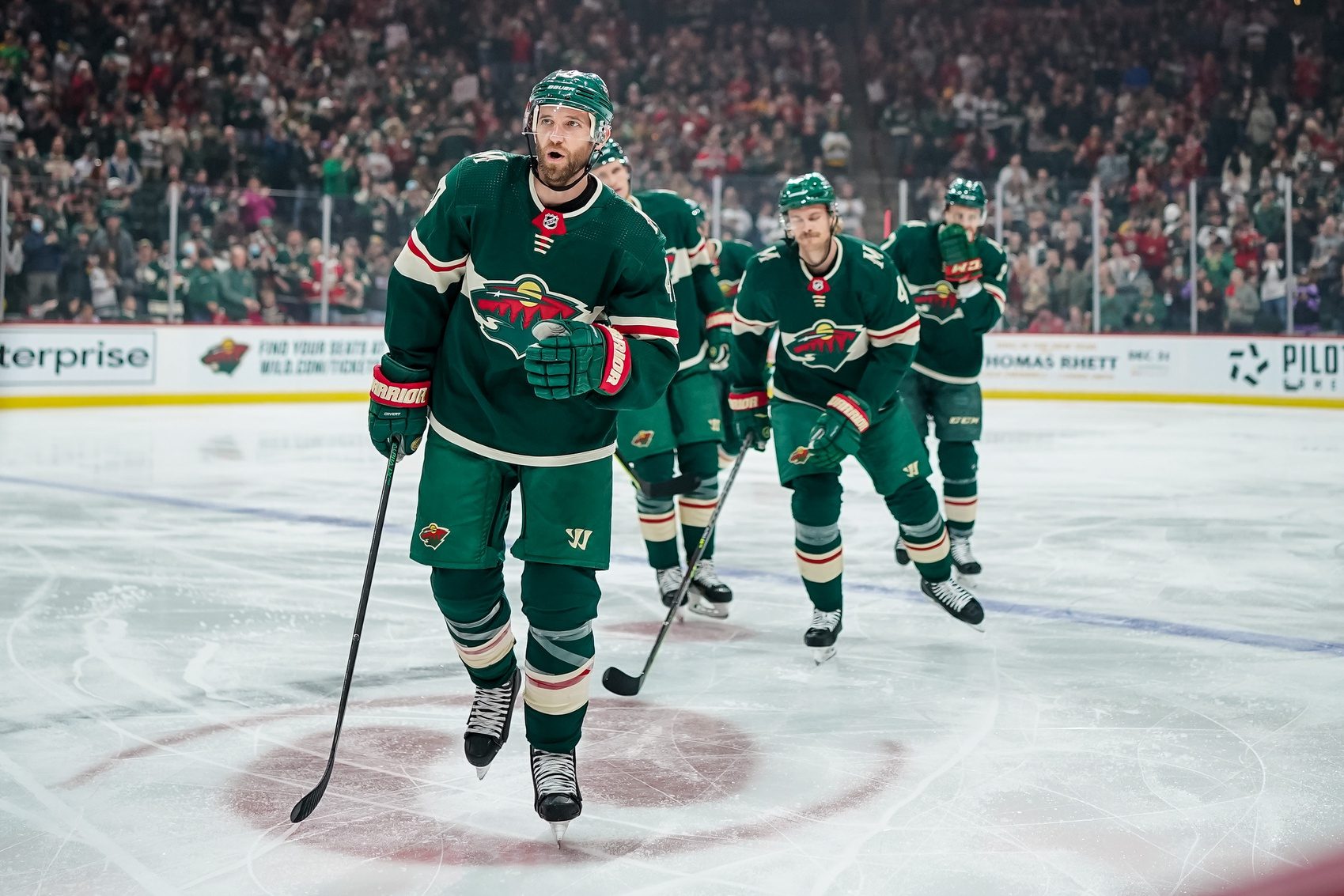 Once an NHL player hits their 30s, they can drop off at any time without warning. Sometimes it happens in your early 30s, like Dany Heatley. For others, you can get to your mid-30s before experiencing the collapse in production Zach Parise has this year. On rare occasions, like Zdeno Chara, they can even make it into their 40s before the decline hits hard. But it comes for everyone.
Through 25 games last season, it looked like the decline came for Alex Goligoski at age 35. Goligoski registered an assist on Opening Night for the Arizona Coyotes, then went without a point in 23 straight games. He got another assist in Game 25, then went on another seven-game pointless streal. "Goose's" goose appeared cooked after 900 career NHL games.
Then Goligoski went on a tear, scoring three goals and 20 points in his last 24 games to finish the year strong. The late surge was enough to convince the Minnesota Wild that the Grand Rapids native had something left in the tank. Bill Guerin signed him to a 1-year, $5 million deal, making him the replacement to fellow tricenarian Ryan Suter, who Guerin bought out at age-36 after showing hints of decline.
The Wild have no reason to regret the swap now, which is saying something considering Suter's 14 points in 27 games. But Goligoski is quietly defying age and expectations, emerging as the offensive leader of the Minnesota blue line. Not only do his 18 points lead Minnesota at his position, but his production ranks alongside the NHL's elite defensemen. He's tied with a resurgent Erik Karlsson for 14th in overall points and Cale Makar and John Carlson for 8th in 5-on-5 points.
The accolades don't stop there. Goligoski is also off to the most productive 25-game start in his career. His previous best was in 2009-10 when he racked up 17 points on the Pittsburgh Penguins, passing to Sidney Crosby, Evgeni Malkin, and Jordan Staal. And oh, yeah, his current general manager, Bill Guerin. Did we mention 2009-10 was 12 seasons ago? As in, when Goligoski was just 24?
Is Goligoski aware that he's on pace for 57 points — 11 points better than his career-high 46 in 2010-11? If so, he hasn't let on. Goligoski talks to the press regularly, but it seems that he rarely talks about himself or his own game. He's a team-focused player who quietly goes about his business, even when constantly getting on the scoresheet.
You have to admire Goligoski's consistency and the way he's battling against aging and decline. He scored 41 points per 82 games. That only drops down to 36 since he turned 30. But how did a guy like Goligoski go from a good offensive defenseman with respectable numbers to a scoring machine?
Statistically, it's hard to pinpoint any one thing Goligoski is doing at a high level. He's got 28 shots through 25 games, nearly all of them low-percentage shots from the point. He has 4.95 shot assists per hour at 5-on-5, according to Corey Sznajder's data, which is a touch above average for a defenseman. So, where's the secret sauce?
Part of it is him benefitting from coach Dean Evason's system. Evason encourages defensemen to jump into the play more frequently and try to create rather than hang back at the point. Goligoski may not take advantage of this as often as Matt Dumba or Jonas Brodin. But when he does, it gets results. You can see him on Nov. 18 against the Dallas Stars, where he tries a wraparound attempt as a defenseman. The attempt doesn't work, but it does create enough chaos for Ryan Hartman to finish it off.
It's plays like that which create better scoring chances than the traditional defensive role at hammering shots from the point. Defensive systems are good enough that it's hard to get a puck through to the net. It might result in a deflection or rebound, but pinching for offensive opportunities creates chaos among defensive systems, opening more dangerous shots. Goligoski may want to keep heading in that direction.
He's also benefitting from Minnesota shooting lights out right now. The Wild score on 9.5% of their 5-on-5 shots, third in the league. And when Goligoski is on the ice, that number jumps to 11.5%, the ninth-highest among 192 defensemen with 200-plus minutes.
Minnesota tends to have high shooting percentages at 5-on-5 (they were also top-3 in the NHL the previous two seasons), but there should still be some regression coming. It's very rare for a defenseman to have such a high on-ice shooting percentage above 11%. Maybe one or two do it per year. Goligoski's shooters will cool off at some point, at least a little bit. Once they do, they may stop his march to a career-high.
The good news is, the Wild don't need Goligoski to be a 55-point defenseman to succeed. He just needs to bring what Suter brought to the table: an offensive contributor who works well with Jared Spurgeon. Even if Goligoski settles in at around the 35-40 point mark this season, he'll do just that. He may be quiet, he may not be as surprising as Dmitry Kulikov or Jon Merrill, or as flashy as Spurgeon, Brodin, or Dumba, but he's been a massive part of the Wild's winning ways.