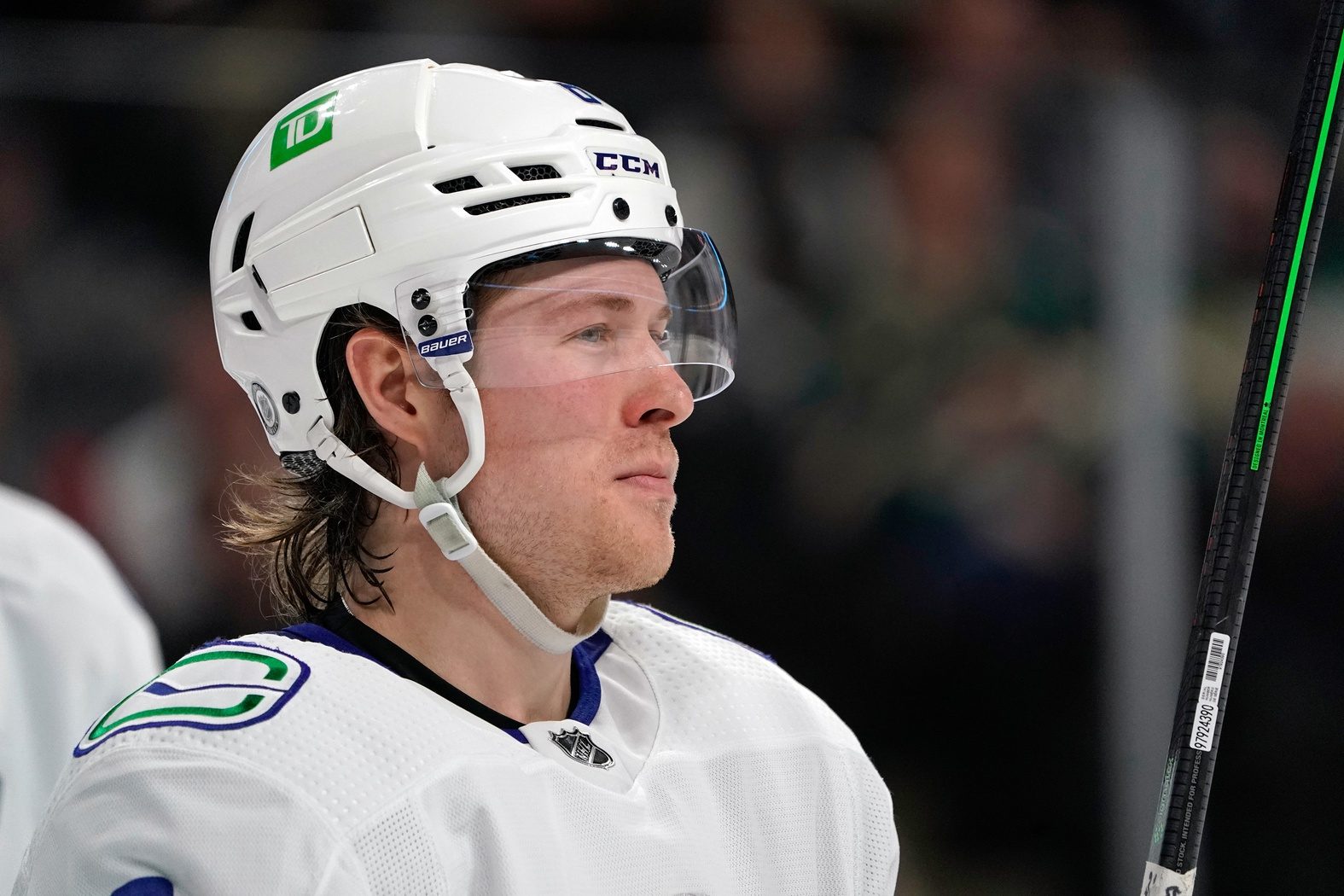 Even though the Minnesota Wild are sitting comfortably in third place in the Central Division, Matt Dumba's time in the State of Hockey is likely coming to an end soon. The Athletic's Michael Russo reported that the Wild has no plans to re-sign the pending unrestricted free agent. Even if Dumba was willing to take a pay cut, the Wild have no cap room.
Fortunately, the Vancouver Canucks have everything the Wild could ask for in return for the steady defenseman.
Matt Dumba has been well-liked in the Wild locker room ever since he blossomed into a dangerous, gritty defenseman. He has somehow survived about five seasons of being on the trade block. He's probably not going to evade it this time around, though. Minnesota can either trade him to add to the roster at the deadline or let him walk when the season is over. Brock Faber will likely join the Wild when his Gophers season is over, and with Jared Spurgeon and Calen Addison going nowhere, there's no more room on the right side for Dumba.
The Wild would be unwise to let him go, so a trade is the most plausible. Dumba's value was not very high at the beginning of the season. Since he tore his pectoral muscle fighting Matthew Tkachuk, his scoring had never returned to form. However, Dumba is still third in points by a Wild defenseman, behind Jared Spurgeon and Calen Addison.
The former seventh overall pick in 2012 has four goals and six assists. Dumba's value has arguably risen, and as a powerful right-shot blueliner, he will undoubtedly add a scoring touch and grittiness to any team. However, Dumba's penalty minutes may downgrade his trade value. He's already up to 50 this season and has 368 total penalties in minutes in his 555 career games played.
Still, Vancouver could use a right-shot defenseman. Ethan Bear is their best right-shot defenseman, so Dumba would be an upgrade to their young defense core. Bear is only in his fifth pro season, but he's had a pretty up-and-down start to his career, as he's been traded two times. He also has never scored more than 21 points in a year, while Dumba once scored 50 points in the 2017-18 season.
What would the return look like? There are a few options. Bo Horvat would be Minnesota's primary target. He could be the No. 1 center the Wild have been looking for. The Canucks would need more than Dumba in return for Horvat, though. But add in a draft pick or prospect, or both, and it's an offer neither team would refuse. A line of Kirill Kaprizov, Horvat, and Mats Zuccarello would be deadly on the ice.
Burnsville's Brock Boeser could be another option. Dumba for Boeser could work as a one-for-one deal. It appears that Boeser's time in Vancouver is coming to an end; the Canucks gave his agent the go-ahead to start looking for potential trade partners. Boeser could be Minnesota's Kevin Fiala replacement. He's a shooter and a goal-scorer and would perfectly complement Matt Boldy's playmaking game. Boeser's production is down a bit this year, but he could be a great example of someone who needs a change of scenery. He's only got six goals but scored 29 in his rookie season and 23 in the previous two seasons.
Minnesotans have a special place in their hearts for the local players, so bringing Brock home would be a win-win for the Wild. He would instantly become a fan favorite in his home state if he becomes the 30-goal scorer he was projected to be.
A better but more unlikely move would be to make it a blockbuster trade. Bill Guerin could ask for Boeser and Horvat in exchange for Dumba and a high-end prospect or a first-round draft pick. However, Vancouver would probably want the Wild to include a rostered player like Jordan Jordan Greenway or Sam Steel.
A mega-deal like this is a move that would give both teams precisely what they need. Vancouver would add NHL talent and top-end prospects to their less-than-impressive prospect pool, and the Wild get their No. 1 center and a goal-scoring winger. There are no losers here.
The only problem for Minnesota would be the money side. Boeser has a $6.6 million cap hit for two more years, and Horvat has a $5.5 million hit this season. It could work this season, given the contracts sent the other way. However, if the Wild were to sign Horvat to a more long-term deal next season, he would most likely command around $7-8 million a year. Therefore, Minnesota would need to make additional moves to open up cap space.
Regardless of how the trade is constructed, it's clear that Vancouver is a perfect trade partner for the Wild. Both teams have the right kind of assets to make a trade work. Any deal would be a typical hockey move or player-for-player deal. While these kinds of moves are fairly uncommon during the regular season, both teams have players they would rather move and get something in return than let them walk.