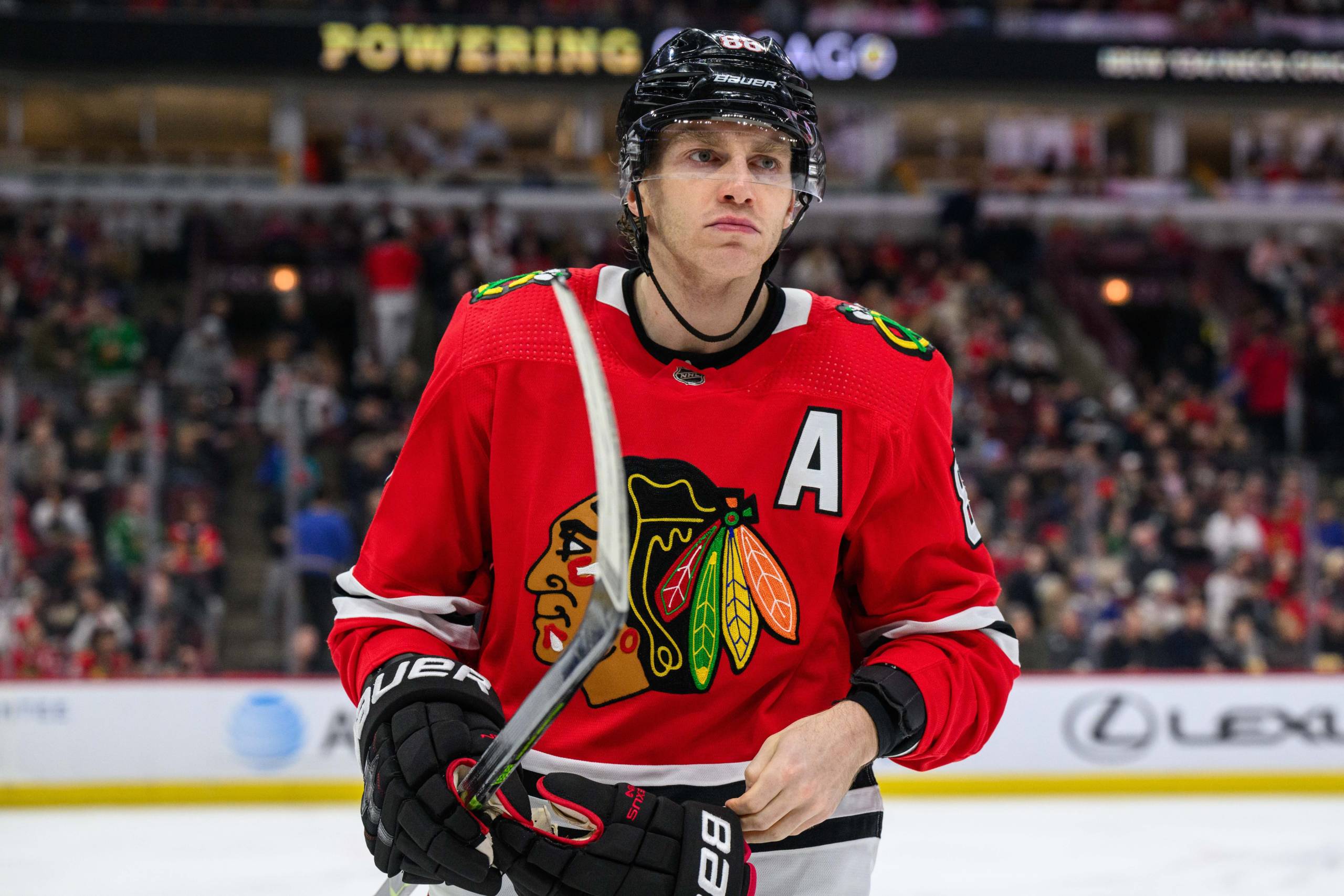 While the messaging from the Minnesota Wild over the past week is, essentially, Trading won't solve anything, it apparently doesn't mean that Bill Guerin isn't at least exploring his options. That's not surprising, as it's his job to plan for any possible contingency, including one where the Wild continue to stay in the playoff bubble until the March 3 trade deadline.
Mark Lazerus of The Athletic Chicago has the Wild connected to a very familiar name to Minnesota fans: Patrick Kane.
From Sunday:
There are several teams for which Kane could make sense, but that doesn't always mean there's real interest there. Four teams with confirmed interest are Carolina, Dallas, Minnesota and Vegas. The question is, of course, is Kane willing to go to any of those teams?
Kane is armed with a full no-move clause, meaning he controls his destiny. Would he be willing to waive it to go to the team that spent the last decade being his team's little brother, getting dunked on and dominated in three postseason matchups?
Here's a better question: Who cares? Why are the Wild interested in Kane at all?
Sure, Kane's reputation as a player is unquestioned. He's got a decorated resume, with three Stanley Cups, three all-NHL team honors, and Calder and Art Ross Trophies in a cabinet with a Hart Trophy in 2015-16. He's nearly a point-per-game in 136 playoff contests, including torching Minnesota for eight goals and 15 points in 15 games.
Yuck. I hate remembering those times so much that I'm gonna watch Matt Dumba blow up Kane to make myself feel better.
Okay, that's a decent palette cleanser. Let's continue.
Despite 35 points in 48 games for the Chicago Blackhawks this season, Kane is cooked. And we're not even talking Thomas Vanek-on-the-Wild cooked. Kane's level of toasted-ness is somewhere around the level of Wild legend Dany Heatley.
A common saying in the NHL, perhaps originating with SportsNet's Jeff Marek, is that when things are going bad for teams, other GMs aren't looking to throw you life rafts. They're tossing boat anchors at you.
Minnesota acquiring Kane would be worse than that. It'd be Guerin foolishly buying a boat anchor that Chicago slapped water wings on, then throwing it to his team, sincerely thinking it'd save his team from drowning.
You may have noticed in the past several years that the Blackhawks have had no issues missing the playoffs with Kane in the fold, productive, and healthy. From 2017-18 to 2021-22, Kane played in 367 of a possible 372 games while putting up 82-game paces of 32 goals and 96 points. Good, right?
Maybe, until you realize he's been out-scored at 5-on-5 three of the past five seasons. Or that the Blackhawks made the playoffs exactly once, making the expanded postseason by virtue of being 23rd in the NHL in points percentage.
What's the reason for such poor results? Some of this has to do with the fall of Chicago as a franchise, of course. But Kane got to play with Artemi Panarin and Alex DeBrincat for virtually all that time. His line should've been okay, at the very least.
A lot of this is on Kane. Defense was never his calling card, but at least early in his career, A) drove offense so much that it didn't matter and B) was merely bad at defense, rather than being in the absolute gutter in his own end.
In the three seasons before this year, Kane's offensive contributions were completely zeroed out by his defensive liability. And this season, at age-34, it's much worse than that, even.
[caption id=attachment_144333" align="alignnone" width="734]

Courtesy of Evolving Hockey[/caption]
Kane's in the gutter on offense and one of the three worst defensive players in the game. Think of how much Dean Evason couldn't stand Kevin Fiala's defensive shortcomings. Kane makes Fiala look like Marcus Foligno on defense, all while driving offense worse than Eric Staal.
And mind you, not Eric Staal when he was with the Wild. We're talking about 38-year-old Staal, the one who didn't play at all in 2021-22, and played for the Florida Panthers last night. That version of Staal makes more of an offensive impact than Kane.
[caption id=attachment_144336" align="alignnone" width="769]

Courtesy of Evolving Hockey[/caption]
Add up his shortcomings at both ends of the ice, and he's the fourth-worst forward in the NHL. Evolving Hockey estimates that Kane single-handedly cost his team two points in the standings. That's great when you're a tanking Blackhawks team. Not so much when the Wild are fighting for their playoff lives.
Maybe it'd be worth making a deal-with-the-devil to bring in an all-offense, no-defense player with how the Wild are scoring at 5-on-5 this year. But that's not Kane, who is reportedly hampered by a hip injury. You know, hips, kind of a crucial body part for hockey players.
Anyway, whether it's age-related decline, or his injuries, Kane's just not a solution to anyone's 5-on-5 scoring issues. Kane is scoring only 1.47 points per hour at 5-on-5 this season, despite the Blackhawks shooting 8.1% at 5-on-5 with him on the ice, just barely below league average.
Put it this way, the Wild entered Monday night's game with fourth-liner Mason Shaw (1.59 points per hour) and healthy scratch Sam Steel (1.52) out-producing Kane on a per-hour basis.
And this is the guy the Wild are interested in?
This is, by the way, without any off-ice behaviors factoring into this evaluation.
It has to be asked: Guerin must know that other trade targets exist, right? Allow 10K Rinks to use this space to be helpful and suggest: Literally anyone else. James van Riemsdyk can still score while driving play in both ends of the ice. Tyler Bertuzzi has dealt with injuries this year and seems like a knucklehead off the ice. However, he has been a positive contributor to the Detroit Red Wings, being worth a point in the standings in 20 games.
Even Max Domi, a dollar-store version of Kane, is at least delivering something on offense. Sean Monahan is an empty-calorie scorer, but he can score without destroying a team's defense. Hey, take a sure-to-be-expensive gamble that Ryan O'Reilly can thrive with a change of scenery instead. Bring back Nick Bjugstad as a rental for all I care.
Just not Kane. For every reason imaginable, anybody but Kane.
All data via Evolving Hockey unless otherwise stated.