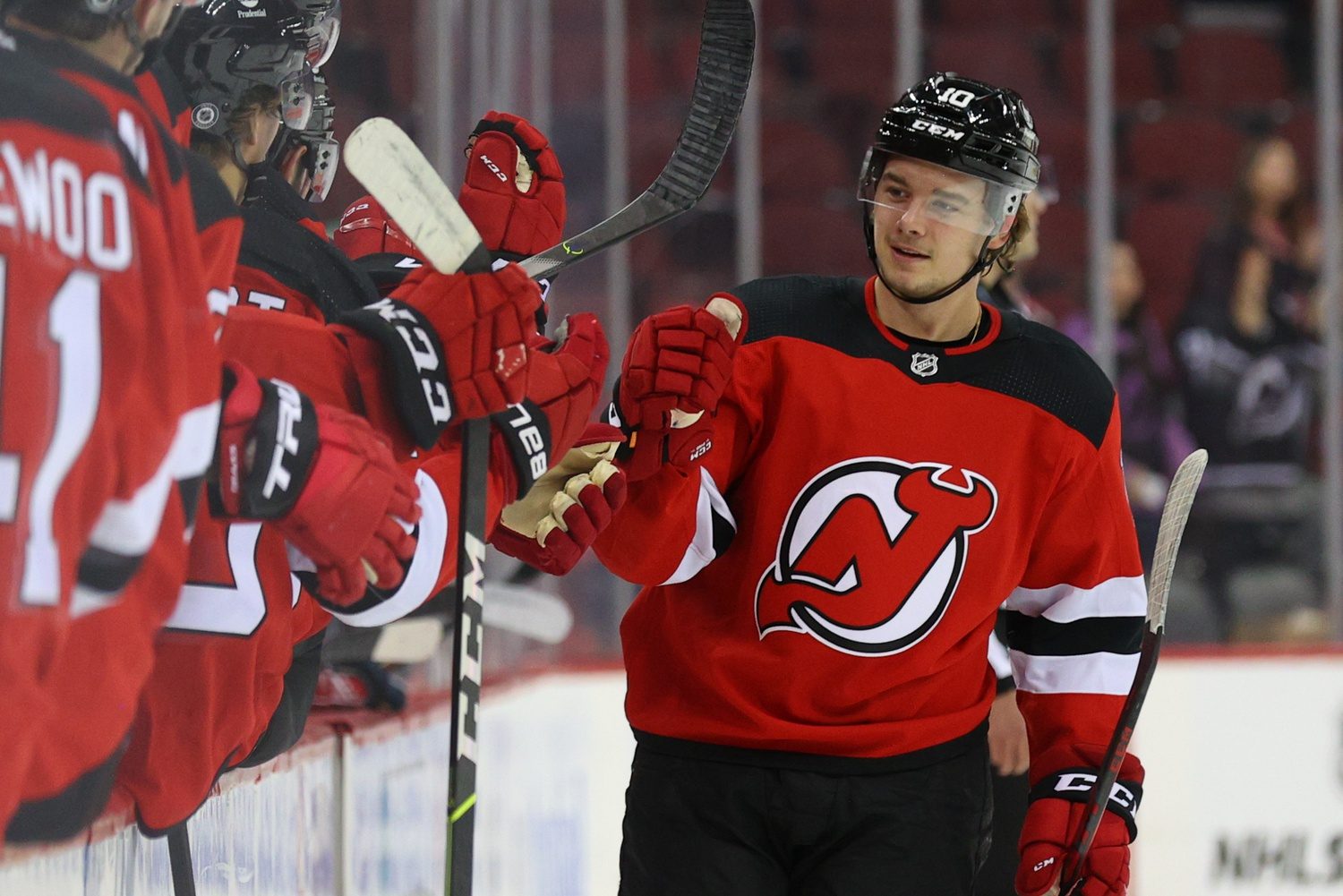 Increasingly more information is leaking out that Minnesota Wild GM Bill Guerin is seeking a Top-6 forward. With impactful forwards in slumps like Matt Boldy and the lack of offensive production from rookie Marco Rossi, the secondary scoring punch has been reduced to a few jabs here and there.
Therefore, Guerin would be wise to make a move before Minnesota's lack of scoring keeps it down in the standings. He should reach out and see what it would take to acquire Ryan Reaves Alexander Holtz, the New Jersey Devils' former top-10 pick.
Holtz, 20, started the year in New Jersey along with a plethora of other young, exciting players. While the likes of Nico Hischier, Jack Hughes, and Jesper Bratt have soared this season, Holtz has struggled to keep up. Granted, he is younger than the three other players here. Therefore, it may not be fair to look at his demotion to the AHL as him not keeping up with his peers.
However, Holtz's demotion creates an interesting talking point. New Jersey is on a burner, entering Thanksgiving weekend with an impressive eight-point lead in their division. One look at their current forward group, and you can imagine why the Devils decided they could be patient with their struggling Swedish sniper.
Hughes and Hischier are cornerstone pieces, and the Devils locked them into long-term deals, along with recently signed Ondrej Palat. Beyond them, there aren't any forwards signed long-term. Not now anyways.
Bratt is having the breakout season any player agent dreams of when their client is due for a contract. He'll undoubtedly earn a long-term extension at a handsome number, and deservedly so. New Jersey drafted Dawson Mercer in 2021, the same year as Holtz, and he is already producing like an above-average center. Assuredly the Devils will want to lock up what might be the NHL's most dominant center group when Mercer's contract expires following next season.
That's already five forwards locked in at long-term deals with large AAV's eating up cap space. Consider Dougie Hamilton on the back end, and you can see the problem New Jersey will find itself in shortly.
The only price of drafting extremely well over multiple summers is you eventually can't pay all your guys (thanks, Gary Bettman.) It's a problem Minnesota could face in a few years. However, for the Wild, that problem mostly exists with the plethora of defensemen in their prospect pipeline. With long-term defensemen already signed on the NHL roster, not every one of them will find themselves playing in a Wild sweater.
The list includes Brock Faber, Ryan O'Rourke, Dameon Hunt, Carson Lambos, and Jack Peart. And those are just the guys who experts touted in the draft. Consider this last year's fifth-round pick in David Spacek, who is currently third in all defensemen scoring in the QMJHL, and the list looks even deeper.
Now, let's all count together, shall we? That's six defensemen. There are exactly six dressed defensemen every game in the NHL. With Jonas Brodin and Jared Spurgeon locked up long-term, it's physically impossible for all their prospects to find their way onto the NHL roster soon.
Seems like we have a natural fit here for a trade partner, eh? New Jersey could be wise to flip a forward prospect for some defensive depth and the Wild vice versa. The Devils are probably not necessarily down on Holtz. They just don't need a struggling forward right now with the rest of the lineup clicking. So, the package to get a young sniper would be hefty.
But it would be more than worth it. The Wild desperately need a prospect with a shot that scouts are high on. But his greatest value to the Wild is that his shot comes from the right side.
The lack of right-shot forwards has plagued the Wild for years. Obtaining a young shooter with high upside to play opposite Kirill Kaprizov on the power play would be a huge boost. Playing 5-on-5 minutes on the opposite wing of the now-struggling Boldy isn't a bad idea, either.
And if he struggles in Minnesota as he did in New Jersey, the Wild can send him to Iowa and wait until next year. Either way, they can swap out Ryan Reaves depth on defense for a position of great organizational need.