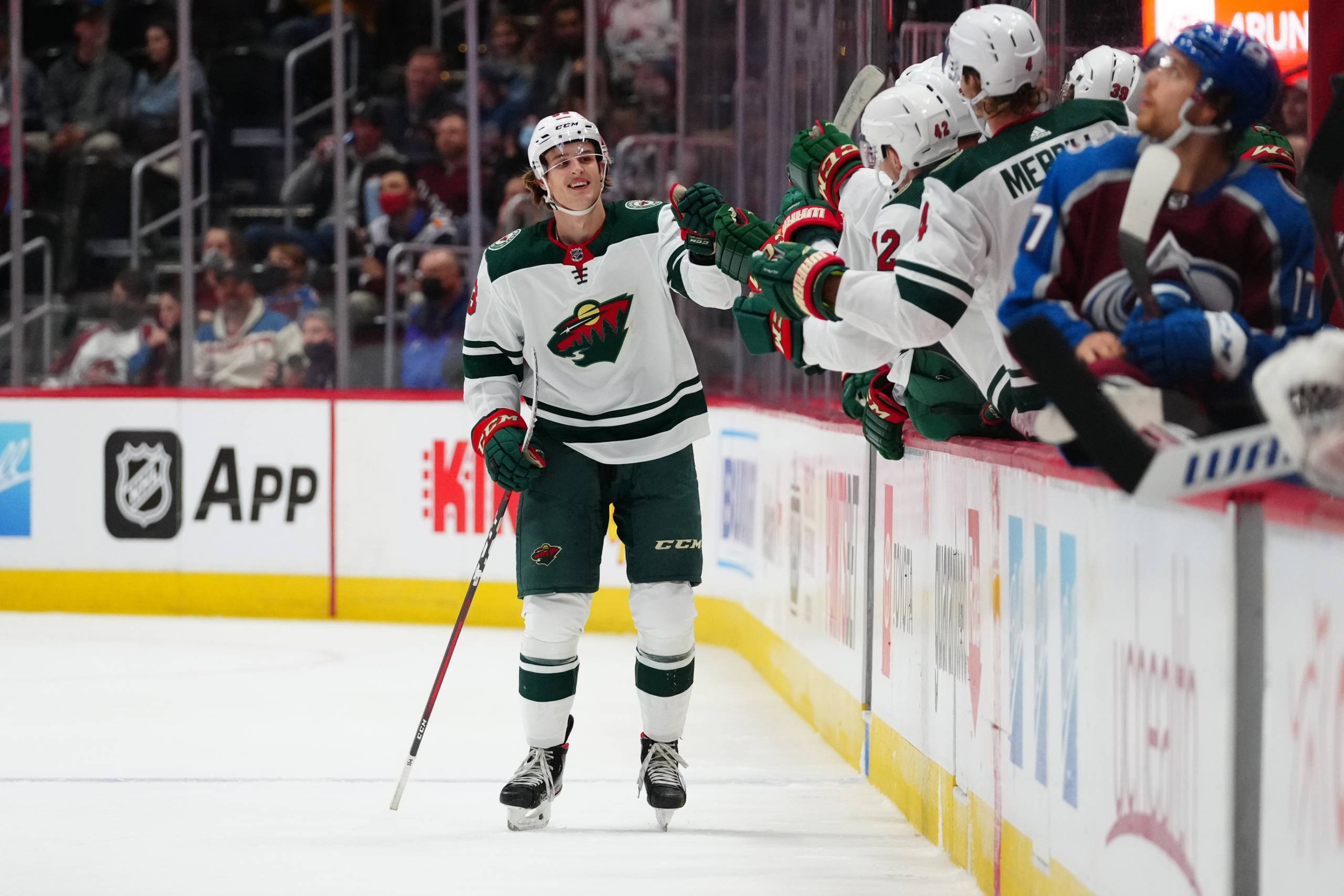 10K Rinks is counting down the Minnesota Wild's Top-10 Prospects, as voted by our staff. Today, we give you everything you need to know about our No. 9 prospect, Adam Beckman.
Wild prospect Adam Beckman is back to what he does best – impressing the front office. Last year, he captured the eyes of the coaching staff, making it to the final day of camp before they reassigned him to Iowa. Despite Bill Guerin's glowing reviews, Beckman played 68 games with the Iowa Wild. His only time in the NHL came during three games in November. He impressed there, too, displaying his playmaking ability. Beckman notched a vital secondary assist on a game-tying goal in the waning seconds of the third period in Pittsburgh.
Beckman showed his tenacity as he stuck with the play. As others were jostling for position around the Pittsburgh Penguins' cage, Beckman wrestled the puck loose and passed the puck to Matt Dumba in a prime scoring spot. While Tristan Jarry stopped Dumba's puck, the rebound landed on Ryan Hartman's stick, and he scored with 1.1 seconds remaining.
"Not only a gritty play, a skilled play," Evason said of Beckman's sequence. "He collects it, kind of curls it behind the net, then is able to put it between the sticks and skates of a defender to get [Dumba] the puck."
It was a small taste of the kind of player Beckman is, but last season was not easy for the kid from Saskatchewan. It was his first real jump to professional hockey. Every night is a grind in the AHL, and the puck doesn't always want to go in the net. It can be humbling.
The uproar over the Wild cutting him as they broke camp last season could have turned into Beckman Bedlam if he had continued to tear things up. With the quality and frequency Beckman can shoot the puck, the clamor to call him up might have been as loud as the campaigns to recall Marco Rossi and Matt Boldy. 
As a rookie, Beckman fired 203 shots on goal in 68 games. That was 10th among all skaters in the AHL last season and second among rookies. But his 5.4 shooting percentage held him back. Instead of scoring 0.77 goals per game like he enjoyed in juniors, he scored only 0.16, with 11 tallies. If his shooting percentage was 11.5%, as it was in nine AHL games the season before, Beckman would've scored 23 goals (0.33 per game) last year. 
The challenge of his first professional season was good for Beckman and his growth. Dealing with the ups of early success and the downs of not scoring at the rate he's used is all part of it. "Every day's a battle," Beckman told 10K Rinks in April. "That's one of the biggest things you learn about playing pro hockey is it's a job, and you've got to be ready to go every day. That's the biggest thing I've learned. I've got to continue to work on it in order to be successful."
That's what he set out to do this offseason. The Wild have certainly noticed.
"He was a kid last year," Wild assistant coach Brett McLean
. "Now he's becoming a man. He's put on a little bit of weight...and that translates to the ice. He just looks stronger." 
"It's great for a guy like Becky to come back and really recognize how much better he's gotten," Wild Director of Player Development Brad Bombardir explained. "Sometimes you kind of lose that as a first-year player in the American Hockey League. It's a tough league."
Unlike last year, though, an injury and offseason surgery to Jordan Greenway means a spot on the Minnesota roster is up for grabs. Beckman has already made an impression on the Wild front office this summer. They made him captain of his development camp group. Sure, he's been through camp before and can help the newcomers as they work through their first times. But it's hard not to see that naming him, along with Rossi, as a captain of their camp groups to remind him that they still believe in him as a prospect.
Beckman's game and playing style can also help the team now. Minnesota must find a way to replace Kevin Fiala's offensive output now that he's in Los Angeles. Not that Beckman is the second coming of Fiala, but the Wild need the volume of shots that Beckman takes. Taking 203 shots in the AHL doesn't happen by accident. Add in the 26 shots in nine games the year before, and he's hurling almost three shots per game. While that's still slightly fewer shots than Fiala, it's the closest the Wild will get to replacing the shooting output with one player. 
How does Beckman improve his shooting percentage? Some of it is luck and making adjustments. That was also something he set out to improve. "It's great to be getting those looks. That's a positive," Beckman said. "Talking with the coaches, you continue to work on your shot. Maybe you can put it where you want it rather than just get it on net." 
Can Beckman finally put it all together? It's a perfect storm for him. He's got the talent, the status among the decision-makers, and now an open roster spot. All eyes will be on him during training camp. Only then will we find out if he can avoid a repeat of last year.