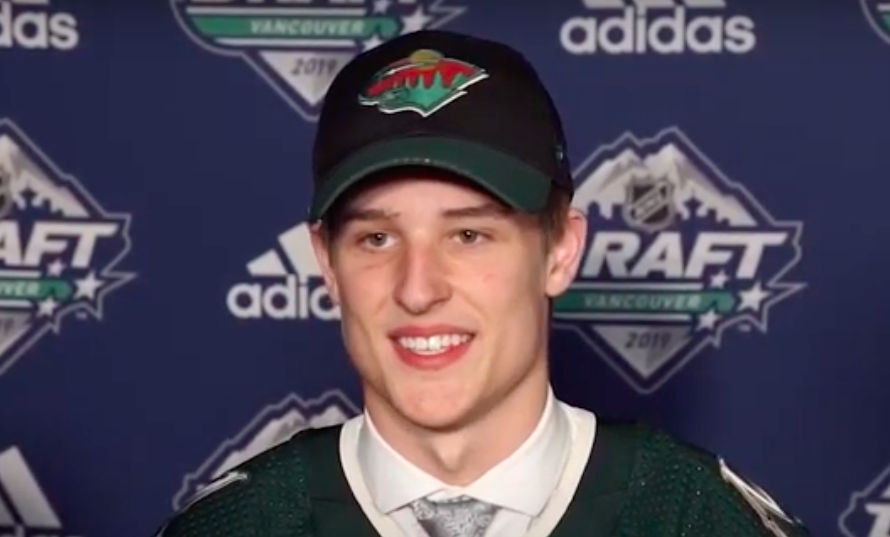 The NHL Entry Draft is usually defined by the player a team selects in the first round. Locally, the 2000 draft is remembered as Marian Gaborik's, the 2003 draft is Brent Burns', and the 2010 draft is Mikael Granlund's.

 

However, the 2019 draft may have a few different definitions for Wild fans, thanks to its recency. There was as much focus on Minnesota's decision to select Matt Boldy over Cole Caufield as there was on Boldy's merits as a player. Regardless, Boldy is the highlight of that draft for Minnesota. But the draft goes deeper than Boldy vs. Caufield, especially as the players Minnesota selected two years ago grow closer to making their NHL debuts.

 

Although he was the fourth player taken by Minnesota in the draft, third-round selection Adam Beckman is making a name for himself. He is the No. 6-ranked Wild prospect by 10KRinks.com.

 

Beckman played his first full WHL season as a 17-year-old, playing in 68 games. There was no real adjustment period as he emerged as a near point-per-game player with 62 points for his Spokane Chiefs. In the playoffs that year, he wasn't far off his pace with 12 points in 15 games.

 

However, his breakout came a year later, as an 18-year-old. Beckman played 63 games that season and exploded for 107 points. His 48 goals and 59 assists ranked as the best in the entire WHL in 2019-20. He also had more shots than anybody in the league that year, 40 more than the next-closest player. He notched 16 goals and 13 assists on the power play, according to WHL.ca.

 

He's a shooter, folks. Just watch some of his film or even ask the Iowa Wild's Ben Gislason, who called some play-by-play of his debut games in the AHL last season. Gislason joined Tony and Joe on an episode of 10KRinks Radio during the past season and he was not shy about how Beckman operates as a forward.

 

Gislason saw Beckman first-hand for his brief nine-game AHL debut in 2020-21 before Beckman returned to Spokane once the WHL season resumed. Beckman notched five points in nine games as a 19-year-old for Iowa at the start of the season. He left as one of the top scorers for the team, which included an overtime game-winning goal at Wells Fargo Arena.

 

This is all to say that he didn't miss a step when he returned to the WHL. He potted 27 points (10 goals and 17 assists) in 21 games with the Chiefs. The good news for Wild fans? That will be his final stint in the WHL. Beckman recently signed his three-year entry level deal with the Wild to slot him into the Iowa roster this season permanently.

 

His shooting ability will make him a player to watch in the next few years.

 

 

There's no denying a player has a shoot-first mentality when he leads his respective league in shots. Those 316 shots helped elevate his point totals drastically in 2019-20, and he's unlikely to change his game when he moves up to the AHL.

 

Beckman needs a good, creative center. He will find his ways to the right places on the ice and produce as long as the puck can find his stick. Good news for Wild fans is that there should be some center help on the way. Marco Rossi and Marat Khusnutdinov appear promising, and Beckman could be brought on right along with them into the NHL.

 

The Saskatchewan native can be trusted to find the back of the net, too. His most lethal shot often ends up

, hitting the back of the net before the netminder has time to react properly. When given time, Beckman has a wrister across his body that targets the top-right of the net. He has shown he can think ahead of the play and

in other situations.

 

His speed and shot could make him an NHL asset if he continues to develop quickly as he did through his time in the WHL and short stint in the AHL. Five points in nine AHL games is nothing to shake a stick at, but the Wild sure hope he can continue that line of development and get ready for the next step.

 

Beckman's quick and somewhat unexpected rise through the prospect pool could prove valuable to Minnesota when the team is reeling from cap troubles. The Zach Parise and Ryan Suter buyout cap hits don't get any better after this season, and they will need promising, capable, and — most importantly — inexpensive talent to fill the roster and remain competitive.

 

Statistics gathered courtesy of EliteProspects unless otherwise noted.