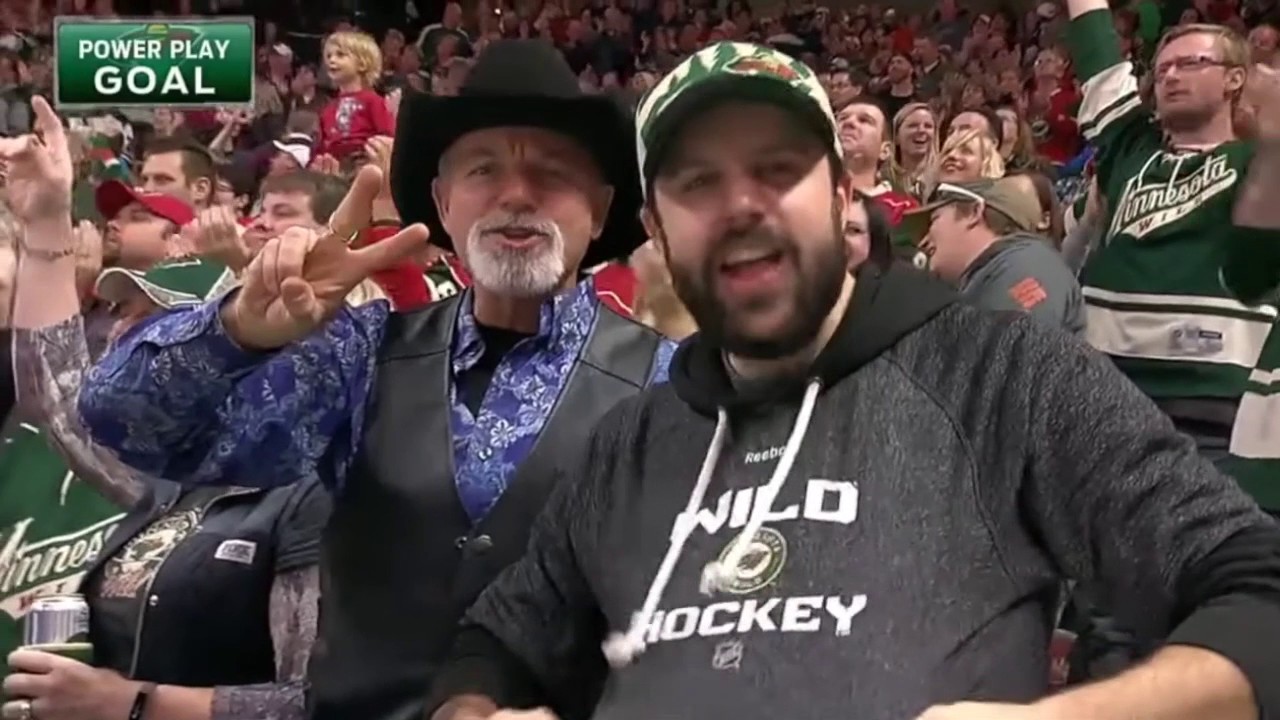 I started writing last week's article about how the Wild were built wrong as a team by thinking about an alternate reality where the team doesn't sign Zach Parise and Ryan Suter, and where the franchise would be as a whole. That got me rolling on how the Wild are an example of how *not* to build a hockey team, but the thought of this team having gone down a different path still lingered. So let's hop in our Hot Tub Time Machine, and change the past, present and future of this franchise.

 

2012-13

Record: 26-19-3 55 points

Result: Lose to the Blackhawks in Round 1

Wild sign Parise and Suter, draft Matt Dumba.

Wild acquire Joel Pominville for prospects and picks at the deadline.

ALTERNATE REALITY

 

The Wild miss out on Parise and Suter. Suter re-signs in Nashville and Parise joins him, because who wants to be in New Jersey long-term -- except the Giants.

 

The Pominville trade obviously doesn't happen, so recouping that first-round pick is pretty nice. As it turns out, the prospects in that trade didn't really pan out anyway, and it's tough to say that they would've under Wild tutelage. The Wild are probably under .500 for the second straight season, and it'd be interesting at this point what they do with the team. Fletcher claimed coming in that he wanted to build through the draft and has already drafted Mikael Granlund, Jason Zucker, Dumba and Jonas Brodin, amongst others.

 

The big question here to kick off the exercise is does Fletcher have a fire sale at the deadline this season or the following offseason? Mikko Koivu's contract even at this point makes him somewhat untradeable, but it's possible that Fletcher moves assets with a shred of value like Dany Heatley, Matt Cullen or Devin Setoguchi, or quite possibly even Niklas Backstrom.

 

Either way, you think this team misses the playoffs, falls into the lottery and hopefully gets a good pick. Rather than picking 16th, perhaps they sneak into the top 10, as the talent there has turned out to be pretty decent, despite lacking star power. Nate Mackinnon, Alex Barkov, Jonathan Drouin, Seth Jones, Elias Lindholm, Sean Monahan, Darnell Nurse, Rasmus Ristolainen, Bo Horvat and Valeri Nichuskin rounded out the top 10. Given the Wild's penchant for not picking super high and obsession with not drafting Canadians, I'm going to optimistically guess they land Seth Jones. I can dream.

 

2013-14

Record: 43-27-12 98 points

Result: Lose to Blackhawks in Round 2

Trade for Nino Niederreiter in the offseason

ALTERNATE REALITY

 

You'd really hope that this team still makes the Nino trade if Cal Clutterbuck wasn't shipped out at the deadline in the previous year (is there anything more desired at the deadline than grit?), or maybe perhaps the deadline deal for Clutterbuck IS the Nino deal just a few months early, who knows. They draft Jones, plus another year of a bad hockey team should increase the odds of things getting better. This team maybe could be creeping toward .500 at this point, even though, as I mentioned it'd be much better if they were even worse than that, but it's not like the following draft was really all that impressive, or featured a generational talent.

 

2014-15

Record: 46-28-8 100 points

Result: Lose to Blackhawks in Round 2

Draft Alex Tuch 18th overall. Sign Thomas Vanek.

Trade for Devan Dubnyk in January; Chris Stewart and Jordan Leopold in March.

ALTERNATE REALITY

 

Assuming the Wild hover just below the .500 mark, and pick from 10-15, a name from the 2014 draft jumps out at me, and isn't much of a stretch, knowing the Wild's tendencies, and the fact that I know they scouted the USNTDP quite a bit for 2014 pick Tuch. Well USNTDP teammate Dylan Larkin would've likely been available to the Wild, and given their love for American players, actually a decent bet to be drafted by them (unlike Jones, I know). Also, they'd actually have a second round pick in this draft, which is nice, but it's tough to say that an impact player results from that pick, just running down the names in the real second round. Are we missing out on Vaclav Karabacek? Yeah, not really.

 

It's also entirely possible that Mike Yeo gets fired at some point here, because the team probably still stinks, and hopefully they've tanked hard enough for a big pick in a loaded 2015 draft. While none of that is Yeo's fault, it's professional sports, and since he hasn't worked miracles with a lightly talented team in four years, it's entirely probable that he gets the axe.

 

2015-16

Record: 38-33-1 87 points

Result: Lose to the Stars in Round 1

Draft Joel Eriksson Ek 20th overall, sign Mike Reilly.

Yeo is fired in February

ALTERNATE REALITY

 

I think it's around this point where Craig Leipold gets antsy with his losing hockey team and leans on Fletcher hard to make a splash to take the next step. The free agent crop, however, is a rough one. The hope here is that, somehow, some way the Wild tanked hard, real, real hard and land in the top of this absolutely loaded draft class. McDavid, Eichel, Strome, Marner and Hanifin go top five, and any of them has a chance to be a franchise cornerstone.

 

They've obviously gathered some decent young talent up to this point, but they'd basically have to land one of those top-four players to even dream about making this whole pipe dream worth it. Let's pretend, for just a second that they get lucky enough to land Marner. I'm not predicting McDavid or Eichel landing here, because Wild fans can't have nice things (even though Marner is a very nice thing).

 

The Wild replace the departed Yeo with Dan Bylsma before the season, using Chuck's Pittsburgh connection.

 

2016-17

Record: 49-25-8 104 points

Result: Lose to the Blues in Round 1

Draft Luke Kunin 15th overall, buyout Vanek, sign Eric Staal and Stewart.

Team sets a record for wins and points. Trades several picks for Martin Hanzal and Ryan White

ALTERNATE REALITY

 

This is where it starts hitting the fan. Leipold could either take a run at Steven Stamkos, since he has gobs of money he saved by switching to Geico and not signing Parise and Suter. Or Fletcher could talk with the Oilers, and if things were mostly similar, trade Taylor Hall for a ham sandwich, which is great, but probably doesn't alter the future of this franchise as much as you'd hope (see: Devils, New Jersey). Incredibly, the likely outcome is that the Wild do sign David Backes, because they have the money to spend, and well, you know, #oneofus. And while we're at it, also entirely possible that they double up and sign Kyle Okposo, since, you know, #oneofus. You wanted two local boys, you got it.

 

I haven't predicted the Wild to make the playoffs yet, because I'm not sure that they would, but I can't see a whole lot of situation where this goes really, really well for the Wild unless their initial rebuild stalled so hard that they got a run at McDavid or Eichel in 2015 or Matthews in 2016. It's a tough road to build a championship team around a generational star, and I think this exercise illustrates that. Gaining a new appreciation for what this team has done recently given its construction, it's softened my concern that the team was assembled backward as I declared last week. It has, however, not eliminated my concern, because this team with a generational talent might be a cup contender right now, and that's quite possibly the only way that they are.

 

The biggest glaring weakness here is goaltending, and that's a concern, obviously. Without needing to trade for Dubnyk, the Wild likely run Darcy Kuemper out there for a while, and perhaps at some point test the free-agent market, but also possibly make a deal for a goalie. Goaltending in the NHL is a crapshoot, and acquiring good goaltending is even more of a crapshoot, as evidenced by how most goalies are usually acquired by teams before they become stars or even starters.

 

So to wrap things up, here's what the lineup looks like today, given the things that I laid out. Obviously, there are a zillion different things that could happen, but I wasn't about to assume any different trades or any crazy huge free agent signings, because those things are so hard to nail, especially in this kind of exercise.

Jason Zucker - Mikko Koivu - Mikael Granlund

Kyle Okposo- David Backes - Charlie Coyle

Nino Niederreiter - Dylan Larkin - Mitch Marner

Jordan Schroeder – Erik Haula – Tyler Graovac

Jared Spurgeon – Seth Jones

Marco Scandella – Matt Dumba

Christian Folin – Jonas Brodin

Are the Wild better off now than they would be having not signed Parise and Suter? It's tough to say, and certainly there's pros and cons on each side, and this wasn't meant to change anyone's opinion on anything. Really, it's impossible to know what really would've happened to this team had they not signed the spendy duo, I found it fun and interesting to consider what the possibilities were if they didn't.