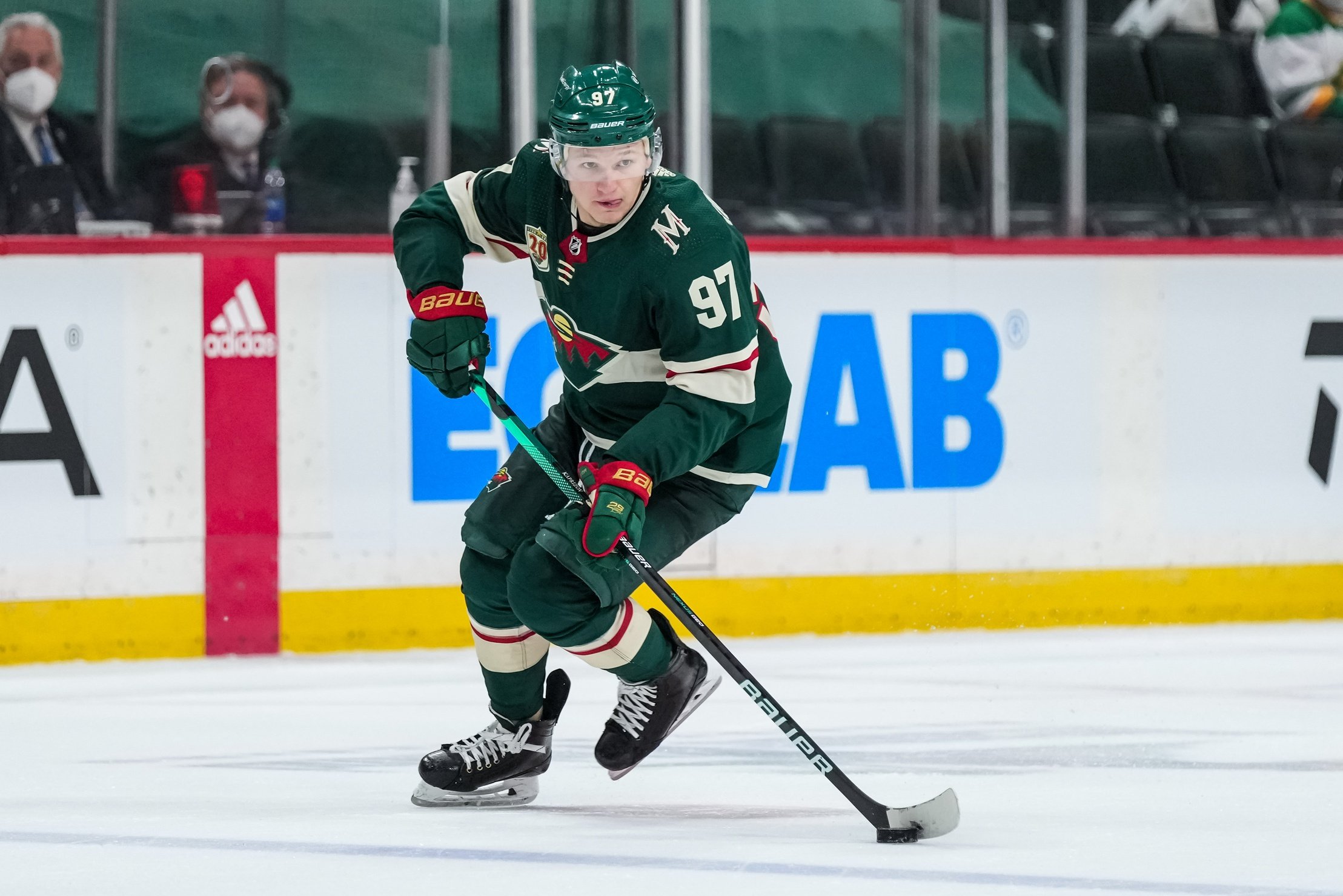 A segment of the State of Hockey convinced themselves Kirill Kaprizov would never play in Minnesota. They were wrong, as you can no doubt tell by paying even passing attention to the Minnesota Wild this year.
That hasn't stopped the next round of growing dread: That Kaprizov will bolt at the first chance he gets.
In fairness to that crowd, it's happened before. Kinda. Marian Gaborik, the only other player in Wild history to lay claim to superstar status, did just that. Gaborik signed a three-year deal in 2006-07 that bought out a single year of unrestricted free agency. Once that was up, though, a 27-year-old Gaborik jumped ship to the New York Rangers.
It's also happened to perhaps Kaprizov's biggest comparable, Artemi Panarin, who signed with the Chicago Blackhawks in 2015 as a 24-year-old but was traded to the small-market Columbus Blue Jackets two years later because of Chicago's salary cap woes. Panarin emerged as an MVP candidate with Columbus but never seemed to consider signing with them. The second he hit UFA status, he jumped ship to the Rangers.
This is why you won't see Wild general manager Bill Guerin sign Kaprizov to a short-term "bridge deal." Kaprizov is three years away from UFA status, and he wants to ensure that Kaprizov is around long-term.
Ideally for the fans worried about the Gaborik situation repeating itself, the Wild would sign Kaprizov for eight years, the maximum allowable by the CBA. That also seems to be Guerin's preference.
That hasn't happened, at least, not yet.
On Saturday, The Athletic's Michael Russo reported that Minnesota is believed to have offered an eight-year deal worth $64 million. If true, maybe Kaprizov hasn't signed that deal yet because he wishes for more money to sign away five UFA years.
He's not wrong for wanting to do so, at least according to Evolving Hockey's contract projections. They have Kaprizov as being worth $7.74 million per season on a five-year pact. Were Kaprizov to sign for the max, Evolving Hockey projects his Average Annual Value clocking in at a whopping $9.68 million. That would make him the fourth highest-paid winger in hockey, behind Panarin, Mitch Marner, and Patrick Kane.
Does Guerin want to go into the $9.5-$10 million range? Kaprizov certainly deserves it, and paying your stars is never a bad strategy for a GM to take. The problem here is the salary cap, which is the Wild's biggest enemy this offseason.
Minnesota has about $60.5 million committed to 14 players for next season, leaving just about $20 million in cap room this offseason. Kaprizov getting fair market value on an eight-year deal will eat up about half of that, with Joel Eriksson Ek and Kevin Fiala taking up a good chunk of the remainder.
There are ways to clear up space: losing a salary in expansion, trades, buyouts. But with almost $35 million tied up with ironclad no-move clauses, including aging veterans Zach Parise and Ryan Suter, there's only so much that can be done.
So while Wild fans would feel warm, fuzzy, and secure with Kaprizov in the fold for eight years, signing him for eight years instead of five carries an extra $2 million against the salary cap. It might be better to roll the dice by going shorter-term and getting cap flexibility until some of those unmovable contracts expire.
Eight years is almost certainly not in Kaprizov's best interest. Should he sign an eight-year pact, Kaprizov wouldn't become a free agent until turning 32. Teams might throw big money at aging free agents now, but will they in eight years? We're seeing a growing refusal to pay anyone over 30 in baseball. What if that revolution hits the NHL by the time Kaprizov becomes a free agent?
It's exceedingly more likely that a better payday would await Kaprizov if he signed a five-year deal and hit UFA status at age 29. Add in new TV money, the exposure that comes with being on ESPN, and two thriving expansion teams, and the salary cap will likely go up.
It makes sense for both sides to approach this next contract as essentially a long-term bridge deal. Minnesota gets some security and buys some UFA years. Kaprizov gets paid life-changing money with the opportunity to cash in again before turning 30.
So, what might this deal look like? A backloaded deal makes a lot of sense. The salary cap will stay at $81.5 million, but player salaries aren't guaranteed under the current arrangement. If revenue continues to underperform, salaries like Kaprizov's won't be fully paid out. We're looking at a deal that looks like this:
2021-22: $6M
2022-23: $6M
2023-24: $8M
2024-25: $10M
2025-26: $10M
That's a lot less risky for Kaprizov. If he loses money to escrow in Years 1 and 2 of his deal, it's out of a smaller pie. The big-earning years, where he's paid like a top-five winger, are much less likely to be affected by the coronavirus pandemic.
This would work well for Minnesota, too. Kaprizov's cap hit under such a deal would come in at $8 million, which is easier to work around the twilight of Parise and Suter's careers. The Wild currently only have ~$14 million committed to 2026-27 (Jonas Brodin and Jared Spurgeon's contracts), giving them plenty of time to plan for how to work Kaprizov into their plans going forward.
If a five-year pact between Minnesota and Kaprizov still makes you feel gloom and doom, fret not. The absolute worst-case scenario in such a deal still keeps Kaprizov in St. Paul for five years. The Wild would still get six years (counting his rookie season) of a superstar in his absolute prime. Alongside Fiala, Eriksson Ek, and the plethora of young prospects the Wild have coming up, that's not a bad worst-case scenario to have.