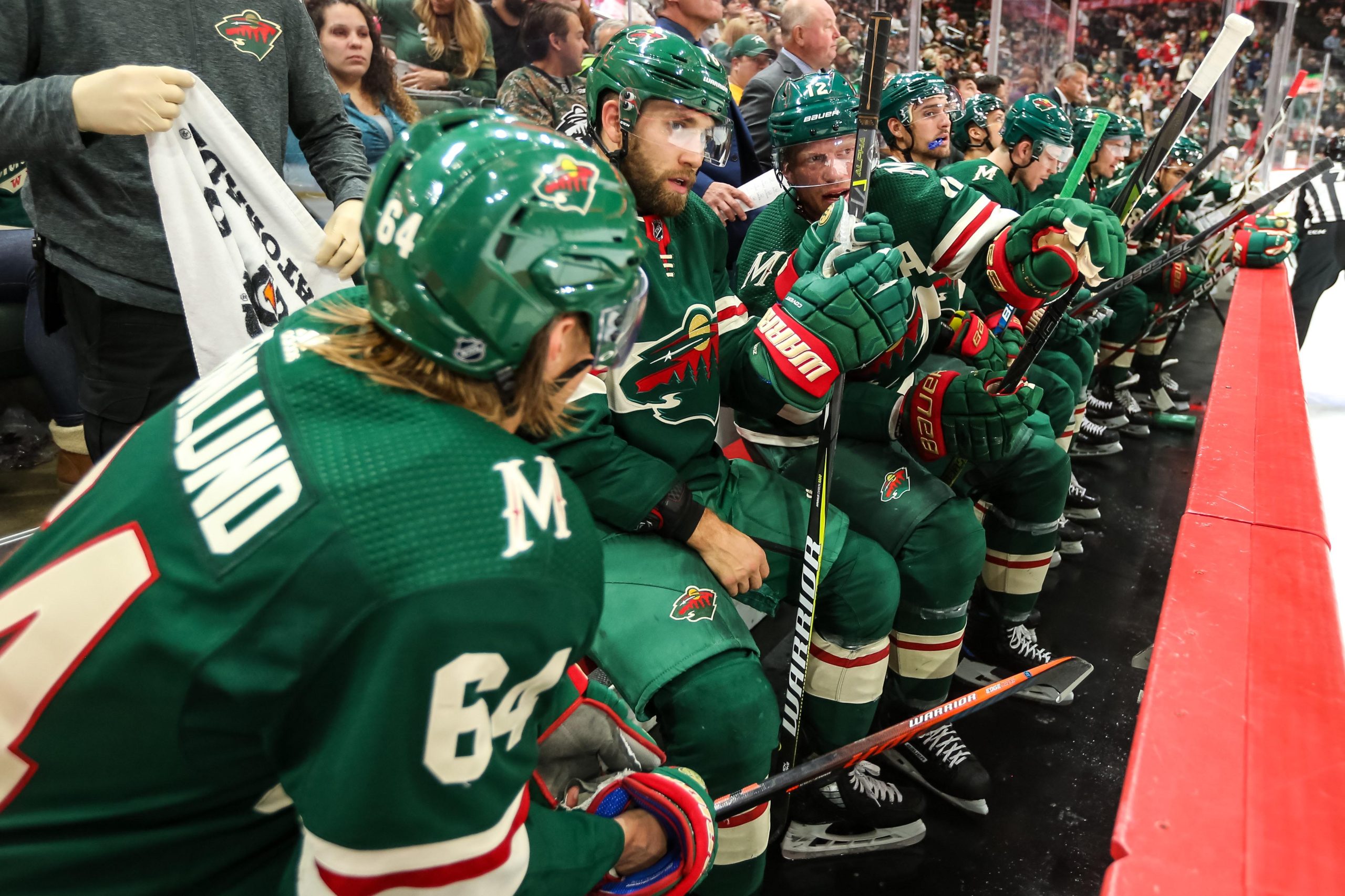 The Minnesota Wild find themselves in an unusual spot on trade deadline day as they appear to be in selling mode as opposed to the buying we have previously seen them in the Zach Parise/Ryan Suter Era. By 2 p.m. Central Time Monday afternoon, general manager Paul Fenton has some big decisions to make as he shops/mulls offers from teams in regards to some of the bigger named players on his roster.
So to get in the mood for the day of constantly refreshing Twitter to see the latest reports from Elliotte Friedman or Bobby Margarita, here comes a little three-on-three of Wild players who could be moved and will stay put this afternoon.
Could Be On The Move
Following Sunday night's 2-1 overtime win over St. Louis, Michael Russo of The Athletic reported that Fenton "has received what he may feel are viable offers for Granlund."
Over the past two and a half seasons under Bruce Boudreau, Granlund has been seen as an invaluable asset to the Wild as his playmaking ability has helped the likes of Jason Zucker and Eric Staal reach new heights in terms of goal scoring, although Granlund has been mired in a bit of a slump. Since the calendar flipped to 2019, the Finnish forward has tallied just 12 points in 25 games after scoring 37 points in 38 games to open the season.
Granlund could be seen as the player who could get Fenton the biggest return on the roster, as he carries a $5.75 million cap hit this season and next before becoming an unrestricted free agent. If Fenton feels Granlund is no longer in the long-term plans of the franchise, he could very well pull the trigger on a trade by 2 p.m. Monday.
Jason Zucker
Another player that Fenton has reportedly been shopping around is Zucker, who is having a down season -- 15 goals in 62 games after scoring 33 goals in 82 games last season. On last week's Giles and the Goalie podcast Tony Abbott argued that moving Zucker at this point would be an ultimate sell-low move and that it would be better for the Wild to hang on to the 27-year-old winger and let him recoup some value before trading him.
As of Sunday night, it looked like Zucker's status was fairly secure with the Wild, but a team out there could easily get desperate in the last hour and come with an offer to entice Fenton to make a move.
Eric Staal
The Wild have five players on expiring UFA contracts this summer, and the most prominent one is Staal. While teams will no doubt check in with Fenton on Staal throughout Monday, Staal has made it well known he wants to stay with Minnesota, not just this season but beyond as well.
In 226 games with Minnesota, Staal has scored 182 points -- 88 goals and 94 assists -- since his signing in the summer of 2016. Teams looking to add at center will no doubt come calling on Staal, but the center does have a 10-team no trade list which reportedly has been structured to feature teams that could be in the market to acquire his services.
Like Zucker, Staal is one whose odds now favor staying put on Monday, but it only takes just one desperate general manager to come calling to change that.
Will Stay Put
Granlund is the forward who could get the Wild the biggest return on Monday, and Jared Spurgeon is the defenseman who could net Fenton a pretty large return as well.
The 30-year-old defenseman has been a key cog in the Wild blueline for the past decade, and in the absence of Matt Dumba this season has stepped up big time to lead Wild blueliners in goals with 12. What makes Spurgeon valuable is that he is strong in all zones, very sound positionally, can provide good offense and has a right shot that teams really covet.
While Spurgeon is under contract for just one more season after this, he is less likely to get moved on Monday due to Dumba's injury, which would create a large crater on the right side of the Wild defense -- leaving Greg Pateryn as the top right-shot defenseman on the roster. It could easily be a trade that is revisited in the summer, but for now only expect a move of Spurgeon if Fenton is blown away by a trade offer.
Greg Pateryn
Hey, speaking of Pateryn, he has been rumored to be out on the market. Problem is, would teams really have an interest in a very defensive defenseman who has two years left on his contract at $2.25 million?
Pateryn has also struggled for a good portion of the year, so this would be a situation where the Wild would be selling low again. The Wild do have a crowded blue line after bringing in Brad Hunt and Anthony Bitetto in the past month, so maybe they would rather just go with them and cut bait with Pateryn. Hard to see Pateryn moving before 2 p.m. Monday, but again he could be one that moves in the summer.
Draft Picks
Wild fans have nightmares when thinking about all the high draft picks that have moved at the deadline under previous general manager Chuck Fletcher. However, Fenton has made it clear that premium draft picks will not be moved at the deadline -- or, in general, anytime soon -- as the Wild prospect cupboard is in bad need of restocking.
If some of the players mentioned above are moved, draft picks are likely coming in to help Fenton restock the prospect pipeline, but he is not in the market to move any out. So rest assured, Wild fans, the Wild will end the day with their first and second-round draft picks intact.
---