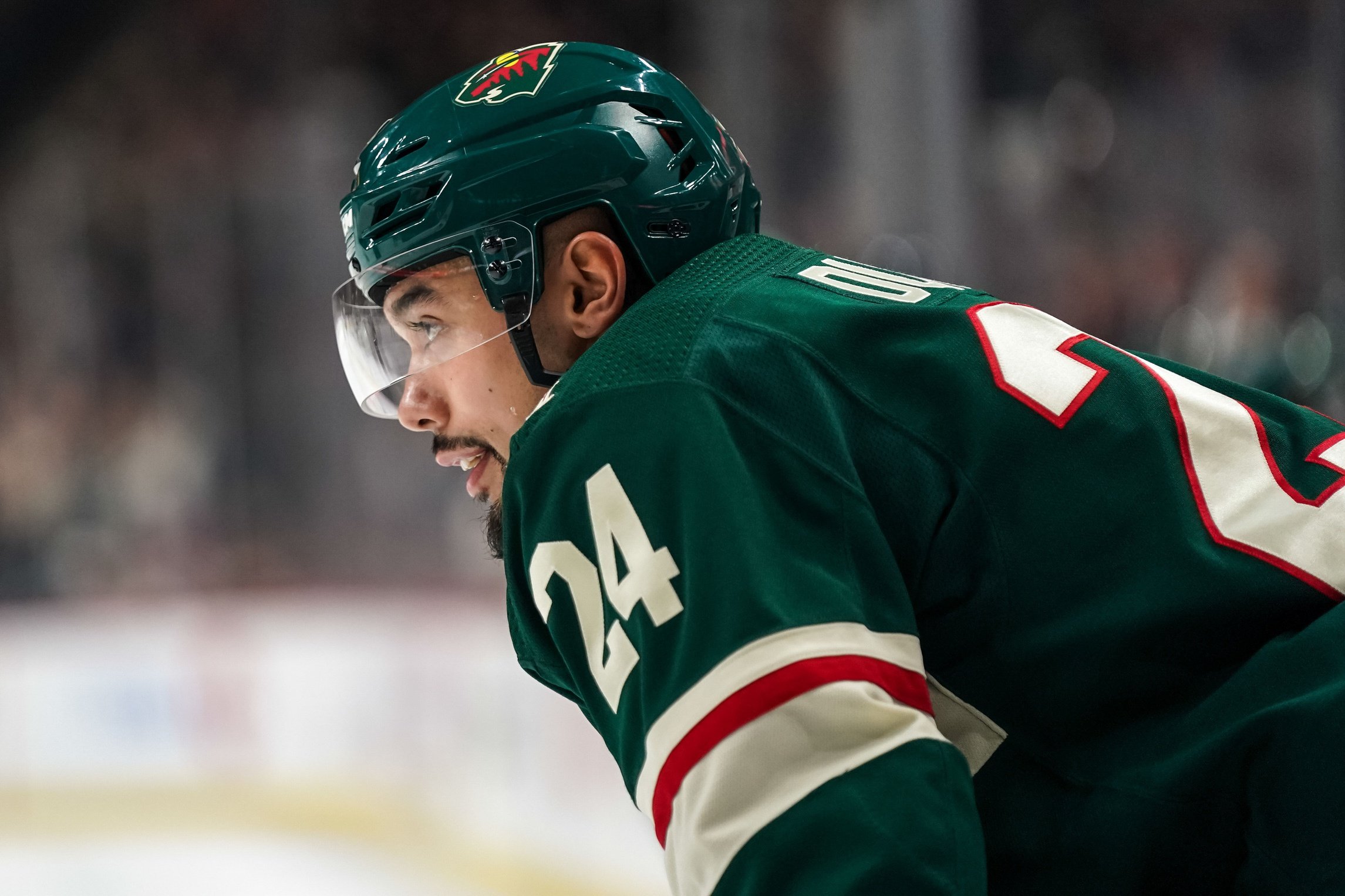 Ever since the Minnesota Wild inked Jonas Brodin to a seven-year extension, all eyes have been on Matt Dumba and what will happen with him. General manager Bill Guerin has a team with a strong but expensive blue line that needs forward help. Brodin, Ryan Suter and Jared Spurgeon have ironclad no-move clauses, so Dumba is the only movable player.

 

The price for Dumba is alleged to be a bona-fide top-six forward, with a very strong preference for a center. But what happens if Guerin's price isn't met? Trading for a high-end center is no easy feat. Centers are so rare and valuable that it takes an extraordinary circumstance (

) to extract one.

 

According to a Darren Dreger report on TSN, getting a center for Dumba is a pipe dream for now. There is another way, however: Guerin could deal him for future assets.

 

It might be a setback for a team that doesn't seem to want to rebuild now, but a futures-focused trade could be better for Minnesota than a "hockey trade." Teams tend to view prospects as more expendable than NHL players, and draft picks more expendable than prospects. There's a market inefficiency there, and Guerin could take advantage.

 

So let's construct three Dumba trades that will explore what Minnesota could get if they took the focus off an immediate return and slightly towards the future:
1) Dumba to Winnipeg in exchange for 10th overall in the 2020 Draft
It makes total sense that Winnipeg would be interested in Dumba. In the past two seasons, the Jets lost both Dustin Byfuglien and Jacob Trouba. Dumba would bring back some of the scoring threat they lost, and is under contract for the next three years.
Generally teams that pick in the top-10 aren't going to make a win-now move like this, but Winnipeg has good reason to do so. The Jets have Mark Scheifele, Patrik Laine, Nikolaj Ehlers and Kyle Connor who are all 27 or younger. Blake Wheeler isn't getting younger and needs to win now. Connor Hellebuyck is a Vezina goalie in his prime.
The Jets don't have time to rebuild, and trading 10th overall to Minnesota upgrades their defense while still giving the flexibility to trade Laine or Ehlers for center help.
The 10th overall may not seem like enough at first for the Wild, but the going rate for a top-10 pick is usually a high-end player like Dumba. Cory Schneider was moved straight-up for a top-10 pick in 2013. Derek Stepan and Antti Raanta were packaged for the a top-10 pick in 2017.
Given the depth of this draft, the ninth and 10th picks would be huge for the Wild's farm system. They'd be able to address their center position with someone like Anton Lundell at ninth overall. After taking care of that, the possibilities are limitless.
The Wild could try doubling up at center, potentially securing their top-six for the next decade. They have the flexibility to take a winger, should someone like Swedish sniper Alexander Holtz fall to them. Minnesota could even take a chance on goalie Yaroslav Aksarov, knowing they have a center for the future.
2) Dumba to Montreal for 16th overall in the 2020 Draft and Phillip Danault
The Montreal Canadiens have been looking for blue line help for a while, and they got some by acquiring Joel Edmundson from Carolina. They boosted their left side, but what about their right? Shea Weber is 35 years old and has some recent injury troubles. Jeff Petry is in the last year of his contract. Dumba would give Montreal a succession plan on defense and a power play weapon for when Weber's shot starts fading.
While the Canadiens aren't necessarily in win-now mode, they have a great crop of young players cracking the roster. Centers Jesperi Kotkaniemi and Nick Suzuki are poised to be a one-two punch down the middle for them. Russian defense prospect Alex Romanov is on the way. Bringing in Dumba helps set them up for success early in their careers.
On Minnesota's side, the 16th overall pick isn't going to be enough to get the deal done. The difference between a top-10 and mid-round pick is fairly significant, even in a deep draft. That's not to say the 16th overall pick wouldn't help. Minnesota would miss out on players like Holtz and Askarov, but good talent will be available.
For instance, the Wild could go for skilled wingers like Roidon Amirov, Noel Gunler or Jan Mysak to boost their offense. Perhaps a center like Connor Zary or Dylan Holloway falls to 16. Maybe they'd even gamble on the talented but often-injured Hendrix Lapierre.
Executing this trade gives Minnesota help in the future, but also help now in Phillip Danault. He is 27 and has never scored more than 13 goals and 53 points in a season, but he's a legit center and drives offense with a good transition game. He'd be a great stopgap for the next Wild center prospect.
3) Dumba to Vegas Golden Knights in exchange for Peyton Krebs and Marc-Andre Fleury (25% salary retained by VGK)
Speaking of a team in win-now mode, there's Vegas. The Golden Knights built on their inaugural year success by making big trades for Mark Stone and Max Pacioretty. They were rewarded with their second Western Conference Final in three years.
Do they have one more big trade in them? Vegas has wanted to add to their defense group, which lacks star power past Shea Theodore. Adding Dumba's massive shot would give Vegas an extra offensive dimension heading into next season, while rounding out their top-four defense nicely.
Vegas is in position to address Minnesota's center need with Peyton Krebs. Krebs was a potential top-10 pick in the 2019 Draft, but fell to Vegas at 17 due to an Achilles injury. But Krebs roared back once he recovered, scoring 60 points in 38 WHL games. Krebs is more of a playmaker than scorer, but his production and two-way game make him a great get for the Wild.
Dumba might not be enough to entice Vegas to move Krebs, but Minnesota can solve another problem for the Knights. Vegas threw their lot in with Robin Lehner this year, much to the disappointment of Fleury. If Lehner is re-signed by Vegas, Fleury won't be happy, and the Knights won't be thrilled about carrying a $7 million backup.
Minnesota taking most of that cap hit off Vegas' hands allows the Knights to take on Dumba with minimal salary increase. Since the Wild need a goalie to transition to their next generation anyway, taking a chance on Fleury is an acceptable price to pay to get a prospect like Krebs.