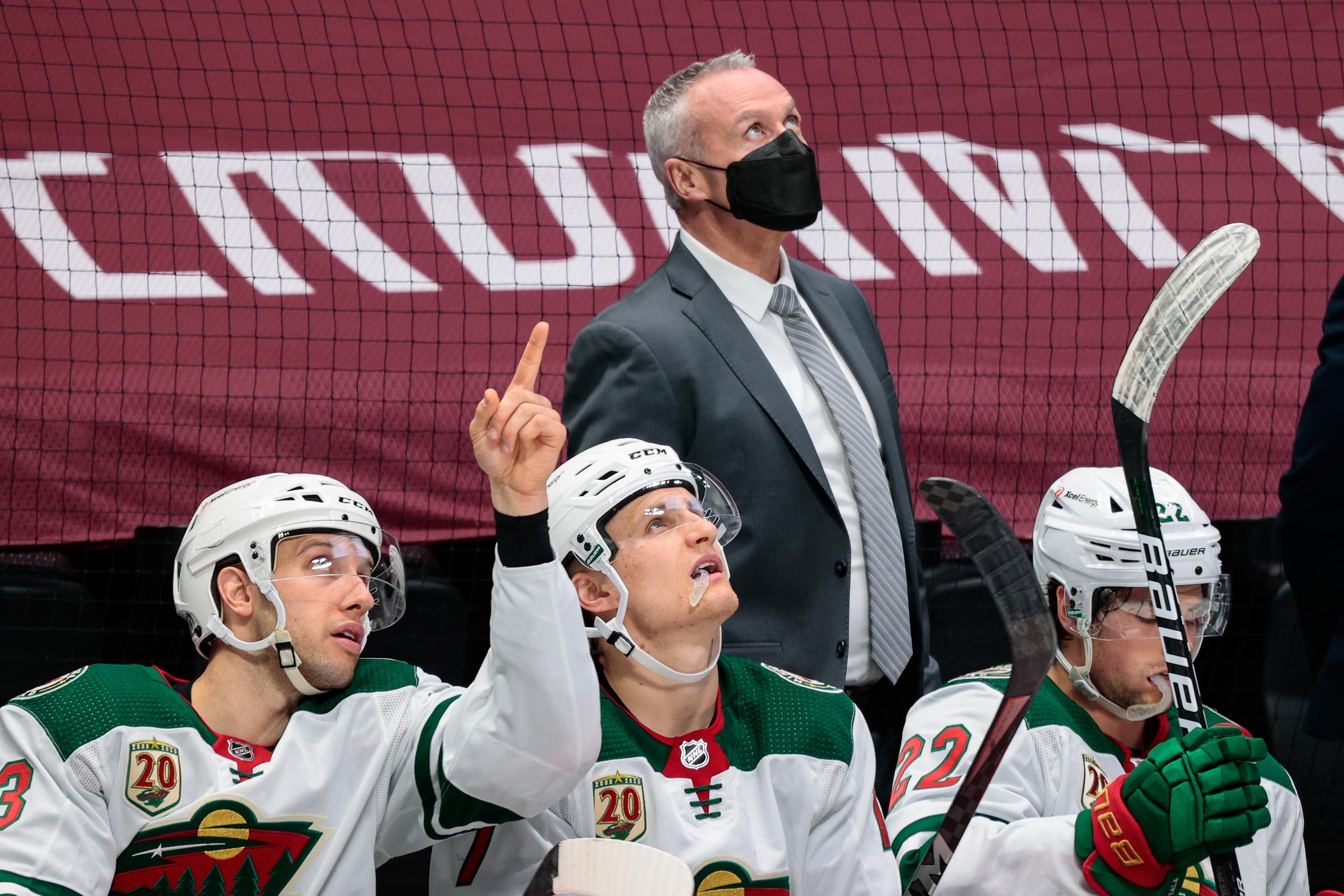 The Minnesota Wild saw their season end on Friday night, dropping a Game 7 to the Vegas Golden Knights.
It was a tough night to get a handle on one's emotions in the State of Hockey. What feeling was appropriate? Disappointment in a team that looked punchless in going down 3-1 in the series? Gratitude for a season where the team exceeded expectations? Excitement for a future that involves several top prospects?
The Wild will have to answer many questions this offseason, navigating expansion, the trade market, free agency, the salary cap. Those questions preclude us from wondering about another question that nagged at some fans throughout the series: Are they in the right hands?
Because it's not just about making the right signings, or even the players playing well. A successful team needs a coach who understands the team's vision and can maximize the potential of his players. If they can't do that, it's difficult to overcome.
Dean Evason saw his team lose a winnable series, which does happen, especially to inexperienced coaches. But experience comes from learning, especially through failure, so here are three key lessons Evason must learn going forward.
Joel Eriksson Ek is Your Best Center… Act Like It
At the beginning of the year, Eriksson Ek was locked into a third-line role with Jordan Greenway and Marcus Foligno. The trio was a very effective shutdown line last season, so why mess with what worked? But then, Eriksson Ek broke out offensively, and the Wild's center situation became dire. The immediately obvious solution: Move Eriksson Ek up to play with either Kevin Fiala or Kirill Kaprizov.
Only that never happened, leading many to ask: Why?
Minnesota side-stepped this conversation by listing Eriksson Ek's line as the top line on their social media, as if to say "Yes, Eriksson Ek's line is the first line." That doesn't bear out in the ice time numbers. Natural Stat Trick had him at 13:19 of 5-on-5 minutes per night this season, just a 30-second increase from last season. That 13:19 mark ranked 104th among 341 forwards with 400-plus minutes and was fourth on the team.
The widespread belief from those close to the team was that Eriksson Ek was dependent on playing with grinders like Greenway and Foligno, and that he didn't perform well when playing with other linemates. This also does not hold up to scrutiny.
Yes, they were certainly effective together, with the trio taking 65.7% of the expected goal share at 5-on-5. But Eriksson Ek was very effective away from Greenway and Foligno, particularly offensively. HockeyViz shows Eriksson Ek's heat map in those situations. Note the sea of red.

The Wild spent nearly the entire season using their best center on both sides of the ice as a shutdown third-liner. This, despite no suitable options ahead of him on the depth chart, and plenty of candidates — Nico Sturm, Nick Bonino and Ryan Hartman, to name a few — ready to backfill that checking-line role.
Using Eriksson Ek on a checking line was a luxury the Wild couldn't afford, and it showed in the playoffs when Kaprizov and Fiala were shut down with little support. Unless the team gets a healthy Marco Rossi and a Jack Eichel-type next season, their center situation won't change. The Florida Panthers don't use Aleksander Barkov like a third-liner, and Sean Couturier isn't pigeon-holed in a shutdown line role in Philly. Evason needs to use Eriksson Ek less like Kyle Brodziak and more like Ryan O'Reilly.
Get Used to the Youths
There's not much to say about the Matt Boldy question anymore. Could he have made an impact in the playoffs this year? You can argue either way, but the truth is, we'll never know. With the season over, we'll not get bogged down in speculation about this decision.
What we will say is this: Evason not trusting a top, top prospect in desperate circumstances doesn't bode well for Wild prospects going forward.
Evason has gotten a lot of credit for developing young players with the breakouts of Fiala, Kaprizov, and Eriksson Ek. In a way, it's warranted, as all have flourished under Evason. Still, these are all older players we're talking about. Kaprizov arrived fully-formed after thriving in the KHL, and Eriksson Ek had several years of development under his belt. Fiala had a long-time relationship with Evason dating back to his time in the Nashville Predators organization.
The young players who built trust with Evason were all veterans, seasoned pros. For players who weren't, Evason had little time for them. Boldy stands out as the obvious one, but even Calen Addison only played 10 minutes in Game 7 against Vegas before the Knights put the game out of reach.
Minnesota will be squeezed against a flat salary cap next year, and will remain so until big contracts leave their books. The Wild are going to have to rely not only on star prospects like Rossi, Boldy and Addison, but mid-tier players like Adam Beckman and Alex Khovanov. Can Evason trust those players to play? He may have no choice. Minnesota needs to be cap compliant, so those kids have to play.
Adapt
Evason's mistakes against Vegas all had one theme in common: Inaction. Whenever something didn't work, Evason didn't step in to fix the problem immediately, or change his coaching strategy. He let things play out, and hoped the course would correct itself.
They didn't, and the changes did make came arguably too late. Zach Parise was scratched until Game 4, when the Wild were down 2-1 in the series and after three games of ineffectiveness from Marcus Johansson. Minnesota's lines didn't change significantly until Game 5, and even then, they used combinations that were ineffective before. The power play wasted their precious opportunities in Games 1-4 before a long-needed shake-up. And of course, there was the feet-dragging with Boldy.
It wasn't just about lineup decisions, either. There were very few in-game adjustments made. None stick out more than the fact that Kaprizov and Fiala — Minnesota's two best scorers — were only on the ice together for 5:49 of 5-on-5 minutes in the entire series. The Wild trailed entering the third period in all four of their losses. They needed goals, and Evason never used his best option to get them.
As a result, the Wild scored 13 goals in a seven-game series.
None of the changes Evason eventually made, or adjustments he left on the table were especially innovative or creative. It's stuff most hockey coaches would do in a seven-game series. Something's not working? Change it up. If you need a goal, put out your best players. Can't score through three games? Well, there's the team's all-time leading scorer and their best rookie on the bench.
But Minnesota was hamstrung, in part, because those easy decisions came too late or not at all.
If anyone wants to say that last year's series against the Vancouver Canucks was a practice run, and this postseason match represents Evason truly learning how to coach in the postseason, that seems reasonable and fair. Evason has to learn lessons from these failures, however. If he can't make these adjustments to his coaching philosophy next season, it'll be reasonable and fair to wonder if he's the right man for this job.