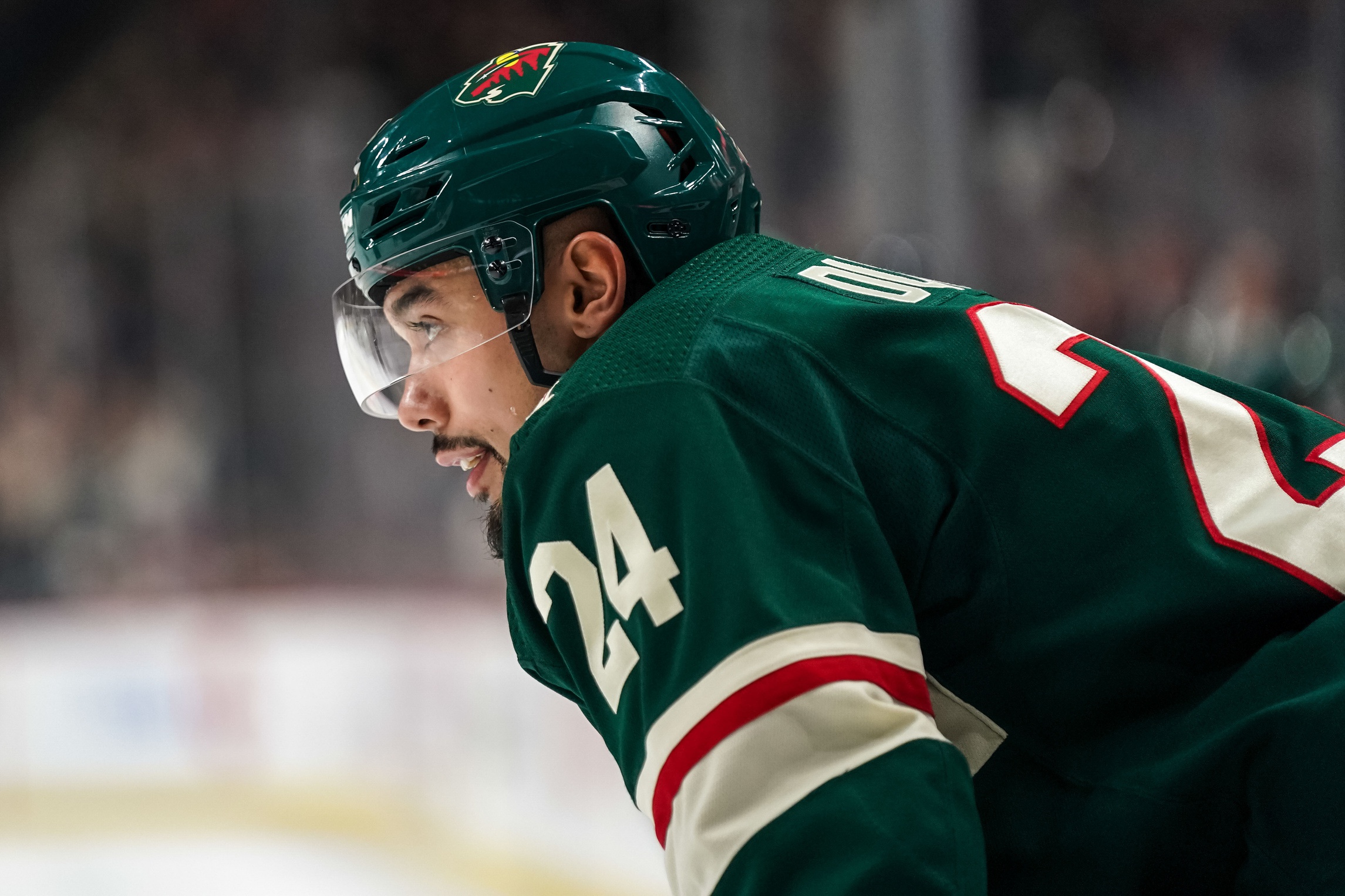 With less than three weeks until the NHL trade deadline, it's time to take stock of the Minnesota Wild. General manager Bill Guerin is in a weird zone where he could go in just about any direction, with good reason.
Sitting in third place in the West Division, they could easily justify buying. They could part with a pick in a buyer's-market trade deadline to get a rental player, and no one would find it absurd. If they wanted to go all-in to land a true top-tier center, that seems more than reasonable.
They certainly don't need to buy, though. The Wild's odds of making the postseason are currently above 90%. They have an eight-point lead over the fifth-place Arizona Coyotes with 25 games remaining and two games in hand. If they wanted to stand pat, they're making the playoffs. Heck, they could even move a player or two to get ahead of future cap issues.
With that in mind, we're changing things up from previous editions of the Trade Value Rankings. Since Minnesota could dip into future assets, certain picks and prospects will be included as half-points. All other rules remain the same — we're ranking every player in the Wild organization with 5-plus games according to trade value. Let's go.
Basically Untouchable (For the Wrong Reasons)
24. Zach Parise (Last year: 27th of 27)
Position: Left Wing
Stats: 29 GP, 3 G, 9 A
Age: 36
Cap Hit: $7.5 million
Free Agency: UFA 2025
For the second-straight season, Parise finishes last on the team. Weirdly enough, he was almost traded at the deadline to the New York Islanders. The lesson to be learned here is that no contract is so bad it can't be moved. According to reports, moving Parise would've come with the poison pill of having to add Andrew Ladd's arguably worse contract. With Parise's production sharply declined, he probably even has less value than last season.
You Gotta Pay to Move Them
23. Ryan Suter (Last year: 26)
Position: Defense
Stats: 31 GP, 1 G, 11 A
Age: 36
Cap Hit: $7.5 million
Free Agency: UFA 2025
Suter's clearly not the player he used to be, but he's still a passable top-four defenseman as he ages into his late 30s. If Suter wanted out of Minnesota, Guerin could probably find a destination. But as with Parise, you're not moving a five-year deal at that cap hit for a guy in his late 30s without surrendering a sweetener, or taking bad money back. Unlike Parise, Suter's never indicated he wants to move anywhere, so it's moot.
22. Marcus Johansson (Last year: NR)
Position: Forward
Stats: 13 GP, 2 G, 1 A
Age: 30
Cap Hit: $4.5 million
Free Agency: UFA 2021
Guerin traded for Johansson this summer, hoping to add some speed down the middle, and perhaps a future draft pick. Johansson has failed to provide one of those things, as he's been mostly out of the lineup and ineffective when he does play. With Taylor Hall, Kyle Palmieri, Mikael Granlund, Tanner Pearson, and Bobby Ryan being better (and some even less expensive) options for rental wingers, it'll be shocking if anyone comes calling on Johansson.
21. Victor Rask (Last year: 23)
Position: Center
Stats: 29 GP, 7 G, 5A
Age: 27
Cap Hit: $4 million
Free Agency: UFA 2022
After spending two years as an albatross, Rask is flirting with neutral trade value. He's not quite there yet, though. It took being in the best possible place at the best possible time (in between Kirill Kaprizov and Mats Zuccarello) for him to rebound into a useable NHL player. The terms of his remaining year might be more than teams want to commit to right now. Perhaps Guerin can find a taker this summer if he eats salary and includes an NFT of this goal.
My Taxi Squad Guy For Yours
20. Kyle Rau (Last year: NR)
Position: Center
Stats: 7 GP, 0 G, 1 A
Age: 28
Cap Hit: $700K
Free Agency: UFA 2021
You have just read everything there is to know about Kyle Rau.
19. Luke Johnson (Last year: NR)
Position: Center
Stats: 6 GP, 0 G, 0 A
Age: 26
Cap Hit: $700K
Free Agency: UFA 2021
You have just read everything there is to know about Luke Johnson.
Maybe a Late-Round Pick
18. Brad Hunt (Last year: 15)
Position: Defense
Stats: 11 GP, 1 G, 0 A
Age: 32
Cap Hit: $700K
Free Agency: UFA 2021
Hunt has been a press-box regular this season, with the Wild's top-six defensemen spoken for. A savvy team looking for power play help might take a chance on him as a buy-low option, though. Since the start of the 2018-19 season, Hunt is fourth among defensemen with 200-plus PP minutes in goals per hour.
17. Nick Bjugstad (Last year: NR)
Position: Forward
Stats: 31 GP, 5 G, 8 A
Age: 28
Cap Hit: $2.1 million
Free Agency: UFA 2021
The Wild made a low-risk gamble on Bjugstad this offseason, acquiring him at half his salary essentially for free. The oft-injured forward has proved to be healthy, playing in every Wild game thus far. He hasn't been any sort of solution at center, though, often relegated to fourth-line duty. He's picked up some points and is cheap, but his lack of speed hurts his on-ice and trade value.
16. Ian Cole (Last year: NR)
Position: Defense
Stats: 29 GP, 1 G, 2 A
Age: 32
Cap Hit: $3.5 million
Free Agency: UFA 2021
Guerin took advantage of the Colorado Avalanche looking for room for Bowen Byram by acquiring Cole in exchange for Greg Pateryn. Cole succeeded where Pateryn failed, becoming a solid bottom-pairing presence on the blue line. If a team wants a defenseman who doesn't do much else but allows fewer chances than he generates, Cole's a decent target.
15. Nick Bonino (Last year: NR)
Position: Center
Stats: 30 GP, 3 G, 4 A
Age: 32
Cap Hit: $4.1 million
Free Agency: UFA 2021
Bonino is more expensive and less productive than Bjugstad, but there are things Bonino contributes that lifts him over Bjugstad. Bonino's a bottom-six center, but he is strong at taking faceoffs and an asset on the penalty kill. A team looking for that and some rings (two Cups with the Pittsburgh Penguins) would be interested.
The Zuccarello Zone
14. Mats Zuccarello (Last year: 25)
Position: Right Wing
Stats: 20 GP, 5 G, 15 A
Age: 33
Cap Hit: $6 million
Free Agency: UFA 2024
Zuccarello looked like a sunk cost last season, struggling in his first full season in St. Paul. Declining at age 32 is going to be a massive red flag, but offseason surgery and Kaprizov as a linemate have allowed him to rebound. Unlike Rask, Zuccarello's passing ability allows him to help elevate Kaprizov, not merely ride his coattails. Suddenly, Zuccarello looks like a genuine top-six winger again, and his contract is essentially three years, $18 million going forward. That's probably moveable as more than a cap dump, though Zuccarello's no-move protection could keep him in Minnesota.
More Valuable as Players Than Trade Chips
13. Nico Sturm (Last year: 16)
Position: Center
Stats: 28 GP, 4 G, 3 A
Age: 25
Cap Hit: $725K
Free Agency: UFA 2022
Sturm is a tenacious bottom-six center who's cheap, defends well, and loves to shoot. Think an older, less talented Joel Eriksson Ek. Sturm doesn't have enough profile league-wide to return equivalent value, though, and his contract will be welcome to a more-cap-strapped-than-you'd-think Wild next year.
12. Ryan Hartman (Last year: 14)
Position: Forward
Stats: 26 GP, 4 G, 7 A
Age: 26
Cap Hit: $1.9 million
Free Agency: RFA 2021
In theory, a playoff team like the Wild would want a versatile forward who can excel in bottom-six minutes more than they want the mid-round pick they could land for him. In practice, he probably makes the most sense out of this tier to trade. Hartman is due for a raise in free agency, and the Wild could get ahead of that decision by trading him now.
11. Cam Talbot (Last year: NR)
Position: Goalie
Stats: 8-5-1 in 15 GP, .919 save%
Age: 33
Cap Hit: $3.7 million
Free Agency: UFA 2023
Talbot was signed to be the Wild's solution in net, and he has delivered. Minnesota's defense makes his numbers look better than they are, but Talbot's holding up his end of the bargain. After two or three years of shaky goaltending, though, the last thing the Wild are going to do is give it up.
10. Carson Soucy (Last year: 12)
Position: Defense
Stats: 25 GP, 1 G, 9 A
Age: 26
Cap Hit: $2.75 million
Free Agency: UFA 2023
Soucy was an unknown coming off his rookie season, where he posted 14 points in 55 games on the third-pair. He hadn't been very offensive in Iowa, so this leap at 25 came out of nowhere. Minnesota committed to him this summer when he hit UFA status, and he's thankfully looked much like the player he was last season. He may be a big body who defends well, but he can also jump into the play.
Another decision time is coming up for Soucy: Seattle's Expansion Draft. He's a candidate to get picked by the Kraken, so Guerin might be tempted to move him to clear cap space and get something for him rather than lose him for free.
9. Kaapo Kahkonen (Last year: 20)
Position: Goalie
Stats: 12-5-0 in 17 GP, .921 save%
Age: 24
Cap Hit: $725K
Free Agency: RFA 2022
If Minnesota's not inclined to move Talbot, they're surely not going to move someone who is younger, cheaper, and probably better.
8.5 2021 Second-Round Pick, B-Tier Prospects
Between tiers, we have the Wild's upcoming second-round pick, plus B-Tier prospects. Players like Adam Beckman, Calen Addison, and Alex Khovanov could go one-for-one for a decent acquisition or be used as pieces of a package for a seismic move.
What's Even Going On Here?
8. Matt Dumba (Last year: 4)
Position: Defense
Stats: 26 GP, 5 G, 6 A
Age: 26
Cap Hit: $6 million
Free Agency: UFA 2023
One would think a top-pairing, right-shot defenseman on a reasonable deal would be extremely valuable. That's what Matt Dumba is, and that's where his value should be at. But after years of being in the rumor mill, one is forced to conclude that his trade value doesn't match his value on the ice.
Dumba's controlled 58.7% of the expected goal share at 5-on-5 this season, the highest of his career. He may not be at the torrid goal-scoring pace he was at when a pectoral rupture interrupted a career year, but he's getting back on track offensively. He'd be on pace for 16 goals in an 82-game season, which is always enough to crack the top-10, maybe even top-five in the league.

Yet no one wants to pay any real sort of price for Dumba. The asking price has long been for a center of equivalent value, but even when the price lowered to a top-six forward, teams seemed to balk.
What's the deal? Are teams waiting out Minnesota, waiting for the Expansion Draft to see if Guerin will blink then? Are teams (wrongly) turned off by his activism? It's hard to say. All we know is that, despite their best efforts, the Wild can't get equal value on a top-pairing defenseman.
Valuable, But Not Going Anywhere
7. Jared Spurgeon (Last year: 7)
Position: Defense
Stats: 30 GP, 3 G, 6 A
Age: 31
Cap Hit: $7.6 million
Free Agency: UFA 2027
Spurgeon's reputation as a top-pairing defenseman would see him sought after on an open market, even with his large contract. But don't worry, Wild fans, Spurgeon's no-move clause assures the Wild captain isn't going anywhere.
6. Marcus Foligno (Last year: 6)
Position: Left Wing
Stats: 23 GP, 7 G, 9 A
Age: 29
Cap Hit: $2.88 million
Free Agency: UFA 2024
If the Wild ever wanted to trade Foligno, they'd get a haul. Foligno's arguably the best bottom-six player in the league, providing Minnesota with Selke-level defense on a bargain contract. He's also showed offensive touch in the past two seasons, with 18 goals and 41 points over his past 82 games.
It's hard to see Minnesota ever moving him, even if given a compelling offer. The Wild brass loves the leadership qualities that come along with his high level of play. With him about to turn 30, now would be the peak time to sell high, but as long as Foligno is one of "Guerin's Guys," it's not happening.
5.5 Marco Rossi
Position: Center
Stats: DNP
Age: 19
Cap Hit: N/A
Free Agency: N/A
A healthy Rossi would be playing in the NHL, and very possibly in the Untouchable tier. Tragically, complications from coronavirus have kept him off the ice this season, and even unable to work out. With that, it's extremely difficult to see him traded until he makes a full recovery. There are too many unknowns for any potential partners, and Rossi likely needs stability during this time.
5. Jonas Brodin (Last year: 1)
Position: Defense
Stats: 29 GP, 5 G, 9 A
Age: 27
Cap Hit: $4.2 million
Free Agency: UFA 2028
Brodin's been one of the top-20 defensemen in the NHL for a few years, and this year's no different. This might be his finest season yet, providing his usual defense and producing at a 40-point pace. His trade value would be much, much higher if not for the no-move clause.
The Big Guns
4.5 2021 First-Round Picks
The 2021 draft figures to be weird, with limited scouting capabilities throughout the year. Minnesota's two picks (their own and Pittsburgh's) also figure to be well in the 20s. Still, first-round picks are first-round picks, and they always carry currency in trades.
4. Joel Eriksson Ek (Last year: 8)
Position: Center
Stats: 31 GP, 11 G, 5 A
Age: 24
Cap Hit: $1.5 million
Free Agency: RFA 2021
A bout of coronavirus and a coach who clearly believes him to be a third-line center hasn't stopped Eriksson Ek from enjoying a breakout season. He's tilted the ice no matter who he's played with, controlling 62.5% of the expected goal share. On offense, he's still getting dangerous shots, averaging 1.18 expected goals per hour. Gripes about his finishing ability are overblown, as his actual goals (11) line up exactly with his expected amount (10.74).
It's not hard to believe that Eriksson Ek is growing into a second-line center, and teams everywhere want young, good centers — especially ones who play impeccable defense and have leadership qualities. One would think Minnesota would have to keep their one long-term center, but if they determine he's not part of the future, they could get a haul for him.
3. Jordan Greenway (Last year: 10)
Position: Left Wing
Stats: 31 GP, 5 G, 15 A
Age: 23
Cap Hit: $2.1 million
Free Agency: RFA 2022
Many assumed that Greenway was on the trading block last season after a disappointed Guerin challenged him to take the game more seriously in an exit interview. The State of Hockey can be glad he didn't get moved, as Greenway responded with a breakout season. He's 49th of 331 forwards with 250-plus minutes with 2.3 points per hour at 5-on-5.
Does this mean Greenway's in Minnesota long-term? Not necessarily. Expansion looms over his future, as it's uncertain whether the Wild will prioritize protecting their forwards or Dumba. If they opt to protect their blue line, Greenway seems an obvious pick for Seattle.
If they're on track to expose Greenway, Minnesota absolutely has to trade him rather than let him slip for free. An anonymous executive told The Athletic, "He's a unique player with his size, power, and skating combination. I think [he] is just scratching the surface." He's on the upswing, and with a year of cost-control left, his value may never be higher.
Frankly, that could be a good reason to trade Greenway, regardless of Minnesota's expansion draft plans. They have many wingers coming up through the system, and Greenway will get expensive after next year. If the Wild can get a haul for him, or package him into a big deal, that could help navigate future cap crunches.
2. Kevin Fiala (Last year: 5)
Position: Right Wing
Stats: 28 GP, 9 G, 5 A
Age: 24
Cap Hit: $3.5 million
Free Agency: RFA 2021
Fiala's having a weird season, moving up and down the lineup without any stable linemates. Lately, he's been partnered with the likes of Hartman, Parise, and Johansson. Those players struggled to keep up with Fiala's speed and tendency to carry the puck, and it's hurt his production.
Even with the struggles, the brutal power-play luck, and poorly matched teammates, he's still on an 82-game pace of 26 goals, which would be a career-high. His shot generation has generally been stellar, hinting that last year's Fiala hasn't gone away. He just needs to click with someone like he did with Parise (before he lost his hands) and Eric Staal last year.
Is he untouchable? No. If he was being asked for as a key piece in a deal for a top-line center, he'd be moved. But he's one of very few people in the organization at that level. It's going to take that kind of move to pry Fiala out of Minnesota, especially if he goes on a run in the second half of the season.
1.5 Matt Boldy
Position: Left Wing
Stats: 21 GP, 10 G, 20 A (NCAA)
Age: 19
Cap Hit: N/A
Free Agency: N/A
With Rossi on the mend, Boldy ascends to the top prospect on the Trade Value List. He's posting a Draft+2 year in college that is very comparable to stars like Parise, Dany Heatley, and Johnny Gaudreau, and he's close to pro-ready. He might as well be in a box that says "In Case of Jack Eichel or Sasha Barkov, Break Glass."
Actually Untouchable
1. Kirill Kaprizov (Last year: Unranked)
Position: Left Wing
Stats: 31 GP, 10 G, 16 A
Age: 23
Cap Hit: $925K
Free Agency: RFA 2021
Minnesota's waited over a decade to get a superstar player, and now they've got one. They're not about to trade him now. Teams looking to deal an elite center can get anyone else in this organization. Not him.