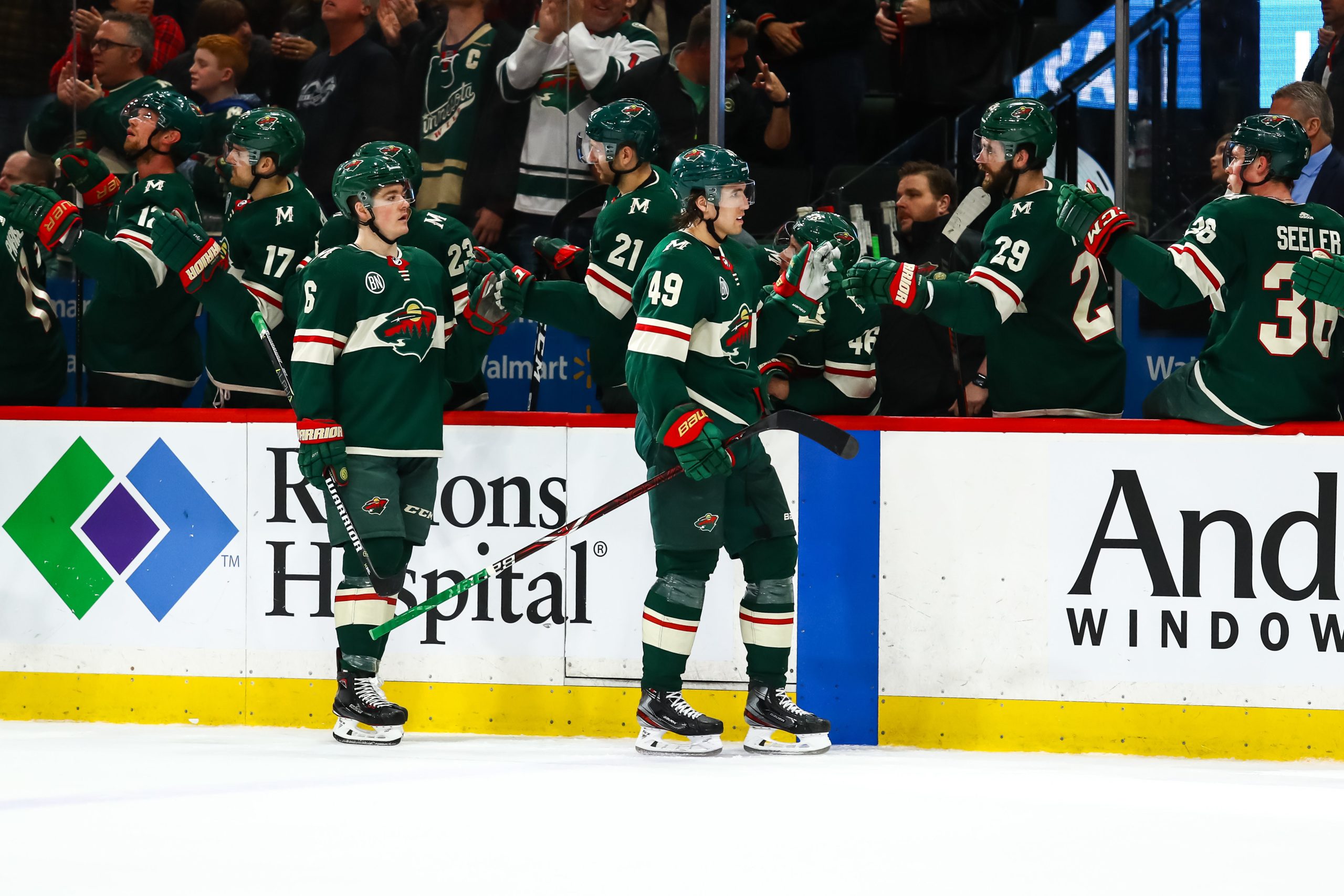 Acquired on Feb. 20 from Boston in the trade for Charlie Coyle, Donato was immediately thrust into the Minnesota lineup. After spending parts of the season up and down between Boston and their AHL affiliate in Providence, there was no AHL assignment during the remainder of the NHL season for Donato, as he averaged 15:33 of ice time over 22 games with Minnesota.
In those 22 games, Donato endeared himself to Minnesota fans for his frequent shooting styles, averaging nearly three shots per game from the wing. Donato only scored four goals in those 22 games, but it certainly wasn't for a lack of trying on his part.
[caption id=attachment_52297" align="alignnone" width="1124]

Donato was good at driving shots from the left wing upon his arrival. via hockeyviz.com[/caption]
In addition to those four goals, Donato tallied 12 assists. The 16 points he scored following the trade were the most on the team through the end of the season. Equally, his 1.88 points per hour were best on Minnesota after the trade as well.
Following the season, Donato was sent down to Iowa where he participated in the Wild's first trip to the Calder Cup Playoffs. In 11 games, he tallied only six points before Iowa was ousted by Chicago in the second round.
Heading into next season, Donato is (roughly) slated to get significant time in the top six again after his strong offensive output following the trade. He is currently a restricted free agent but Minnesota is expected to re-sign the winger before training camp starts.
Just five days after Donato was acquired, Fiala was acquired minutes before the trade deadline from Nashville in exchange for Mikael Granlund. General manager Paul Fenton had previous history with Fiala, as Fenton ran the draft table that selected Fiala 11th overall in the 2014 Draft.
After the trade that brought Fiala to Minnesota, he like Donato was thrust into a top-six role, averaging 17:38 of ice time with the Wild. However, his time was not as fruitful offensively, only tallying seven points in 19 games. Fiala was also a shooter, averaging over two shots per game after the trade.
While Fiala does possess great offensive capabilities that Fenton seeks in trying to reconstruct the roster, the Swiss winger's defensive shortcomings were on full display in those 19 games and will have to be ironed out for next season.
[caption id=attachment_52301" align="alignnone" width="1712]

via Evolving-Hockey.com[/caption]
Like Donato, Fiala will be vying for top-six time next season. With the addition of Mats Zuccarello, Donato or Fiala will have to begin the season as the third line right wing as Zach Parise and Jason Zucker will be the top two left wingers. Fenton has stated all the competition for spots will suit the Wild, as it should bring out the best in the players, Fiala included.
[caption id=attachment_52294" align="alignnone" width="3612]

Mar 3, 2019; Saint Paul, MN, USA; Minnesota Wild left wing Kevin Fiala (22) skates with the puck against the Nashville Predators in the second period at Xcel Energy Center. Credit: David Berding-USA TODAY Sports[/caption]
Fenton's first trade of the season was his most controversial, as he acquired Rask from Carolina in exchange for Nino Niederreiter. The trade was bad at the time of the deal and remains bad now for Minnesota.
Rask never really got above the bottom six, and in fact became the team's fourth-line center before the season ended. In the 23 games Rask played after the trade, he scored only three points and was a huge defensive liability. He was slow and out of position often leading to goals against.
[caption id=attachment_52302" align="alignnone" width="1684]

via Evolving-Hockey.com[/caption]
Rask is spending the offseason skating with Minnesota's skating instructors in the hopes of turning his game around in 2019-20. He is most likely going to start the season as the fourth line center, and unless he really can pull his game together, he will be a buyout candidate for Minnesota next summer despite having two years remaining on his contract.
Stats in this post courtesy of Natural Stat Trick, Evolving Hockey, HockeyViz, and Hockey-Reference.
Never Miss an Episode of Giles & The Goalie!
http://zonecoverage.com/wp-content/uploads/2016/05/itunes.jpghttp://zonecoverage.com/wp-content/uploads/2017/05/Podcast-header-Image-City-1.jpg