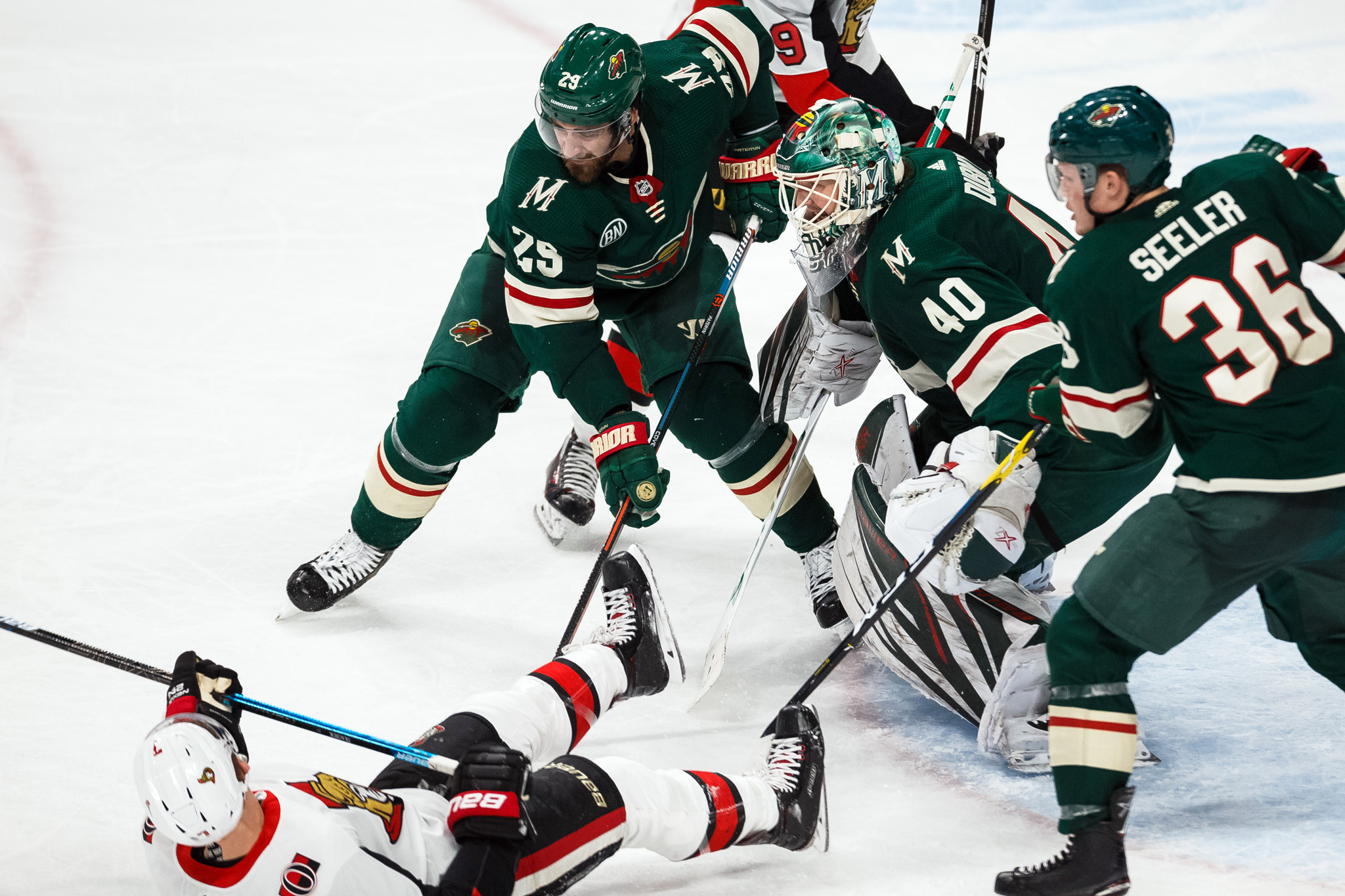 Greg Pateryn
Age: 28
Position: Defenseman
2018-19 Stats: 1G-6A-7P
Contract Status: Signed for two more seasons through 2021 ($2.25 million AAV)



Right away on July 1 last summer, the Wild were quick to ink Pateryn to a three-year deal to help provide depth to the right side of their defense. While Pateryn did not offer much offensively (seven points), he did provide stellar defense from the right side.

[caption id=attachment_50949" align="alignnone" width="1144]

via Micah Blake McCurdy, @IneffectiveMath[/caption]

As you can see above, Pateryn carved out his own crater around the Wild net, forcing shots out to the blue line while he was on the ice at 5-on-5. As mentioned on Wednesday, he was the best in the league at expected goals against per hour (1.74) while his main defensive partner Jonas Brodin was right behind him at No. 2.

It was rumored during the season that Pateryn was possibly being shopped by the Wild in trade talks. Nothing ever came to fruition, but it is possible Pateryn could get floated around in trade discussions again this offseason. However, that should be a move viewed as unlikely until the Wild figure out the future of Jared Spurgeon, who anchored the right side of the Wild defense for the past four to five seasons.

With two years left on his contract, odds certainly favor a return for Pateryn with the Wild in 2019-20. With the expected return of Dumba combined with Spurgeon's possible return, the Wild would bring stellar depth to the right side defensively next year.

[caption id=attachment_49082" align="alignnone" width="1998]

via Sean Tierney, @ChartingHockey[/caption]


---




Nick Seeler
Age: 25
Position: Defenseman
2018-19 Stats: 2G-5A-7P
Contract Status: Signed for two more seasons through 2021 ($725,000 AAV)



In his first full season with the Wild, Seeler certainly picked up where he left off in terms of his defense and "grit" style of play on the Wild blue line. Offensively, he was like Pateryn in the fact that he brought next to nothing, but that did not mean it was a bad season by any means.

The shining moment of that grittiness Seeler so often displays came on Jan. 23 when the former University of Minnesota defenseman blocked three shots on a single shift late in the second period before the Wild scored to close the period in a win over Colorado.





Like Pateryn and Brodin before him, Seeler also was stellar at forcing shots to the outside this past season. Seeler even came into the top 10 of the league (ninth) with his expected goals against per hour of 1.95. It also helped Seeler's cause that Pateryn was his most common partner this past season.

[caption id=attachment_50951" align="alignnone" width="1140]

via Micah Blake McCurdy, @IneffectiveMath[/caption]

It became a rotating door next to Seeler after Pateryn was forced up to the second defensive pair in mid-December, as Seeler had the likes of Anthony Bitetto and Brad Hunt playing alongside him for the remainder of the season. Despite the uneven play of his defensive partners after that point, Seeler was still able to keep up his great defensive play.

On a very team friendly contract for two more seasons, Seeler is as good as penned into the Wild lineup to open 2019-20. As it stands, he currently slots in at left side behind Ryan Suter and Brodin and would be reunited with Pateryn on the third pair.

But that's assuming there are no trades made to the blue line. Even then, this is still not a bad defensive core for the Wild.

Stats in this post courtesy of Natural Stat Trick, Evolving Hockey, HockeyViz, and Hockey-Reference.


---