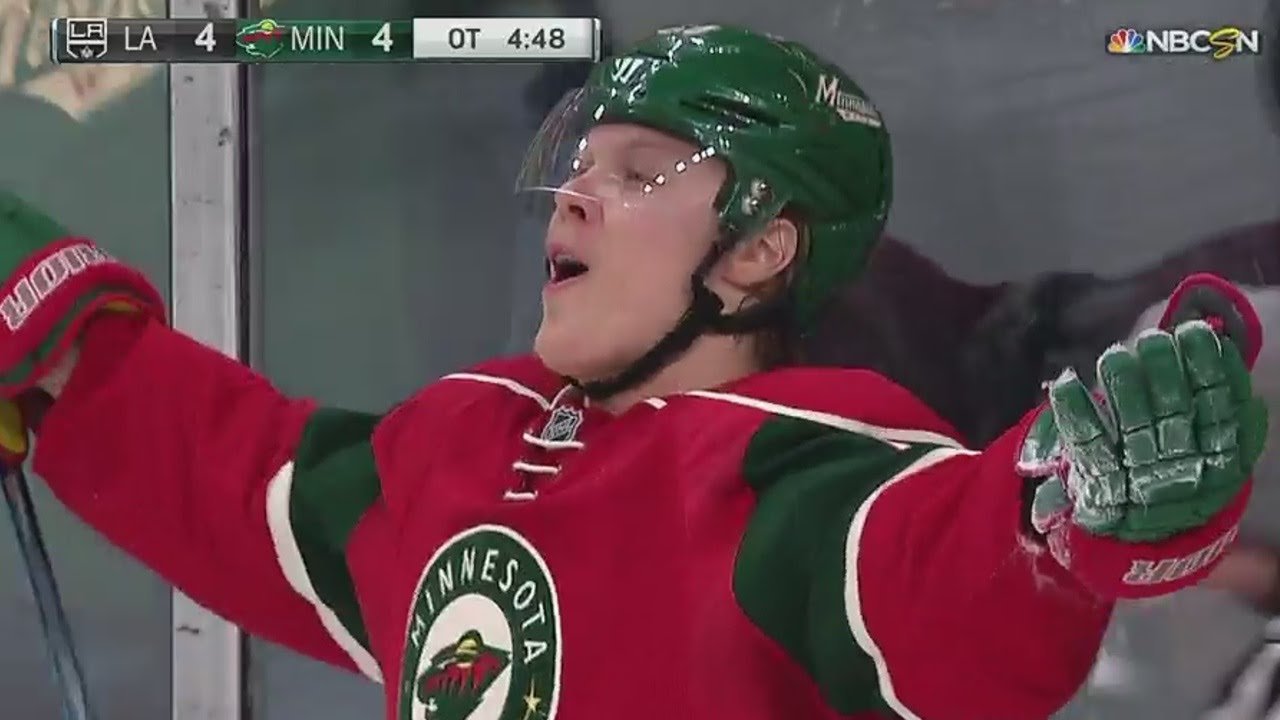 Just about every year since I've been writing on the Wild, I've handed out some awards at the end of the year. It took me a while to remember I had yet to get to those this year, as it still has not fully sunk in that the Wild were ousted in five games after a long playoff run was expected. I probably could have waited until the actual NHL Awards show to put this in, but that's so close to the frenzy that will be the expansion draft I figured now was a good time given the fact the Wild news cycle had gotten a bit slow (or up until Tuesday it was).
There are a few new awards in the mix this year, in addition to some of the returning ones. So, without further ado, here are your 2016-17 Minnesota Wild team awards:
Jacques Lemaire Trophy (Most Valuable Player)
Award History: Much like the Hart Memorial Trophy (NHL MVP), the Wild team MVP was named in honor of an old, longtime head coach. Since there can't be a coach of the year award just for the Wild, we figured Jacques should have his name on a trophy somewhere, and it might as well be the MVP award. The award committee did think about naming it after star winger Aaron Voros, who was such an integral part of the 2007-08 Northwest Division Championship squad and by no means rode the coattails of star scorer, Marian Gaborik. But they decided to go with Lemaire on this one.
2016-17 Recipient - Devan Dubnyk: Its very cliché to give this out to a goalie, but as we learned in March, Devan Dubnyk was the key guy in a record-setting 106-point season. When the team struggled out of the gate under new head coach Bruce Boudreau, Dubnyk was the rock that kept the Wild earning win after win. Through December, Dubnyk was holding an impressive .941 save percentage, which was far and away leading the NHL. After a couple of average months in January and February (which included a stop at the NHL All-Star Game), Dubnyk struggled heavily in March and posted a .889 save percentage. The Wild could not get out of the funk in March, and Dubnyk was front and center of the struggles. After Alex Stalock spelled him a few nights in early April, Dubnyk seemingly bounced back in his final regular season appearances and was able to have an otherwise solid playoff had he not been out-dueled by Jake Allen.
Martin Skoula Award (Best Defenseman)
Award History: This is the award that goes to the best Wild defenseman each year. Considering the legendary skill the Wild saw from Martin Skoula on a nightly basis during his Minnesota tenure, it was a pretty easy one to name after him.
2016-17 Recipient – Jared Spurgeon: As noted on last week's Giles and the Goalie podcast, fellow pod co-host Ben Remington noted that Jared Spurgeon was the most consistent Wild player all year. He is right. While Ryan Suter garners much of the attention on the blue line, Spurgeon has been the rock for at least three years running now. He is cool, calm and collected on the back end, and he is always making the smart play. He's also an analytics darling, so take that for whatever you think it's worth. His 38 points this season was only two behind Suter for team lead for defensemen and was easily a new career best for the Tempstar Commercial "star."
Scott Pellerin Trophy (Top Scorer)
Award History: In the star-studded inaugural season of the Minnesota Wild, there was one who stood out above the rest. His name... was Scott Pellerin. Not only did Pellerin lead that first group of Wild players in points, he did it despite being traded away at the trade deadline (h/t to Nate Wells for this fact). So, in honor of his efforts in that season, the Wild version of the NHL's "Art Ross Trophy" is named in his honor.
2016-17 Recipient - Mikael Granlund: With his ever so nice 69 points (26G-43A) this season, Mikael Granlund was able to carry over his strong play from the end of last season through the entire 2016-17 campaign. Granlund remained on the wing this year, and under new head coach Bruce Boudreau he was finally able to take that step forward the fan base had been waiting on. Also have to give credit to his linemates for most of the year, Jason Zucker and Mikko Koivu, as the trio that was one of the most prolific scoring lines (if not the most) in team history.
Brian "Pumper" Rolston Memorial Trophy (Top Goal Scorer)
Award History: For three seasons of his 17-year NHL career, Brian Rolston eclipsed a shooting percentage of 10. Can you guess what three seasons those were? That's right, all three seasons he spent in Minnesota. Rolston was a goal-scoring machine during those three years in Iron Range Red as he went over the 30-goal mark each year. Rolston was only able to eclipse 30 goals one other time during his NHL career, making his time in Minnesota truly special. So, to honor his efforts, the top goal-scoring award for the Wild was named in his honor, with all respect to Marian Gaborik (who we will find later on down the award list). As for his nickname, you can find out the origin of that here.
2016-17 Recipient - Eric Staal (28): If you had Eric Staal to lead the Wild in goal scoring at the beginning of the year, please raise your hand. If you raised your hand, please don't lie about it. The truth is, no one saw this kind of bounce-back season from Staal, who looked to have his best seasons behind him, especially after a very subpar season with Carolina and the New York Rangers last year. Staal was exactly what the doctor ordered for the Wild this year as he gave the Wild a much needed second center who could produce on both ends of the ice.
Doug Risebrough Plaque (Top Rookie)
Award History: In honor of his time as the first general manager in team history, the Rookie of the Year award was named in honor of Doug Risebrough. His drafts in the mid to late 2000s (featuring prospects like A.J. Thielen, Benoit Pouliot, James Sheppard, Colton Gillies and Tyler Cuma) were legendary, and by no means crippled the franchise for an extended period of time. All those prospects certainly left an impactful mark on the Wild, and they will certainly be remembered for years to come.
2016-17 Recipient - Joel Eriksson Ek: Much like a Risebrough-led team, there really was little to no impact on the roster from rookies this season. This was largely due to the incredible depth the Wild had, which led to them sending prized prospect Joel Eriksson-Ek back to Sweden to gain a bit more experience. However, Eriksson Ek proved to be the most (only) useful rookie on the roster this season, and the March swoon had Fletcher desperate enough to the point where he brought Eriksson Ek back to play the remainder of the year in the bottom six. It was only a seven-point season for Eriksson-Ek, but he will no doubt factor into the lineup plans for 2017-18.
Guillaume Latendresse Memorial Cup (Top Performance Of The Year)
Award History: For 55 games of the 2009-10 season, Guillaume Latendresse was magic on the ice. After being acquired in a trade with Montreal, Latendresse was elated to get a fresh start with a new team after dealing with the pressures of playing with his hometown team of Montreal to begin his career. Some of the highlights from Latendresse's season included

in which Dan Terhaar was pleasantly surprised, and a game-tying goal out of nowhere against the eventual Stanley Cup Champion Blackhawks. With all that in mind, the award for player who most dazzled us for a fleeting moment will forever be remembered with Guillaume.

 

2016-17 Recipient - The entire Minnesota Wild roster in December: You may not remember it -- and by the looks of it on Twitter, you sure don't -- but the Wild won 12 games in a row at one point this season. They averaged nearly four goals a night, and they were getting Vezina-caliber goaltending from Devan Dubnyk. The award should go to one player/person, but you can't forget about a franchise record setting streak that happened this year. So, yay team!

 

Stay tuned for Part 2 on Friday.

 
---
Never Miss an Episode of Giles & The Goalie!